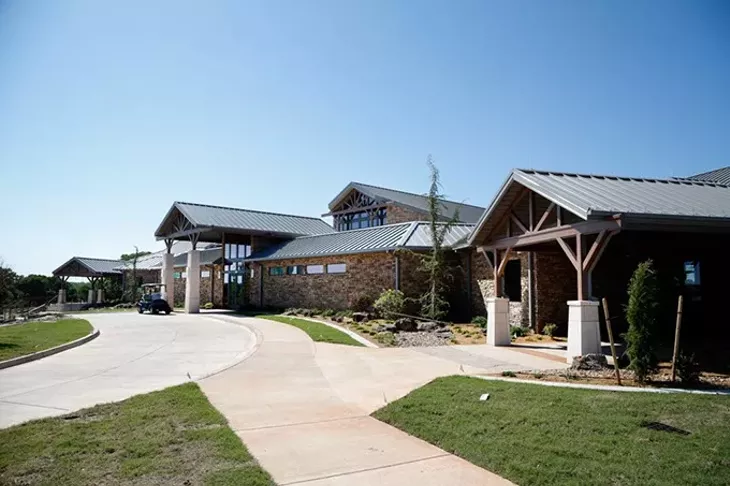 Garett Fisbeck
Lincoln Park Golf Course new clubhouse in Oklahoma City, Monday, May 11, 2015.
A trio of golfers recently walked into the foyer of Lincoln Park Golf Course's new $9.25 million clubhouse and stopped in their tracks. They marveled at the building and gazed up at a public art installation suspended from the ceiling: huge ribbons of wood, painted blue on one side, looping magically in the air.
One golfer turned and regarded the others.
"Are you sure we're at the right golf course?" he asked.
City officials celebrated the grand opening of the 32,000-square-foot clubhouse, located at 4001 NE Grand Blvd., with a ribbon cutting led by Mayor Mick Cornett on May 1. The clubhouse features a new 3,100-square-foot event center, a restaurant area and snack bar, an executive conference room, a designer pro shop and a 19th Hole terrace bar offering excellent views of the golf course, the state Capitol and downtown.
Funded using $2.25 million in 2007 General Obligation bonds and another $7 million in golf revenue bonds, the clubhouse has elicited many expressions of pleasant surprise like the ones displayed by the golfing trio, said Steve Carson, Lincoln Park Golf Course's director of golf.
Garett Fisbeck
Lincoln Park Golf Course new clubhouse in Oklahoma City, Monday, May 11, 2015.
"The first time people visit, you kind of get that," Carson said. "Everybody just loves it."
Designed by LWPB Architecture, the clubhouse also features a geothermal HVAC system and energy-efficient LED lighting. The facility was built to the same standards as other recent city projects, such as Myriad Botanical Gardens and Chesapeake Energy Arena upgrades, said Carson, who has been at the golf course since 1990.
"Our golf clubhouses haven't kept up with that movement," he said. "So this is that first step. It's just an overall asset to the city and to the quality of life in Oklahoma City."
The two-story clubhouse, with a basement cart barn that can store up to 150 golf carts, was designed to provide a higher level of service not achievable in the previous clubhouse, which was built in 1960. The clubhouse was moved closer to Lincoln Park's West course while not disturbing the 36-hole layout.
The facility is a hit with non-golfers too. Carson said he has been booking weddings and birthday parties and he is considering hiring an event planner to coordinate non-golf functions. The event center seats up to 200 people, and the state-of-the-art kitchen can put out a full buffet. The banquet room and terrace, which overlook the West course's three finishing holes, is perfectly suited for big tournaments.
Through the city's 1% for Arts program, mandated by a 2009 ordinance, all new municipal building or park developments must dedicate 1 percent of their budget to public art. Washington state sculptor Paul Vexler — known for making large-scale, lightweight, suspended sculptures — was chosen for the clubhouse project. Photographs and other golf memorabilia from the old clubhouse will be displayed in the new facility.
Carson said officials are planning a similar project for Earlywine Golf Club in southwest Oklahoma City.
Print headline: Lincoln lodge, A new $9.25 million clubhouse ushers in a new era of municipal golf luxury.