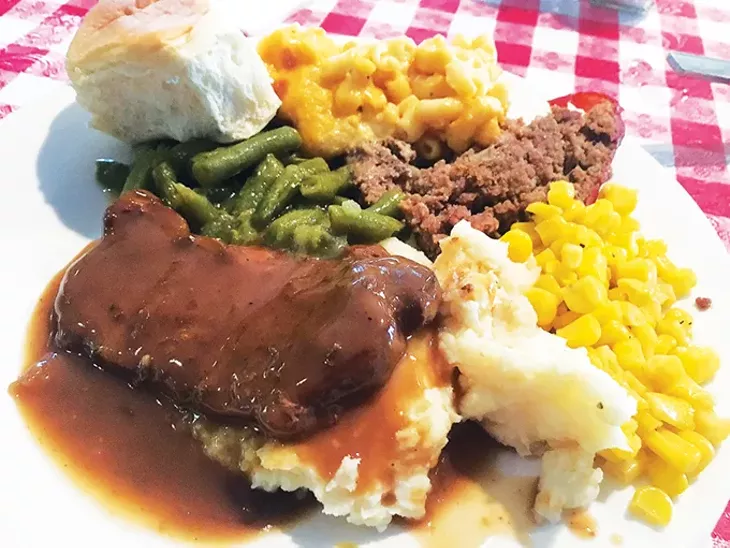 Jacob Threadgill
Smothered pork chop with mashed potatoes, meatloaf, macaroni and cheese, green beans and corn
There are few activities that make me happier than finding a good meal in an unexpected location. Over the last few weeks, I've highlighted high-quality restaurants connected to gas stations, a combination poke and doughnut place and a cafe inside of a bookstore.
A few weeks ago, I got a call from a reader urging me to check out the soul food buffet connected to L&G's on the Blvd, 4801 N. Lincoln Blvd.
"I think it's better than Florence's," the caller said of L&G's.
To quote Leo DiCaprio's character from Django Unchained, "You had my curiosity, but now you have my attention." Florence's is an Oklahoma institution. If L&G's is even in the same ballpark, it's worth checking out.

The business is currently co-run by co-owner Garland Lenoir, who has leased the space a few times over the years and uses it as an event center with karaoke on the weekends and everything from birthday parties to dance classes and reunions in the main portion of the building.
Lenoir said he leased the restaurant portion of the property over the last year, but the lessee left it vacant. At the beginning of the year, he took control and brought in Platt College Culinary graduate Tamara Levingston to run the all-you-can-eat buffet ($7.99), which is open 11 a.m.-2 p.m. weekdays, with additional a la carte options available.
"I was in the third class to graduate from the culinary school at Platt, so I've been cooking forever," Levingston said. "I didn't cook when I was young. People always say, 'I bet you were cooking with your mom.' I did not. My older sisters did, and now I do all of the cooking for the holidays."
Levingston said that in her spare time, she's a fan of Italian cooking and we chatted about our love of chicken Marsala.
"If you finish with cream, it really sets it off," she said.
Jacob Threadgill
The Wednesday barbecue buffet features brisket, chicken and country-style pork ribs along with corn, beans and other sides.
The menu at the buffet is fairly straightforward classic comfort soul food. I arrived for my first trip to the buffet on a Monday around noon. You pull into the parking lot for the property, which looks like an old hotel, and enter the door on the right side of the building; the main entrance is not open during brunch service. (Don't make the same mistake I did.)
Enter the main dining room, where a server tells you to go ahead, grab a plate and pay after your meal.
There's a decent salad bar—the kind that reminded me of my college cafeteria or the line at Luby's in a good way. There are no artisan lettuces, just regular and nutrient-rich romaine, and no heirloom tomatoes or bitter seasonal greens—the kind that we tell ourselves is better for us as we choke it down.
The main entrees consisted of smothered pork chops in brown gravy, meatloaf, mashed potatoes, sweet corn, green beans, macaroni and cheese and yeast rolls.
The standard meatloaf w ith ketchup topping hit the spot. While I usually like to mix a variety of meat (beef, pork and veal if I can find it) in my meatloaf at home, this traditional style was elevated as it mixed with the extra sweet corn and green beans cooked with chicken stock.
The gravy used for the pork chops was thick and flavorful, injecting much-needed moisture into the boneless chop. The star of the plate was the macaroni and cheese, which cut like a cake and is filled with cheddar, jack and Velveeta for extra creaminess.
The buffet also serves chicken with dressing, beef tips with gravy and Levingston's personal favorite, Salisbury steak.
"When you cook all day, at the end of the day, you don't want to see food, but the Salisbury steak is always one I'll take home," she said.
I was about finished with my second plate when I began to think, 'This could only get better if dessert magically appeared from the sky,' when the server came by and asked if I wanted peach cobbler.
I responded with a resounding "Hell yeah!" with a fervor that I didn't realize I had toward cobbler. It was worth it when the server brought a peach filling topped with pie crust instead of a loose crumble. Levingston is a woman after my heart.
"Everyone that comes in here says, 'Give me mostly crust,'" she said. "I started putting less filling and more crust, and then I had one lady who said she only wanted filling. I have a big pot of the filling and have it ready on request."
I returned for L&G's Wednesday buffet, which serves brisket, chicken and country-style pork ribs smoked on the premises by Lenoir, who starts at 5 a.m. every morning. The barbecue buffet is the same $7.99 price, which is an absolute steal, for freshly smoked meat in an all-you-can-eat setting.
Lenoir admits he's still learning to use the smoker, and while I wouldn't say it's competition-worthy, it's certainly a great service for the hungry Florence's as my caller said, I think it's a very good buffet at its price point.
It's certainly worth a trip even if you don't work near Lincoln Boulevard. You can get in and out quickly, and the value is hard to beat.