Ryan Russell / provided
Pedro the Lion plays Aug. 8 at Tower Theatre.
Occasionally, the stuff people shout at the stage is more useful than "Free Bird."
"I get helpful hints and advice through interactions at shows sometimes," said Pedro the Lion's David Bazan. "In San Francisco a year or two ago, maybe more now, I guess … I was sort of shrinking from my role as, you know, the put-er on-er of the show, and a woman's voice that I didn't recognize and have no idea who it is came out from the audience and yelled, 'You're the dom.' … It was an affirmation, like, 'You got this. You're the dom,' like 'You're the one who we're all relying on to make this go and be safe and have us get our money's worth and you're engine of this thing.' A light bulb went on, and it changed the way I perform because I kind of needed permission somehow, I felt, so I was kind of in this dance with the audience, always sort of seeking their permission in an ongoing kind of way, and she kind of cured me of that with three words she lobbed from the audience."
Pedro the Lion plays Aug. 8 at Tower Theatre, 425 NW 23rd St. Following 2004's Achilles' Heel, Bazan retired the band name and released several solo albums, but he has since realized the name's usefulness to himself and his audience and revived it for Phoenix, released in January.
"On the one hand, it's kind of frustrating that a rose by any other name just doesn't get rated at all," Bazan said, "but on another hand, I get it because you're not even talking anymore about the risk that people are taking with their money. It's the risk people are taking with three minutes of their time, and everybody has so many choices about how to spend every five minutes of their time that they need a reason to click. That's kind of fucked up. Pedro turned out to be an umbrella that I can put things under that would give people an opportunity to even decide if they even want it to show up on their radar. … That said, I didn't feel like for my criteria that I could put Pedro the Lion on it and just make anything. It needed to reflect what Pedro meant to me, but I'm really grateful it's an investment that I had made years and years ago that still had some value left. … I'm really grateful for that. And I'm a little bit of a dumbass for not recognizing those dynamics sooner because I wanted to make something new."
The criteria Bazan has for Pedro the Lion's music completely changed the way he made the album.
"It hadn't been since Pedro the Lion in the 2000s that I tried to play any of the Pedro songs like they were Pedro songs; it was almost like I was doing a cover of them," Bazan said. "It sounds weird, and that distinction might be a little bit wack, but I was always doing an interpretation. … When I came back to the band name, I started trying to do so-called faithful renderings of these original songs and getting the mood and the tones right, at least as a starting place. And putting myself back through the material in that way reminded me of things that I cared about that I spent a lot of time understanding and making choices about that I had just discarded, and I was sort of bringing these things back to myself."
Phoenix rising
The album is named Phoenix not after the mythological bird that rises from its own ashes, but for the Arizona city where Bazan grew up. The songs are based on memories of his childhood in the 1980s, but Bazan said he was not personally in a place where he could write about them until recently.
"There's a sense in which the album is akin to a memoir, even though I hate that," Bazan said, "but I think that there's a certain point at which you're just not really eligible to write your memoir just in terms of your own lack of perspective. There's young people that can write memoirs because they just have that perspective sooner. It took me till my 40s to have enough perspective to even sort of turn this direction and start to mine this stuff. … What I lacked, really, beyond perspective and wisdom, was kindness for myself. I didn't have enough kindness for myself to be able to start this process."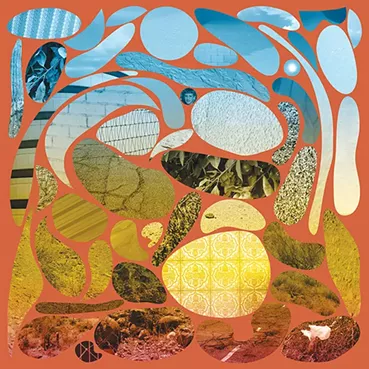 provided
Phoenix, Bazan's first album under the Pedro the Lion band name since 2004's Achilles' Heel, was released in January.
In retrospect, Bazan said he has realized that earlier Pedro the Lion records served as an outlet for his "secret grief," and solo albums such as Fewer Moving Parts, Curse Your Branches and Care find him "deeply struggling" to "keep [his] head above water."
"Without any external pressure, I think all my songs would have been about 95 beats per minute and all basically about the same exact thing, which is just some form of relating to grief," Bazan said. "Looking back, I can see that Pedro the Lion records are pretty grief-driven. Looking at it from my perspective, I can see it very clearly and then, at a certain point, self-loathing and self-hatred started to come in. … Phoenix is my attempt at a shift away from self-loathing."
The contrast between his new and old music became evident last year when he was putting together the set list for the band's "self-selected best of" tour.
"It was just so much darkness at once," Bazan said. "I was so grateful to flip over to this year where the basis of the show wasn't going to be all this old stuff, and not because I didn't like the old stuff. I very much loved it, but … it was a lot to balance. It was a lot of darkness. … It's hard to find a space for them in my new headspace."
Realizing that "people might be pissed" if he only plays material from his newest record, Bazan has made space for older songs such as "Penetration" and "Magazine" in what he considers the new set list's second act. Though Phoenix standouts "Quietest Friend," "Clean Up" and "Yellow Bike" reflect Bazan's more compassionate approach to self-examination, he still finds it easier to write sad songs than happy ones.
"Real joy, I think, is just such an elusive and magical thing," Bazan said. "There's something about grief which is profound. … It's more easily captured because it's something that we all have in common, and it's easy to get that to resonate in people, but we don't all have an experience with lasting joy or contentment. … It's not a destination where it's like, 'Oh, it's over there.' It's these little moments that you capture and hold and celebrate. I haven't made a practice of doing that as a person, but I'm trying to do that more, and maybe from that will flow an ability to write about it and embody it. I don't know. I hope."
Tickets are $24-$38. Visit towertheatreokc.com.