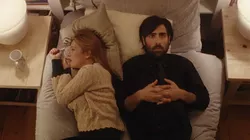 Philip Lewis Friedman is arrogant, rude and nearly breathtaking in his self-absorption. He is alternately narcissistic and self-loathing, his triumphs being without rival, his sufferings unbearable.
Philip Lewis Friedman is a writer.
And he's a literarily lauded one, at that. As the title character of Listen Up Philip, Jason Schwartzman exudes the charismatic insufferableness he so deftly dispatched in Rushmore and Scott Pilgrim vs. The World, among others.
But Philip, the author of a critically acclaimed first novel, is a wholly singular creation. He craves adoration but confounds his publisher by refusing to do publicity for his soon-to-be-released second book.
Such success doesn't quite match that of his photographer girlfriend Ashley (Elizabeth Moss of TV's Mad Men) — a fact that nags at him no small bit — but it has been good for attracting the occasional groupie and, more important, the attention of Ike Zimmerman (Jonathan Pryce, the Pirates of the Caribbean franchise), a Philip Roth stand-in and literary giant. In the reclusive Zimmerman, whose misanthropy is dwarfed only by his self-regard ("The greatest achievement of their life is they knew me," he grouses about former associates), Philip Lewis Friedman finds a kindred spirit and unfortunate mentor.
Screening Thursday through Sunday at Oklahoma City Museum of Art, 415 Couch Drive, Listen Up Philip is a tart, darkly comic skewering of self-loving/self-hating intellectuals and assorted cultural elites. Writer-director Alex Ross Perry is dead-on in his bloodletting of the New York literati, from Zimmerman's mock book jackets to Philip's literary rival, a supposedly nice fellow who describes himself as "self-deprecating" while using air quotes.
If you're familiar with the movies of Whit Stillman or Noah Baumbach's The Squid and the Whale, then you know this landscape of likeability-challenged, impossibly loquacious and emotionally withering characters. But Perry, who also made the little-seen-and-worth-seeking out 2011's The Color Wheel, goes a step more verbose with wonderfully dispassionate, ornate voiceover narration by Eric Bogosian. Nastiness isn't typically this entertaining.
But not everyone can so easily wrap their mouths around dialogue this sharp and purposely artificial. Moss tries making the most of Ashley, but the part is underwritten and you never quite believe she would put up with even a minute of Philip's boorish behavior. Krysten Ritter (TV's Breaking Bad and short-lived Don't Trust the B— in Apartment 23) is unconvincing as Zimmerman's neglected daughter. Listen Up Philip doesn't bother much with bringing depth to its female characters.
Nor does Perry's direction quite match his stellar dialogue. In lieu of visual flair, he opts for extreme close-ups and a wobbly documentary style. But writing this smart can get you past such bumps, especially considering the gusto with which Schwartzman and Pryce mine their inner cretins. It is a small marvel that Listen Up Philip so expertly savages the self-absorption of the artist's mind and finds a glimmer of humanity at its core.
Print Headline: Poison pen, Listen Up Philip is a smart, sharply observed send-up of the literary life.