Jacob Threadgill
Fish, al pastor and barbacoa tacos at El Fogoncito
In the discussion of factors that influence housing prices, easy access to a quality taqueria should go right up there with the quality of the education system and crime rates.
The Paseo Arts District got a boost last year as owner Emilio Granja converted the location at the corner of N. Walker Avenue and NW 30th Street into El Fogoncito, a Mexican eatery that harkens back to his time spent in San Luis Potosí, Mexico, after growing up in Chicago.
With the colorful mural depicting a fire (el fogoncito means "little fire" in Spanish), and even more eye-grabbing artwork inside, El Fogoncito is a welcome aesthetic addition to Oklahoma City's oldest art district. But is the food on par with the district's offerings that have expanded with the Paseo development (Scratch, Buttermilk) and construction of Shaun Fiaccone and Ryan Parrott's (Picasso Cafe) Frida underway?

The thing that originally caught my attention at El Fogoncito is its commitment to cook al pastor with care. Al pastor — which made its way to Mexico by way of Lebanese immigrants — marinates pork in chilies and spices before staking the meat and cooking it on a rotisserie, just like gyro or shawarma. The fat drips through the meat spike to create a juicy finished product with a crunchy exterior.
The photo of the al pastor rotisserie is on the outside of the restaurant, but when I arrived for my review, my first visit in a few months — it was not in its original location near the counter.
"Maybe they moved it to the kitchen or the rotisserie is getting serviced," I told myself, with al pastor stuck on my mind.
I tested out the al pastor by ordering the queso fundido ($10.99), which is one of El Fogoncito's signature dishes and graces its cover photo on Facebook. The dish originally served with chorizo when it first opened now pairs al pastor with mushrooms and sirloin steak over a bed of bubbling cheese.It's a combination of two types of meat, cheese and mushrooms -— what could go wrong? Well, it's a better idea in concept than in execution. The dish arrives in a cast iron skillet with cheese bubbling, but you only have a few minutes before the cheese starts to harden. But you've still got two kinds of meat and those tasty button mushrooms, right? The mushrooms had the most flavor of the three ingredients.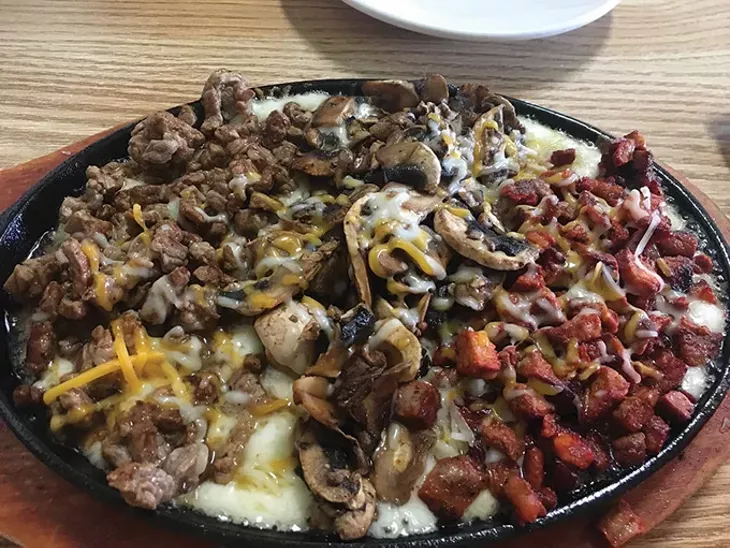 Jacob Threadgill
The queso fundido is a better idea in concept than execution.
The
al pastor
was dry and not up to the standard by which the restaurant set in an earlier experience. I regretted spending $11 ($9.99 as recently as April) for something that was difficult to eat (chips broke off in the cheese as it cooled) and was a plate full of grease.
I hoped that the
al pastor
could redeem itself in taco form ($3.25 per taco), but I was once-again disappointed. I liked the accoutrements of pineapple and radishes on the
al pastor
, but the meat was still dry, even after mixing and matching the three above-average tableside salsas. I also tried the fish taco ($3.75), which was probably my favorite on my most recent visit. It was nice to get a fish taco that isn't fried, and the accompanying mango salsa is good, but I would've preferred the meat be placed at the bottom of the taco.I realize that there is no perfect way. Fish and salsa at the bottom of the taco could cause the tortilla to become soggy and lose structural integrity, but with cabbage on the bottom, it's a bitter entry into a delightful taco, instead of a crunchy addition.
I was excited to try the barbacoa taco because it is topped with shaved Brussels sprouts in addition to cilantro and cheese. While the barbacoa is nowhere near as good as Iguana Mexican Grill's version that uses the impossibly tender beef cheek, it's a solid taco. From previous experiences, I will also recommend the pork belly taco and its tomatillo sauce.
My dining partner tried the chicken flautas, and I found them to be an adequate version of the dish with good rice, beans and a healthy salad. Once again, the chicken, like the al pastor, was on the dry side.
El Fogoncito offers a few dishes that aren't readily available in the city: molletes and pozole. The mollete is an open-faced sandwich that hollows out some of the interior of the bread so that it can be filled with your choice of meat, cheese and pico de gallo and then baked and topped with sour cream. It's honestly a dish I can't remember encountering before, but it intrigues me enough to want to return.
Pozole is one of my favorite dishes because it reminds me of trips to New Mexico, and I love the big chunks of hominy. Once the weather begins to cool, I will be there for the pork-based stew.
I've got to give it to the kitchen for using Brussels as a topper for barbacoa and pork tacos and tortas. We've probably been overexposed to Brussels over the past decade, but I'll never get enough. Slicing them thin and using them as a cabbage or lettuce replacement is inspired.
El Fogoncito offers good lunch and weekday daily specials. It's a warm location in which to enjoy a drink from the bar, especially with the lively murals surrounding the dining room.
There's no doubt it has been a welcome addition to the Paseo. I just hope the al pastor returns to form.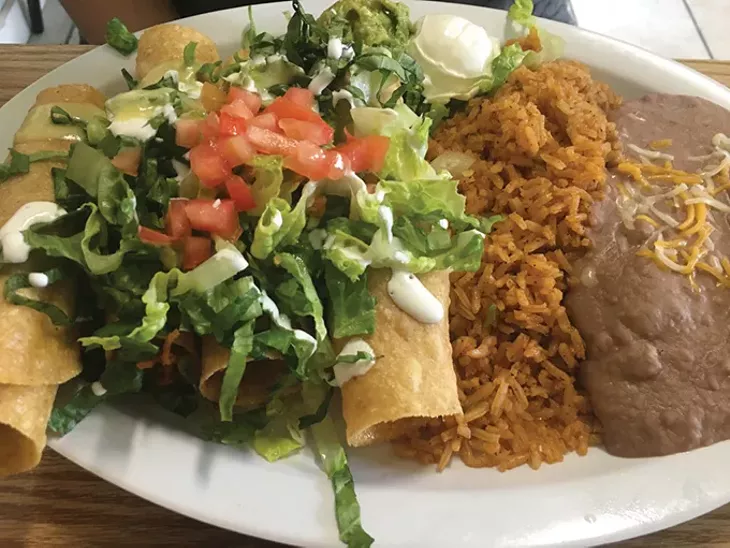 Jacob Threadgill
Chicken flautas with sides of rice and beans.