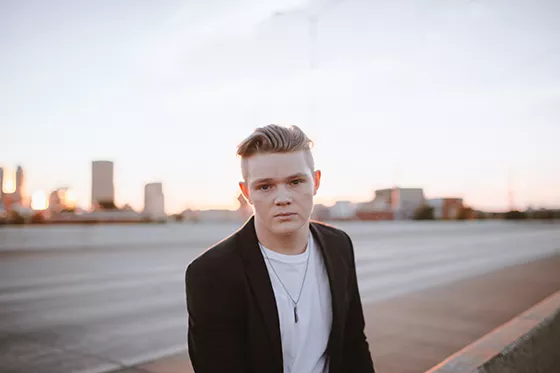 provided
Musician and Ada native Connor Hicks died Dec. 18, 2017 at the age of 20.
Shortly after midnight on Dec. 18, 2017, 20-year-old Ada-born musician Connor Hicks died in a traffic accident on a foggy two-lane road in Seminole County. A little over a year later, Legacy, a collection of his previously unreleased songs, gives listeners one more chance to hear new music from Hicks.
"We actually had a few of the songs already mixed and mastered, and we were planning on releasing them before he passed away," said Jacob Mann, Hicks' manager and friend. "And I knew that there were more of them that we had gone over. I didn't know that there were as many as we were able to find."
Mann worked with local musicians including Chavez Soliz and Garrison Brown to complete the five original songs included on Legacy.
"We got a lot of them off of his laptop, but they all were in various stages of doneness," Mann said. "I heard most of them, but there were several that I hadn't heard and some that I heard that I loved that we couldn't put on the record because they were just so simple. One of the things that we didn't want to do was try to fill in the blanks of what we just imagined Connor would have done because nobody could do that. … We tried to get the stuff that was mostly there, and there wasn't a ton, obviously. But we're happy with what we got. If there was a remote possibility of us being able to release something, we made it happen with this record. Everything else was really just not at a point where it could be touched, unfortunately."
Lead single "When We Had the Fire," which Mann called the "truest representation" of Hicks' most recent musical evolution, was the only song completed and ready to release at the time of his death. Attempting to recreate what Hicks might have intended to do with the other four original songs proved difficult, but Mann said having musicians who worked with Hicks helped.
"It was really hard," Mann said. "I think that what made it a lot easier was just getting Connor's closest friends who were all musical influences for him ... all these guys that really worked with him a lot, and having those guys work on the record, they were able to all collectively make some good decisions on what they thought Connor would like and how they felt like Connor would've gone, but it's really hard to replicate a guy like that. I mean, it's impossible. He was always growing and always evolving, so it's really not possible to know that's what he would have wanted, but we think this was close, as close as we could comfortably say we got it."
Hicks, who constantly pushed himself to improve, enjoyed collaborating with other artists to gain new perspective on his own work, Mann said.
"He was extremely critical of everything that he did before," Mann said. "He was always ready to do the next thing. He was always ready to write a better song than the one that he had before. … That was something that he liked about working together. He was able to get out of his own head a little bit and let somebody else tell him, 'Hey, this is a good song. This is worth hearing.'"
David Broyles, a member of the faculty at Academy of Contemporary Music at University of Central Oklahoma (ACM@UCO) and frontman for the band Dr. Pants, taught Hicks in music theory and songwriting classes. As a student, Hicks was obviously talented, Broyles said, but he also "encouraged other people in their art and wanted to help people out wherever he could."
"Occasionally, we'll get a student who will show up at ACM, and they already have a, maybe not fully formed, but sort of a fully formed kind of thing that they are putting forth musically, and he was one of those guys," Broyles said. "It wasn't that he was already like, 'I'm a badass. Look at me.' He wasn't like that at all. It was like, 'This is my thing. This is what I love to do.' … He'd pick up his guitar and play this really great blues riff or this really cool chord progression thing that had a great rhythmic feel to it, or whatever. That kind of stuff just came really naturally to him, and everybody just dug it."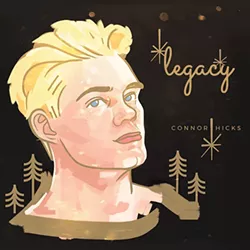 provided
Legacy, compiling Hicks' debut EP Savior and several previously unreleased songs, was released in December.
Happyland
One of Mann's favorite songs on the album is the instrumental "Happyland," taken from a demo Hicks composed on his laptop. The original demo is also included on the album.
"All these guys were able to take this idea that Connor had written on his computer with just software instrumentals and record it and do it live, and they intentionally left space in that track for where Connor would have been, where his guitar would have been," Mann said. "So it's this really amazing, ambient thing but it's also kind of still reverent."
While Mann said working to finish and release his friend's music provided some catharsis, the project was also a constant reminder of the lost life and potential.
"You're just faced with the realization every day that you're working on this super talented guy's music, and the record's really cool and everyone's so receptive, and you're just like, 'Man, he's not here. He's not here to make the amazing music that that he undoubtedly would have made,'" Mann said. "That was tough, but it definitely feels good. I think everybody feels like we were able to come together and honor him in the community, and it's really exciting."
Hicks' debut EP Savior, originally released in 2016, is included at the end of Legacy, but Mann said the new songs that precede it on the album are a better indicator of the "more mature" sound Hicks was working toward the end of his life.
"That Savior EP, that was definitely an earlier iteration of his musical development, and it was probably not along the same lines as what he was doing at the end," Man said. "The [Legacy] songs are all the very first steps in what was going to be a really pretty different change of direction, I think. ... He was in kind of this total overhaul, writing brand-new material, and this material we're releasing was meant to be this transition into this new space."