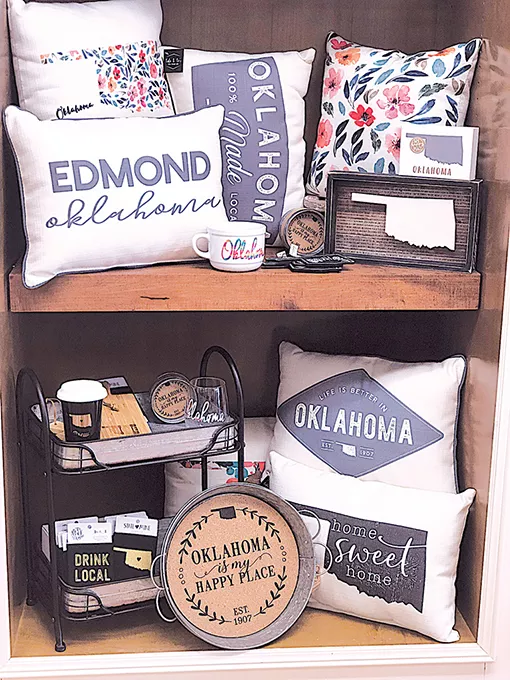 Lulu & Lo's / provided
Lulu & Lo's offers unique accessories and gifts in downtown Edmond.
Walk into Lulu & Lo's, the new clothing boutique and gift shop in downtown Edmond, and you'll get a cheerful greeting. If owner Lauren Frazier doesn't say hello first, her miniature longhaired dachshund Maggie will come trotting up instead, weaving around displays of home goods and slipping through the legs of rehabbed furniture.
Opened on June 14, Lulu & Lo's, 8 S. Broadway, is a bright, airy shop that is much larger than it initially seems, with hardwood floors leading back to a small plush area with a pea-green couch and lots of hip clothing and shoes. The goods are a blend of trendy (cold-shoulder tops, PopSockets and cosmetic bags with snarky text) and gift-shop mainstays (candles, Oklahoma pillows and tea towels). The result is a charming blend of stylish and kitschy.
Lauren Frazier is originally from the Stillwater area but attended University of Central Oklahoma (UCO) in Edmond.
Several years ago, her mother Lora Frazier left a 9-to-5 job to focus on her dream of refurbishing furniture, using the name Redhead Rehabbing. This hobby eventually grew into a storefront, The 405 Mercantile, which opened in July 2016 and is located in downtown Stillwater.
Lauren Frazier helped her mother in the store even while attending UCO, working there on the days she didn't have class.
"I lived in Alpha Gam," Lauren Frazier said, referring to the Alpha Gamma Delta women's fraternity house at UCO. "I would come to class on Tuesday mornings. I'd stay Tuesday night and Wednesday night, and then I'd go back to Stillwater on Thursday when I got done with class."
She graduated in May with an undergraduate degree in psychology and said she knew she wanted a job that would allow her to serve others.
"All my friends always said, 'I wish that your mom's store was closer! Edmond needs something like your mom's store! I love everything that she has!'" she said.
She was discussing possibilities with her mother during her senior year, and they decided to open another location in Edmond for her to manage. She said she is still considering going back to school for a master's degree at some point, but for now she has found a place in retail and enjoys helping customers find gifts or outfits, which in turn make them happier and more comfortable.
When the time came to find the new store's location, Lauren Frazier took the initiative to browse properties herself. She was at one point considering a converted convenience store, but Lora Frazier spotted furniture for sale on the downtown Edmond strip, at what used to be a clothing boutique called Just Lookin. When the family realized it was for rent, they viewed it and immediately fell in love with the property.
"It was meant to be," Lauren Frazier said. "It was already move-in ready. We had very minimal work."
Her father Shane Frazier and brother Zach Frazier helped build a custom checkout counter and finished off the dressing rooms. Lauren said she was fortunate her family has building experience from their time in her mom's furniture business.
Lulu & Lo's / provided
Lauren Frazier operates Lulu & Lo's with her mother, Lora Frazier.
Division of labor
Lulu & Lo's is nestled between an art studio and a hair salon on Edmond's thriving downtown stretch, which is near UCO and a large potential customer base. Lauren said she has seen downtown grow with new construction and is excited to help bring new life to the area, a sentiment she said many local residents echo when they stop by.
Although she is currently managing the store by herself (with one canine coworker), her mother continues to help, visiting two or three times a week while still maintaining her Stillwater business. Lora Frazier arranges window displays and home décor while her daughter handles the clothing side.
Lauren Frazier was never as passionate about furniture.
"Painting stinks," she said, laughing. "I help her paint furniture, but it's not something that I really enjoy and would like to do every day. But she has a vision for the piece, and it always turns out so pretty."
Customers can buy Redhead Rehabbing items at the front of Lulu & Lo's. Examples include a secretary desk, a side table and a chair, all redone in a chic farmhouse style with new drawer pulls.
Even the store's name references Lauren Frazier's relationship with her mother, signifying something they accomplished together. She explained that "Lo" has been her nickname since high school.
"My mom decided that she's not going to be a real 'grandma,' per se," she said. "She wants to be called 'Lulu.' So we put that together."
After a grand opening featuring drinks and L-shaped doughnuts, business took off. Lauren Frazier relies largely on word-of-mouth and friendly relationships with other local businesses, which she said have been remarkably welcoming.
"Citizens Bank [of Edmond] has been amazing," she said. "They kind of had a rotation with their staff when we had our grand opening on Thursday, Friday, Saturday, sending them down here. Even their CFO has been down to our store."
She said she is glad to serve a diverse clientele at the boutique.
"We pride ourselves on trying to have something for everyone," she said.
Among her most popular clothing lines are Listicle and Umgee, along with KanCan and Judy Blue jeans. She also carries a few locally made items, including leather earrings by Jen Werner Designs and patterned, structured car trash bags from 341 Concepts.
Another décor item unique to her store is a large selection of Fusion Mineral Paint, which is only sold in a few other locations in the state. It is an acrylic furniture paint made for do-it-yourselfers who want quick and easy rehab results.
She is already planning upcoming sales and ways to expand her customer base, drawing upon what she has learned from her mom and the first family business. For instance, she said she plans to market to the UCO sororities when the semester starts since recruitment is such a busy time of year. She will also have a big Black Friday sale when the holidays come around.
"I hope that we gain more customers and more people find out about us," Lauren Frazier said. "But other than that, it's going really well."
Visit lulu-los.business.site.