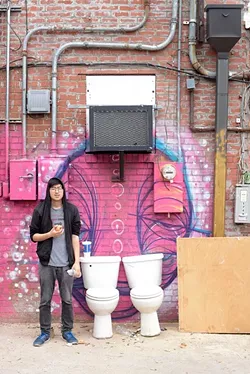 Local comedian James Nghiem's tribute to Banksy is the latest in his series of pop culture-themed art shows. | Photo Garett Fisbeck
Local comedian James Nghiem has a bit in his standup routine about painting penises on street potholes to force the city to do something about them.
Relax, concerned citizens. Nghiem is not literally on the streets, vandalizing examples of urban decay, but the public protest sentiment might have had a role in inspiring his latest community art show.
Enter Through the Drink Shop: A Fake Banksy Art Show is 8 p.m. Oct. 22 at 51st Street Speakeasy, 1114 NW 51st St. The show is accepting art submissions of works fitting the theme through Oct. 15.
The show's title is a play on Exit Through the Gift Shop, an acclaimed 2010 documentary directed by British street artist Banksy, the famously enigmatic guerrilla artist whose moniker and unbureaucratic work have become among the greatest known contemporary examples of protest art.
It can be easy to imagine how a Banksy-like figure would have plenty of inspiration and material to work with in Oklahoma, but if city residents hope Nghiem fills that role locally, they should look elsewhere.
"I'm not a good enough painter," he said.
Cultural submersion
Nghiem said he has already heard from about 15 artists interested in participating in the show that's still a month away. He expects to have around 40 pieces in the exhibit.
All of the art will be for sale, with a portion the proceeds going to Regional Food Bank of Oklahoma.
This is the fifth themed community art show Nghiem has organized. He tries to make each event like stepping into something new.
"I'm trying to make every night feel like you're on vacation, like they're in Bristol or Europe," he said. "I want them to come talk to people they wouldn't meet otherwise."
Guests will have more than the art on the walls to take them outside Oklahoma. Nghiem is working with Speakeasy to come up with creative, Banksy-inspired menu items for the night. He is considering bringing in improv artists to pose as British street walkers and engage with guests.
Nghiem is also booking punk and hip-hop musical acts for the night as a nod to the music scenes traditionally tied to youth culture and protest movements. A comedy show is planned for the second floor. Nghiem said local sketch-comedy troupe Saadboys plans to premiere an Enter Through the Drink Shop mockumentary. Fans and critics still debate whether Exit Through the Gift Shop was a satirical documentary, though filmmakers insist it was not.
There might be a small cover fee at the door, but Nghiem does not expect it to be more than $2.
"It's a lot of work to put these shows on, but I also don't want to turn anyone away from the door," he said.
Legend grows
Banksy's most known works include murals on the West Bank Wall separating Israel and Palestine, the "Rage, Flower Thrower" stencil in Jerusalem and London's "Girl With Balloon."
The artist keeps his — or her — identity secret because graffiti is generally considered a crime.
"I think he's cool," Nghiem said, "whoever he is — or she is or they are."
Nghiem first heard about Banksy from his friends. Through the years, Banksy has built up some international fame and admiration for his visual statements on culture, politics, economics and the human condition. Nghiem hopes the artists participating in Enter Through the Drink Shop take a similar approach with their works.
"I feel like the spirit of him is here," he said. "I think we've got a lot of things to protest in Oklahoma. I really want people to be able to express that in a constructive way."
The Banksy spirit might be present in the city outside the show itself. Nghiem said "Fakesy" (fake Banksy) works will pop up in the days leading up to the event. He said he does not know if people will be able to tell that the art is associated with his show, but that might be beside the point. Fakesy's identity is unknown to the public.
"I hope the mystique grows," he said. "I hope more people start asking me about the identity."
Getting hooked
This will be the fourth pop-culture themed art event Nghiem has put on in the city since October 2015. The first was Fierce Punch, a tribute to the Street Fighter video game series. In February, he hosted A Very Wes Anderson Art Show, a nod to the director of The Royal Tenenbaums and The Grand Budapest Hotel. In June, he hosted Hardboiled Space Boogie: A Cowboy Bebop Art Show in honor of the cult-classic anime.
The well-recognized themes lure people to local art who otherwise might have never given it a chance.
"I'm trying to do this thing where I use pop culture to introduce people to actual culture," Nghiem said.
He said there are many well-produced and well-funded festivals and events for the masses to enjoy in the city, but those kinds of events have never been what he preferred. Nghiem's do-it-yourself, smaller-scale functions aim to benefit local artists and bring attention to local culture.
"I don't have any endowments behind me; I don't have any sponsors," he said. "I just want my friends to make cool shit, because they do. And I want people to be able to enjoy it."
Email Nghiem at robotsavescity@gmail.com to inquire about art submissions.
Print Headline: City canvas, Local artists pay tribute to mysterious Banksy's work with the Enter Through the Drink Shop group show.