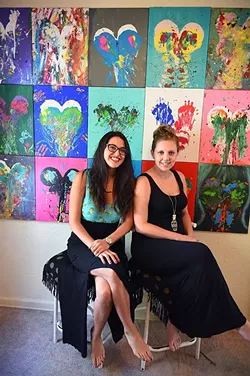 Mark Hancock
Left to right, Lindsey Michelle Webb and Kelly Brinkmeyer with breast-print paintings, 9-22-15.
Local artists Kelly Brinkmeyer and Lindsey Michelle Webb have joined minds and mammaries to create the Save Second Base Project to raise awareness and funds during Breast Cancer Awareness Month in October.
Their project includes an Oct. 17 class in which guests can create their own breast paintings (we'll explain that one in a minute) and a pop-up art show and sale that opens with an Oct. 30 reception and runs through Nov. 8. Both happen at 1219 Creative, 1219 N. Classen Blvd.
Proceeds benefit Susan G. Komen Central & Western Oklahoma, an arm of the largest breast cancer education, care, treatment and research nonprofit in the nation.
Mark Hancock
Breast Prints at Kelly Brinkmeyer and Lindsey Michelle Webb's studio, 9-22-15.
Breast impression
Brinkmeyer said she experienced her artistic awakening at the 2007 Bonnaroo Music Festival in Manchester, Tennessee. She traveled to the event, which she called an "adolescent hipster's paradise," and was mesmerized by women who wore psychedelic paint instead of clothing.
Flash forward to her pregnancy. She wanted to document the event but didn't want to use traditional photography. That's when she flashed back to Bonnaroo.
She removed her clothes, covered her chest in paint and then did push-ups onto a canvas, leaving prints of her torso and chest. Her unique art form was born. That year, she launched Pineapple Rag Multimedia Artwork.
Like Brinkmeyer, Webb also was pregnant when she began making her breast prints, and she continues her craft today.
The women see the art as a way to own their femininity in a fun, beautiful, colorful way.
"I've been an artist for 10 years; I started my own label, Pineapple Rag, when I was 18," Brinkmeyer said. "We do landscapes, pop art and other things, but our breast prints have really taken off. We've sold about 300 in the last two or three years. Sometimes people see them and don't know what they are."
She has been setting up at festivals, art events and even hip-hop battles and decided to use her skill to help others. She chose a cause with personal meaning to her.
"My grandmother had breast cancer and died in 2006. Her name was Shirley Leslie, and she fought breast cancer three times," she said. "This project is my creative nod to her."
The Save Second Base Project art class is 3-6 p.m. Oct. 17 and is understandably held in a private setting.
"The class is similar to a paint and palette-type class," Brinkmeyer said. "We will make breast prints in a private setting, and women will have the option to put their art in the show if they want to."
Unlike the drink-and-create courses, however, participants slather layers of paint onto their bare breasts then do push-ups onto a canvas to create the art. The buy-in is the cost of a canvas: $30 for one or $45 for two. Other supplies are included.
The Save Second Base Project pop-up art show and sale launches almost two weeks later and will feature 18-20 paintings by Brinkmeyer and Webb as well as entries from the class. Admission is free, and the opening reception is 6-8 p.m. Oct. 30. The show runs through Nov. 8. Pieces will cost $60-$100, Brinkmeyer said.
The pair of friends encourages all women, including breast cancer survivors and women who have undergone mastectomies, to participate in their project.
To register for the class and learn more about the Save Second Base Project, visit savesecondbaseproject.eventzilla.net.
Print Headline: Base instincts, Kelly Brinkmeyer and Lindsey Michelle Webb press the issue of breast health — literally — with their Save Second Base Project.