Carolyn Hart, an OKC resident, is the author of more than 50 novels and was recently awarded the title of Grand Master, a prize tantamount to the Nobel Prize for mystery fiction.
Carolyn Hart started off writing mysteries as a lark. She was a reporter with young children at home, and she saw a contest in Writer Magazine. They listed writing contests in the back, and this one called for a mystery for girls ages 8-12.
"I thought, 'Hey, I loved those books, Nancy Drew," Hart said. "I wrote the book and won the contest."
The rest, as they say, is history. Hart lives in Oklahoma City, and she is now the author of more than 50 novels.
Twenty-three of her books are part of her Death on Demand series featuring Annie Laurance, owner of Death on Demand bookstore in Broward's Rock, South Carolina.
She also wrote the Henrie O series about retired journalist Henrie O'Dwyer Collins, who travels the world and always seems to get tangled up in some kind of trouble.
Hart's most recent books are part of the new Bailey Ruth Raeburn series, in which the ghost of a woman killed at sea returns to fictional Adelaide, Oklahoma, to help people in her town.
Hart has won numerous awards — including three Agatha Awards and two Macavity Awards (both prestigious awards for mystery writers) — in the course of her career.
Nothing, however, tops the award that she won this year: the title of Grand Master, a prize tantamount to the Nobel Prize for mystery fiction. Like the Nobel, the title is granted based on a body of work rather than a single work. It is also considered a lifetime achievement.
There were two recipients at this year's awards: Hart and California writer Robert Crais. The two are old friends, and they were both surprised and delighted to be chosen for the achievement. Organizers of the Edgar Allen Poe Awards notified them of their selection late last year, and the Edgar Awards ceremony (at which the Grand Master Award was presented) was May 1 of this year.
"I was astonished when I received the call. It never occurred to me that
I would be named Grand Master," she said. "It's the most prestigious award in the mystery world, and I still find it very hard to believe that I am included."
Though she jokes about resting on her laurels now that she has achieved such a significant accomplishment, she has no plans to change anything and continues her writing process in much the same way she always has.
"I usually come up with an idea of some kind of mystery, and then I think about what characters would work in that book," she said.
A prolific reader, Hart admits that she doesn't read as much when she is working on a new book, and she writes about two books a year.
"When I'm working on a book, I spend most of my time vacantly staring into space, as my husband affectionately calls it, because I am thinking about my characters," she said. "Everything in a mystery depends on the character. Truly. And you have to have a particular type of character to make the story work."
She admires other writers of character-driven mysteries, especially Agatha Christie. The grande dame of crime novels comes up often in her conversations.
Hart also never makes an outline, and her mysteries are not resolved when she starts them.
"I have no idea how it's going to unfold," she said. "I know the protagonist because that gives you your background. And I know the victim, and that's the second most important."
As far as the progress of the story, she said it's more like "chipping it out of stone." No matter how many books she has under her belt, she is always daunted by the process of writing another.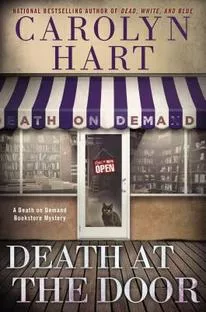 "Each time, it's extremely difficult and I imagine that I won't get to the end," she said.
She is a member of Sisters in Crime Inc., a network of women mystery writers with 3,600 members worldwide. She highly recommends any woman getting into the mystery genre to join, as they have newsletters and national and regional events so they can meet and learn from other writers.
"You always learn something by listening to other writers talk about their works," she said.
She attends yearly workshops across the country that are attended by mystery writers of all stripes and has many friends who are also writers and teachers.
When she does take a break, she reads many authors in the genre, both contemporary and classic.
She listed other classic authors like Eric Ambler and fellow Edgar Grand Master Robert Crais as among her favorites.