Garett Fisbeck
Com Tam Bi, Thit Nuong, Cha at Lang's Bakery, Monday, May 9, 2016.
What's so great about sliced bread?
Head down the bread aisle at the grocery store and you might find a few sliced ones worth eating, but most are dry, tasteless loaves of sugar, white flour and air — lots and lots of air.
You know why bread is placed at the top of your sack of groceries?
If it was packed at the bottom, the weight from everything else would press the air out of that sliced bread and leave you with a loaf of smoosh.
Give me a real hunk of unsliced bread — a crispy crust that pops and crunches under the pressure of your teeth, protecting the tender webbing of carbs held inside — any day.
Give me the bread at Lang's Bakery, 2524 N. Military Ave., and fill it with charbroiled pork, jalapeños, pickled carrots, onions and sprigs of cilantro.
Lido sits at the corner of the shopping center, soaking up all the attention, but savvy eaters find their way to Lang's for some of the best banh mi sandwiches in the city.
But first, let's clear something up. The term "banh mi sandwich" isn't like "ATM machine" or "PIN number." Banh mi simply means bread — usually the kind of baguette brought to Vietnam by the colonial French.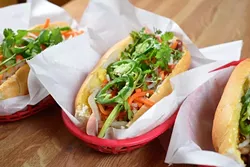 Garett Fisbeck
Banh mi at Lang's Bakery, Monday, May 9, 2016.
A variety of meats is stuffed inside that bread, and my favorites by far are the charbroiled pork or the chicken (each $3). The banh mi glows with a golden brown marked by a crust ready to shatter as you take a bite. There's a nice chew as the ingredients inside soften it up for your next mouthful.
The barbecue pork and "assorted Vietnamese ham" sandwich varieties also are $3. Both are fine, but neither captures the perfect cooperation of the chicken or pork sandwiches.
The best on the menu is that charbroiled pork. It's a must.
I fell in love with the menu's description of Hu Tieu Bo Kho ($7) before I took a bite. It's a lovely, big bowl of stewed beef with tender carrots and thin white noodles in marinated soup, and you'll be forgiven for wondering if it's similar to that other Oklahoma City Vietnamese staple, pho.
Garett Fisbeck
Hu Tieu Bo Kho at Lang's Bakery, Monday, May 9, 2016.
Well, it is and it isn't. It's beef and it's noodles and it's soup.
But while pho has an aromatic quality to the broth, this is almost like pot roast with gravy that hasn't been thickened. It is also delicious.
Dress it however you like, but know that the flavors are different enough from pho that you can't just dump in sriracha and call it good.
Strike that; you can call it good however you want to dump stuff in, because it is good. The beef melts on your tongue and the broth is full and luxuriously fatty. The carrots are so tender they might dissipate if you look at them too hard.
I'm a firm believer that it's always time for soup, but if you're one of those types who doesn't like slurping down a steaming-hot bowl of liquid on a summer day, there are other menu items, too.
Perhaps you'd like Com Tam Bi, Thit Nuong, Cha ($7) or as I call it, "the No. 10." Listed under "broken rice" dishes, it's a heaping plate of rice covered in sweet, salty charbroiled pork and shredded pork. Off on the side is a baked egg patty.
The main event here is the charbroiled pork and all of that fatty juice soaking into the rice. It hits all the right buttons for me: chewy, crispy, soft, sweet, savory, fatty, starchy and filling. Keep your arms and legs inside the car at all times because anything between my mouth and that food could get gnawed off.
If the thought of eating all that food makes you groggy, it's probably time to order the French drip coffee with condensed milk over ice.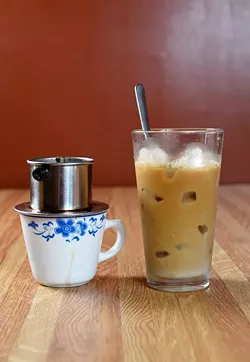 Garett Fisbeck
Cafe Sura Da/ Nong at Lang's Bakery, Monday, May 9, 2016.
For $2.75, it's like a sweet, refreshing version of that scene in Pulp Fiction when Uma Thurman gets stabbed in the chest with an adrenaline shot.
Lang's is hidden away in that shopping center, but like any treasure, it's worth searching for. Its bahn mi sandwiches are my favorite in the city, and the rest of the menu is a joy to explore.
Print headline: Charbroiled nirvana, Unbeatable banh mi sandwiches put Lang's Bakery above the rest.