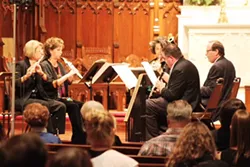 Brightmusic Chamber Ensemble / Provided
A woodwind quartet performs at a past Brightmusic Chamber Ensemble Performance.
Freddie Mercury famously said people could do what they wished with his music and legacy as long as they "never [made him] boring."
Brightmusic Chamber Ensemble takes that message to heart.
Queen's unorthodox use of different musical styles under the general rock umbrella often baffled critics of the day, but it makes the band's music a logical fit in a chamber music setting.
Brightmusic closes out its season with Quintets, Sextets & Queen 7:30 p.m. Tuesday at St. Paul's Cathedral, 127 NW Seventh St.
A Queen arrangement by Carl Rath includes parts of the songs "The Show Must Go On," "Somebody to Love," "Crazy Little Thing Called Love," "Fat Bottomed Girls," "The March of the Black Queen," "Radio Ga Ga" and "You're My Best Friend." "Bohemian Rhapsody" runs all the way through.
Chad Burrow, co-artistic director of Brightmusic and former principal clarinet at Oklahoma City Philharmonic, said Brightmusic is always looking for new and exciting ways to mix musical styles when preparing a season. It opened its season in September with an arrangement of songs by The Beatles.
"I personally am a huge fanatic of Queen, and I have always wanted to find some way of performing their music," Burrow said.
He called Queen, led by iconic frontman Mercury, a unique rock band in the history of popular music. Its 1975 album A Night at the Opera is known for combining elements of hard rock, musical theater, balladry, ragtime, progressive rock and opera.
"The arrangement of Queen songs for a traditional classical woodwind quintet is a kind of homage to a band that prided itself on breaking through genre and stylistic stereotypes to create a truly unique soundscape," Burrow said.
Queen bravely combined rock and opera, so why not mix chamber music with popular music? Mercury would approve.
The night's performance also features more traditional offerings. Anton Reicha's early 19th-century work "Wind Quintet Op 88, No. 2" was specifically constructed to highlight the five flavors of the classic woodwind quintet: flute, oboe, clarinet, bassoon and horn.
"Mládi," or "Youth" in English, is a sextet by Czech composer Leoš Janácek. The piece brings an Eastern European folkloric color to the program and adds a bass clarinet. The event's other sextet, by Ludwig Thuille, adds piano to the woodwind quintet. Burrow called it the masterwork of the mostly unknown composer.
"It is filled with audacious Romantic-era harmonies, extravagant melodic writing and a powerful dramatic scope," he said. "This is sure to be an audience favorite."
He said when he helps set up Brightmusic seasons, he tries to find a great mix of standard chamber music and winds and strings covering a broad repertoire from the Baroque era to modern day.
"We at Brightmusic strive to offer the public something that they cannot get anywhere else," he said.
For more information or to order tickets, visit brightmusic.org.
Print headline: Queen quintet, Brightmusic Chamber Ensemble honors the music of Queen with a woodwind arrangement.