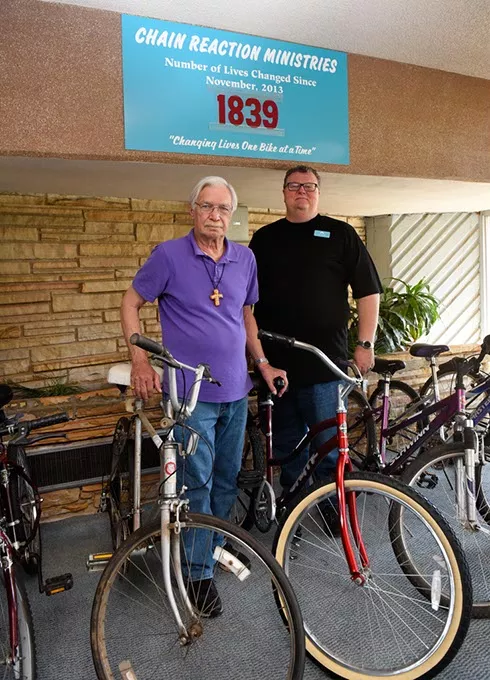 Garett Fisbeck
Larry Batten and Rev. John Maiget pose for a photo at Chain Reaction Ministries at First Christian Church, Friday, May 27, 2016.
The big, white egg of a church on Northwest 36th Street and Walker Avenue is not just a 126-year-old architectural landmark; it is also home to a very important Oklahoma City charity. Restoration Church at the Dome (formerly First Christian Church), a Disciples of Christ congregation, also runs Chain Reaction Ministries.
The nonprofit repairs bicycles and gives them to homeless people in the community so they will have reliable transportation to and from work.
Since its inception in 2013, the Oklahoma City branch has given away over 1,800 bicycles. Chain Reaction Ministries (CRM) donates bikes mainly through referrals from other homeless support agencies. The Department of Veterans Affairs, The Curbside Chronicle and Homeless Alliance are a few of the organizations coordinator Larry Batten and founder Rev. John Malget regularly hear from.
"We've become the transportation wing for many agencies," Malget said.
He brought CRM to OKC after serving at the original Houston branch for over three years. Malget saw a need here due to the city's lack of a strong public transportation system. Local church elders were surprised to find he was right; Oklahoma City has since surpassed the success of the other ministries in Bentonville, Arkansas; Baton Rouge, Louisiana; and Houston, Texas.
"When I got here, I had the bicycle ministry in the back of my head," he said, "but the whole idea of outreach is: What is a need here in Oklahoma City that is not being met?"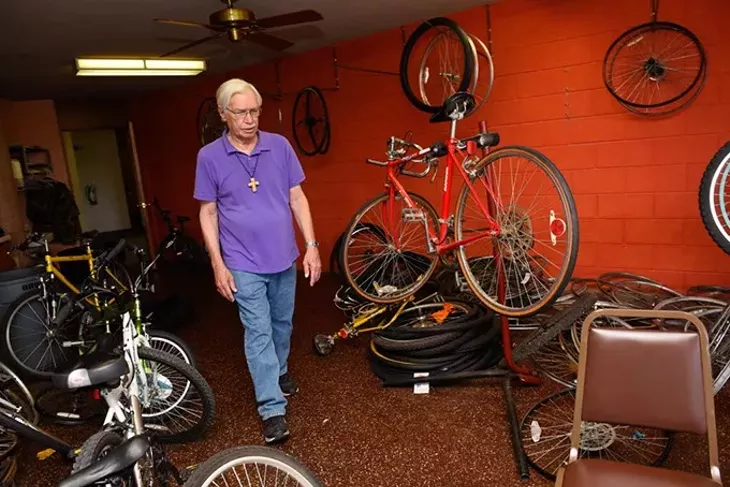 Garett Fisbeck
Larry Batten at his shop at Chain Reaction Ministries at First Christian Church, Friday, May 27, 2016.
'God's plan'
He found his answer by simply looking around the city.
"The transportation in Oklahoma City is not great, and the buses don't run, you know, when poor people need to get to work," Malget said. "Sometimes they're getting to work in the middle of the night, or they're leaving for work in the middle of the night."
Because of his experience in Houston, Malget had modest expectations for CRM when it launched here. Houston's homeless population is more than four times larger than OKC's, with comparable square miles of land, but it gives away considerably fewer bikes per year.
"His goal, when we started this, was 100 bikes a year," Batten explained. "That's what Houston was doing. Our first year, we blew Houston away."
Organizers couldn't have predicted the extent of the need in OKC.
"God had a whole lot more planned," Malget said. "We're here at over 1,800 two and a half years later."
He went on to attribute the difference to Houston's better public transportation system.
He also talked about how the CRM church in Houston is not in the easiest location for people who need transportation to get to.
Houston, of course, is more densely populated than Oklahoma City and utilizes sophisticated rail and bus transit systems that run frequently in high demand areas. Still, OKC's recently reenvisioned and rebranded EMBARK metro transit system has received accolades. This year, Oklahoma Transit Authority gave EMBARK two awards for marketing excellence and innovations such as Wi-Fi and real-time route information. It also added lighting and bus stop shelters. EMBARK increased night ridership six months ahead of schedule with the help of marketing and public education campaigns.
The Federal Transit Administration honored it for effective grant management, as well.
One night route runs from Reno and MacArthur avenues through uptown, Midtown and OU Medical Center. All service ends at midnight. As an example of OKC's need, Malget explained that a nighttime warehouse job might not be located near that night route. Or the shift might start or end after midnight.
Stability, hope
Restoration Church at the Dome has a full-time custodian who started working at the bike shop to pay it forward, Malget said. He volunteered in the shop four nights a week. He also worked temporary night jobs and lived in a tent.
Many people who receive bikes from CRM express gratitude and a commitment to continue improving their lives. On a large bulletin board posted in the church, Malget and Batten proudly display numerous thank-you letters.
One recipient wrote to say he uses the bike to get to work and that he's looking for a second job since he knows he can now arrive on time. All CRM bike mechanics have been recipients but one. They said they feel touched by the ministry and want to help continue the program.
"I guarantee you, most people in this city are two paychecks from being homeless, and that's the truth," Battan said.
Learn more at chainreactionbikes.org.
Print headline: Pedal forward, A local bicycle donation program offers Oklahoma City's homeless population dependable transportation and hope for the future.