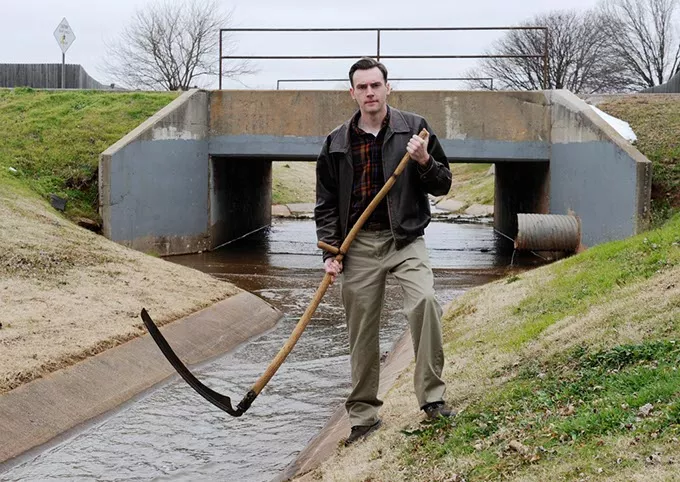 Garett Fisbeck
Local filmmaker Nick Sanford poses for a photo in Moore, Thursday, Dec. 31, 2015.
Nick Sanford once flooded a room in his parents' house while remaking James Cameron's Titanic. As a child with access to video cameras, he poured his energy into epics. Even in the days of VHS tapes, there was no such thing as a small picture in Sanford's world.
Not long ago, he unearthed the first blockbuster of his suburban Moore upbringing.
"It was a sequel to Steven Spielberg's Hook," Sanford said. "It was just me and my dad sword-fighting. I had an umbrella I was using, and it was just terrible. At one point, I peed my pants on camera. I know it sounds cliché, but it was E.T., Jurassic Park and that Spielbergian sense of wonder that got me started."
From Adam F. Goldberg to J.J. Abrams, Spielberg inspired a generation of video nerds to pick up their own cameras and point them at the future.
Sanford, 27, works on a considerably lower budget than those other "sons of Spielberg," but with his upcoming horror-mystery The Harvesters, he hopes to achieve epic filmmaking for the cost of a car.
The Harvesters follows a principled journalist who finds herself at the center of a series of shocking murders and disappearances in fictional Baileyville, Oklahoma. It is Sanford's follow-up to his 2014 horror film Tempus Fugit and his 2015 short comedy about Oklahoma Bigfoot hunters, Elusive.
Crowd-funded horror
Starting with the Jan. 18 kickoff of his crowd-funding campaign on Kickstarter, Sanford and his company, Broadcast Pictures, are rolling out teasers, full trailers and clips to show that, with the help of supporters, his epic vision can be realized.
"We don't have the final locked-in number, but it's going to be somewhere hovering around $30,000," Sanford said. "Right now, I'm asking people, 'Will you work for less so I can ask for less?' but it will probably be right at $30,000."
A few days after his recent Oklahoma Gazette interview, Sanford and his producers arrived at a final and precise number: $32,835. To make The Harvesters for $30K, Sanford employs the governing philosophy used by Billy Beane in Moneyball: Work with talented people on a greatly reduced economic scale to achieve New York Yankees results on an Oakland A's budget.
He relies on people he knows who own office buildings to let him shoot on-site for free and scouts for open fields to shoot his exteriors. Expenses are kept at rock bottom, with that $32,835 being split between insurance, crew and cast. Neither Sanford nor producers Laurie Cummings, Paul Lister and James Oster will collect any upfront compensation from their Kickstarter campaign.
"The director of photography has a wife and two kids," Sanford said. "That's why I want to put all the money there, so he can justify listening to my stupid yammering all day, every day for 18 days straight."
The availability of high-quality, modestly priced technology makes it economically possible for Sanford to shoot his films, and the rise of small-scale horror and suspense films gives The Harvesters some potential context for success.
Films such as 2014's The Babadook or last year's It Follows achieved widespread acclaim and financial success on small budgets. If he succeeds, Sanford could see a significant return on his investment, too. After all, the next two installments of the Star Wars trilogy will be helmed by Rian Johnson and Colin Trevorrow, respectively, two directors who were working on microbudgeted films just a few years ago.
"The scope of the movie is astronomically big for what we're working with," Sanford said. "There are plenty of small movies that try to do something huge and end up looking silly. That could be the case here, too — I have no idea. But if we can take this idea that was conceived for sports and apply it to movies, we can get something large and grand for almost nothing."
From a creative standpoint, Sanford throws everything at The Harvesters. As a lifelong student of moviemaking who took his formal training in Oklahoma City Community College's film program, he said he paid close attention to the details when he soaked up influences from John Carpenter, Tobe Hooper and other masters of down-and-dirty, blood-and-guts filmmaking.
"This is probably the last horror film that I'll ever make, so I'm taking every single lesson I've learned from every scary movie and packing them into this one thing," he said. "It will be my thesis on the genre."
https://youtu.be/iuDDQcLnZfs
Print headline: Harvesters season, Moore filmmaker Nick Sanford launches a Kickstarter campaign with an eye toward epic filmmaking.