Editor's note: Local Impact is an Oklahoma Gazette news series examining how federal policies and decisions impact local communities.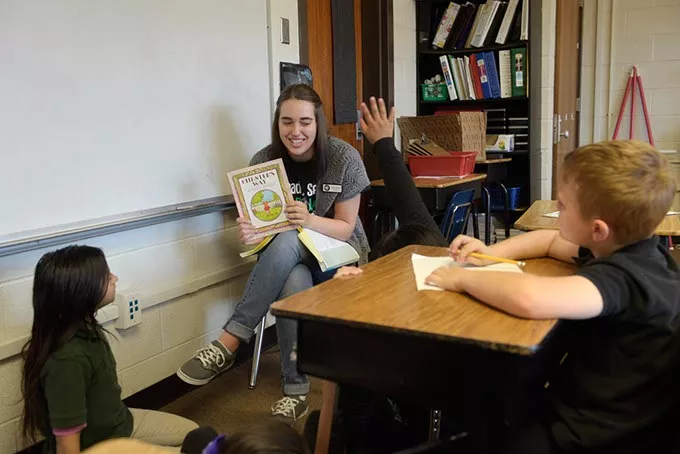 Garett Fisbeck
Brittny Meeks, Americorp volunteer, reads to children during an afterschool program at Hilldale Elementary, Thursday, April 6, 2017.
Last summer, with the growing national discord over law enforcement and race, the American public poured into sacred and public spaces to speak against police brutality and racial discrimination and for civil rights, attempting to make sense of the nation more than 50 years after the Civil Rights Act.
Across the country, political, faith and community leaders spoke eloquently about race after conflicts in Tulsa; Baltimore; Cleveland; New York; Ferguson, Missouri; and Baton Rouge, Louisiana. Members of those communities described the brutality and racism they personally experienced.
On one such occasion, on the evening of Aug. 11, three scholars asked participants to consider their deepest concerns and listen to others' before taking the discussion a step further. In its first In the Light Bulb Room event, Ralph Ellison Foundation uniquely faced race issues in a conversation about Ralph Ellison's novel Invisible Man.
"In discussing race relations — which are contentious and emotional — and race in Oklahoma, we can use Ralph Ellison's writing and pull from his experience in Oklahoma City, living in Deep Deuce under Jim Crow laws," said Oklahoma Humanities executive director Ann Thompson. "What can we learn from Ralph Ellison, and what does Ellison have to say in this important conversation?"
Literature tends to humanize the world around us and can powerfully move an individual or mobilize a community.
In the Light Bulb Room is one of many public programs supported by Oklahoma Humanities, the state affiliate of the National Endowment for the Humanities (NEH).
For the past 46 years, Oklahoma Humanities fed federal funds into the humanities — studies of literature, language, history, philosophy and more. From a panel discussion on the sport of rodeo to a Smithsonian Institution exhibit, Oklahoma Humanities has provided an endless list of book discussions, lectures, panels and educational programs throughout Oklahoma.
"We want to see people gain new perspectives and become informed active citizens," Thompson said. "Democracy demands wisdom and vision, and it needs to come from knowledge; that's what the humanities disciplines have in abundance."
Under President Donald Trump's administration, the proposed federal budget calls for termination of the NEH in addition to National Endowment for the Arts, Corporation for Public Broadcasting, Institute of Museum and Library Services and 15 other federal entities. Currently, the proposed budget would have a profound effect on Oklahoma, which stands to lose key federal funds.
Garett Fisbeck
Abby Shelley, Americorps volunteer, works with children during an afterschool program at Hilldale Elementary, Thursday, April 6, 2017.
Community resource
When Melinda Points receives feedback from school leaders about AmeriCorps members assisting classroom teachers during the school day or tutoring students in afterschool programs, she can easily summarize their comments.
"We wouldn't be seeing the academic gains if it wasn't for AmeriCorps," said Points, Oklahoma AmeriCorps executive director.
Oklahoma AmeriCorps administers federal AmeriCorps programs in the state. Its goal is to strengthen communities by assigning members to various nonprofits and initiatives to tackle poverty, literacy, hunger and health challenges.
Since AmeriCorps was founded in 1994, more than 12,000 Oklahoma residents have served over 14 million hours and qualified for education awards — post-service stipends for college — totaling $29 million. AmeriCorps, along with Senior Corps and the Social Innovation Fund, falls under the Corporation for National and Community Service (CNCS), a federal agency that would be eliminated under the Trump administration's federal budget proposal.
This year, CNCS committed $14.7 million to support its various Oklahoma programs.
In recent years, Oklahoma AmeriCorps has supported programs like Project Transformation, in which 50 AmeriCorps members read to and mentor children in high-poverty neighborhoods in a summer day camp, and Putnam City Best Out of School Time program, in which members provide literacy enrichment for second- and third-graders in northwest Oklahoma City.
"We have such a big footprint in education," said Points, who said the organization has invested in education initiatives because of Oklahoma's shortcomings in the wake of reduced state funding. "If this goes away, it is going to make it even harder, especially for those small communities."
Legal lifeline
Michael Figgins describes the role of Legal Aid Services of Oklahoma, Inc. (LASO) with the illustration of a law library, in which one shelving unit contains brown leather-bound criminal law books that list statutes and penalties. The library itself contains countless books stacked on other shelves. Those books represent civil and administrative laws. Those are the laws that affect our lives, even unwittingly.
"Those are the laws that determine whether to take away your kids, take your house, take your car, take your job, take your income and all kinds of things," Figgins said. "Civil laws are supposedly there to protect you, but they are not self-enforcing."
The constitutional right to legal counsel is reserved for criminal cases only. In civil matters, people must obtain a lawyer on their own, represent themselves or forego legal relief altogether. Attorney fees are costly, which makes it especially difficult for low-income individuals to obtain representation.
Annually, millions of federal dollars from the Legal Services Corporation (LSC) are distributed to the offices of Legal Aid and Oklahoma Indian Legal Services, Inc. to provide low-income Oklahomans in all 77 counties with legal assistance. Those funds might be eliminated, too, as the federal administration's budget recommends eliminating the LSC, the largest funder of civil legal aid.
While legal aid groups play an essential role providing legal services, legal aid attorneys meet a vital need in a court system that is often overwhelmed with record-setting caseloads. When people with no legal education whose lives are in crisis try to represent themselves, it mostly leads to costly mistakes or case-closing outcomes, which further impedes the system because justice is foreclosed.
Inside LASO's Oklahoma City office, Figgins said the organization is granted federal funds from the LSC and the U.S. Department of Justice's Office on Violence Against Women (to represent domestic abuse victims) and the U.S. Department of Housing and Urban Development (to represent people who experience housing discrimination).
In addition to eliminating some federal agencies, the federal budget proposal calls for deep cuts in many federal departments but boosts defense spending by over $50 billion.
In many Oklahoma communities, LASO is an agency of United Way and is also supported by private donations. As Figgins said, LASO is one of many nonprofits in the state faced with possibly losing federal funds.
"This is an effort that is going to hurt a lot of people," Figgins said. "Legal Aid is in the boat with everyone else."
Print headline: Local impact, Proposed federal budget cuts threaten to reduce or eliminate social services and humanities agencies.