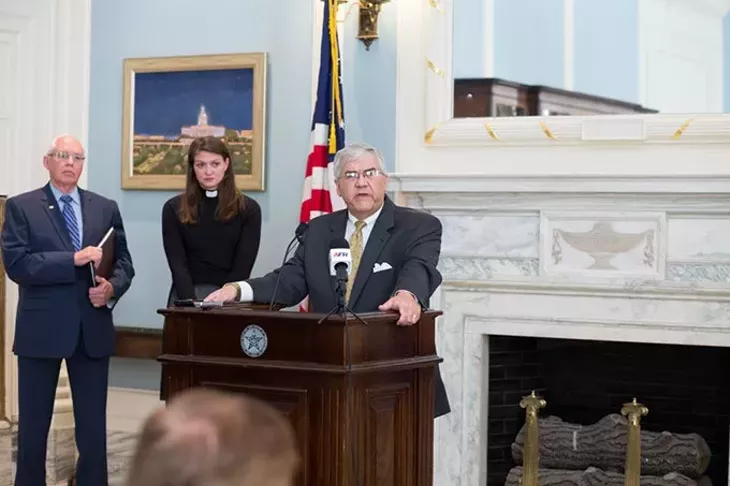 Emmy Verdin
Senator Brian Crain speaks to attendees at the launch of Reason for Reform Campaign at the State Capitol in Oklahoma City, Wednesday, August 3, 2016.
They had risked everything for a chance at a better life.
It was one of the many thoughts that ran through Jake Fisher's head several years ago when spending time with his new friend Hugo and Hugo's cousins.
Following the workweek, the young men gathered at a southside Oklahoma City apartment complex. Over a case of beer and fajitas, followed by stories and laughter on the small apartment porch, Fisher realized a few of his new friends were undocumented immigrants.
The roadblock-infested United States immigration system is greater than any border wall. After arrival, illegal immigrants live with the constant threat and fear of deportation. Fisher contemplated why someone would risk a life without papers and whether or not it was worth it.
After a handful of Friday nights on the apartment porch, Fisher got the answer. The youngest man, an illegal alien from rural Mexico working in the construction field, casually remarked that he made ten times the amount in Oklahoma than he earned before immigrating.
It was a revelation to Fisher, who spent the next day researching the legal minimum wage in Mexico and comparing pesos to dollars. In Mexico, the general minimum wage ranges from $70.10 to $73.04 pesos per day, which is approximately $4.08 to $4.25 in American dollars.
Just like immigrants arriving at Ellis Island or Pilgrims traveling on the Mayflower, the latest wave of newcomers reaching the United States follows desires for a better life.
When Fisher makes a case for immigration reform, the co-owner of an Oklahoma City marketing agency recalls that conversation. He believes comprehensive immigration reform would have a positive impact on the economy. Among his call for action is a plea to remember those among us.
"People do not understand who they are talking about when they use the phrase 'illegals,'" Fisher told Oklahoma Gazette. "These are people we all know. They are the family members of the owners of our favorite restaurants. They are the workers at our dry cleaners. They are the straight-A students at our local schools. We are talking about people in our community."
National call
Last month, a flood of pro-immigration groups hawked newly published studies making the case for immigration reform. Released for all 50 states, The Partnership for a New American Economy — led by former New York City Mayor Michael Bloomberg and News Corp. Chairman Rupert Murdock — highlighted aspects of reform creating a positive effect on the country's economy and America as a whole.
The Reason for Reform campaign launched at the Oklahoma Capitol with Fisher; Rev. Lori Walke; Sen. Brian Crain, R-Tulsa; and American Farmers and Ranchers' Terry Detrick, who each called on federal lawmakers to work toward reform. Such reform could impact Oklahoma's nearly 220,000 immigrants, a population roughly the size of Baton Rouge, Louisiana. According to The Contributions of New Americans in Oklahoma, legal and illegal immigrants earned a combined $4.2 billion in 2014, with $714.7 million paid in federal taxes and $346.1 million paid in state and local taxes.
It is estimated 96,201 people are undocumented in the Sooner State, contributing $57.2 million in state and local taxes and $92.2 million in federal taxes.
While some might think immigration is an issue reserved for border states or the next president, Oklahoma ranked No. 25 nationally in Migration Policy Institute's estimated population of undocumented immigrants. The two leading presidential candidates differ greatly on the hot-button issue, and any proposals the future president submits will impact Oklahoma.
Close look
Often lost in conversations about immigration reform are the people, the majority of whom came looking for freedom and the American dream.
"Stories are the most important thing to share to inspire change," said Walke, a trained attorney and associate minister at Mayflower Congregational Church in northwest Oklahoma City.
As a law student, Walke interned at the immigration legal services program at Catholic Charities of Oklahoma City. There, she became familiar with the Violence Against Women Act (VAWA). Illegal immigrants suffering due to an abusive partner could apply for protections and seek a change in status. While not a clear path to citizenship, the act helped illegal immigrants stay in the United States with their American-born children and leave abusive relationships. VAWA requires documentation of domestic violence, such as police reports, evidence and testimony. For Walke's clients, interactions with the police were often limited due to fear of deportation.
"I see their faces and I think of their stories," Walke said. "I want better for them."
Walke, a reverent champion of reform, joins thousands of faith leaders in urging the U.S. Congress to pass comprehensive immigration reforms and create a path to legalization.
"There is a very clear call in most sacred text to welcome the stranger and show hospitality," Walke said, speaking from the perspective of a Christian minister. "Over and over again, there are stories of hospitality as a test of faithfulness. If you welcome the stranger, you welcome God. That is our goal as people of faith, to show hospitality."
Legal perspective
For the past 20 years, Michael Brooks-Jimenez has operated an immigration law firm in south Oklahoma City, eventually expanding to a second office in east Tulsa. He works on family immigration matters, but also represents clients before deportation judges. This past year, his law firm began taking employment-based immigration cases.
Outside his two law offices, he is commonly asked, Why don't unauthorized immigrants get in the line for citizenship?
"The system, for most people, doesn't have a direct path," explained Brooks-Jimenez. "I can guarantee, after talking to thousands of people over the years, if they could do it that way, it would be done in a heartbeat. Unfortunately, the law doesn't provide them a way."
The United States immigration system is heavily based on three routes: employment, family reunification or humanitarian protection, such as refugee or asylum status. Those who find themselves "in line" are subject to long backlogs and waits.
Brooks-Jimenez estimates that between 60 to 70 percent of those who visit his law office will never reach citizenship. He names the last large-scale immigration reform, which sought to improve border control by imposing criminal penalties, as the hurdle. Those who illegally entered the United States and leave must wait 10 years before reentry . Those who come back illegally are permanently barred from becoming a U.S. citizen, even if they marry one.
"There are people who are willing to pay almost any price to fix their papers, but there simply doesn't exist a path to get there," Brooks-Jimenez said. "If I could change one aspect, it would be to eliminate that ... ban."
Reform time
In south OKC, people like Fisher don't want to see immigration reform measures fail at the federal level again. The infamous DREAM Act, aimed at providing a pathway to citizenship for kids whose parents brought them here illegally, failed to earn a floor vote. In 2013, only half of Congress acted on reform measures.
Fisher employs one worker with a permit and deportation protections under Deferred Action for Childhood Arrivals (DACA). But the protections of DACA could cease with the next president or congressional leaders.
"We need a law that makes sense," Fisher said.
Print headline: Opportunity, In the land of opportunity, local leaders call for an overhaul of the immigration system.