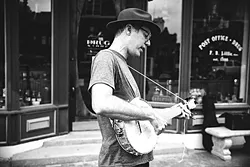 A group of metro singer-songwriters performs a free tribute show featuring the work of John Prine Saturday at Power House, 1228 NW Second St.
"There is a simplicity to Prine's songs that I find compelling," said show organizer Jerrod Beck. "I reached out to other artists who knew Prine's work and had a song or two of his they wanted to cover."
Beck said the idea emerged from another tribute show he organized at The Plant Shoppe that featured the work of Roger Miller.
"The Roger Miller show went great," Beck said, "and I thought we could put together another show that sort of got songwriters out of their comfort zones and forced them to cover another great songwriter."
Prine is a popular figure among folk and bluegrass songwriters. He began as a folk artist in the Chicago area, where he was discovered by Kris Kristofferson. He distinguished himself by writing insightful, funny lyrics in an uncomplicated style that delved directly into contemporary issues.
"It's one thing to write pretty folk songs about big issues, but he tells us the stories of the people who fall through the cracks of those issues," said Justin Fortney of Guthrie-based music act Stranded at the Station.
Fortney selected "Your Flag Decal Won't Get You into Heaven Anymore" and "Sam Stone."
"Both songs observe the way we weave nationalism, religion and the American addiction to war and how all that plays out in real human lives," Fortney said. "The tongue-in-cheek humor of 'Flag Decal' is hard not to giggle along with."
But the song's chorus also slices effortlessly into the brutal fallacy of American jingoism and warmongering.
"Sam Stone" was written around 1971 and is relevant today, as many soldiers suffer from PTSD and high suicide rates.
"'Sam Stone' is just brutal — it's beautiful and difficult to listen to," Fortney said.
Those twin poles add some insight to the complexity of Prine as an artist who recognizes the humor and tragedy of life. His anti-war songs are clear and poignantly funny, while his songs about the human experience can be heartbreaking.
Kinsey Charles of Judith, who also performs Saturday, remembers Prine's "Angel from Montgomery" as the first song her father, a Baptist minister, taught her on guitar.
"That Prine, as a 20-something artist, could write an empathetic song about a 40-something housewife who is chronically ignored by her husband is remarkable," she said.
Charles' experience of Prine goes back to her early childhood as part of a very musical family.
"[Prine] seems familiar and goofy and unassuming, but he's obviously a deep well of genius," she said.
Beck, Charles and Fortney join eight other artists — including Chelsea Cope of Elms and Cameron Neal of Horse Thief — on Saturday. Each artist performs two covers plus an original song.
Print Headline: Prine Power, Local musicians gather to pay tribute to an insightful musical genius.