Garett Fisbeck
No Plains Pipeline founder Ashley McCray speaks during a press conference announcing the campaign to stop Plains All American's Diamond Pipeline, at the Oklahoma State Capitol, Monday, Jan. 30, 2017.
After months on the front lines of the protests against the Dakota Access Pipeline, a 1,172-mile-long multistate oil pipeline project constructed near the Standing Rock Sioux Reservation in North Dakota, activist Mekasi Camp Horinek began his journey across rural northeastern Oklahoma to spread news about a different pipeline project. In many ways, the issues of tribal sovereignty, water security and environmental justice raised by the Standing Rock Sioux Tribe and other tribal nations regarding the Dakota Access Pipeline are mirrored regarding a 440-mile pipeline running from Cushing to Memphis, Tennessee.
"The frontlines are actually in our own backyards," said Horinek, a member of the Ponca Tribe of Oklahoma and a longtime native rights activist and environmentalist.
Following the $900 million pipeline route, Horinek visited communities like Poteau, Stigler and Checotah. At libraries and corner stores and outside farm homes, Horinek relayed the plans for a 20-inch, underground pipeline capable of transporting up to 200,000 barrels of domestic sweet crude a day.
The Diamond Pipeline topic at first drew blank stares, followed by questions. Relatively few people knew the pipeline was proposed or under construction, Horinek said.
"The people who know about it signed with the pipeline or had their land taken by eminent domain," said Horinek, director of Bold Oklahoma, an environmental group born from the Keystone XL pipeline fight. "It's very hush-hush."
Pushing issues
In recent months, environmental and indigenous groups, including Bold Oklahoma, #NoPlainsPipeline, American Indian Movement, Oklahoma Sierra Club and Red Earth Movement, have spoken out against Diamond Pipeline construction for a number of reasons, including its potential impact on the environment, native lands and local economics.
Such concerns all lead to the underlying issue traced back to the national permitting process, completed by the U.S. Army Corps of Engineers, the federal agency that approves construction permits on and near waterways.
To understand how a crude oil pipeline that spans three states, crosses hundreds of waterways and weaves through farms, ranches and tribal lands could receive approval with little notice to the communities directly impacted, one must understand the permitting process.
The Diamond Pipeline, like the Dakota Access Pipeline, received a Nationwide Permit 12 (NWP 12).
"Consent is a central theme throughout all arguments in the fight against pipelines," Ashley Nicole McCray, #NoPlainsPipeline founder, told Oklahoma Gazette when asked about the Diamond Pipeline permit. "It is becoming more and more clear that we cannot rely on the agencies that were set up to maintain order and ensure the so-called citizens of this nation are treated humanely because they are complicit in environmental genocide."
Permit process
According to Nationwide Permit 12 regulations, the Corps assesses pipelines by breaking them into segments for review at specific water and wetland locations. By examining them piece by piece instead of as a single, complete project, permits are issued largely without consideration of their overall impact, McCray said.
For the permit to be granted, the project cannot "result in the loss of greater than 0.5 acre of waters for each single and complete crossing," according to regulations.
When a project meets Nationwide Permit 12 guidelines, it is deemed to have fulfilled the requirements of the National Environmental Policy Act, Fish and Wildlife Coordination Act and other "acts promulgated to protect the quality of the environment." Therefore, environmental impact statements are not required.
The U.S. Army Corps of Engineers Little Rock District granted a nationwide permit for the Diamond Pipeline in May.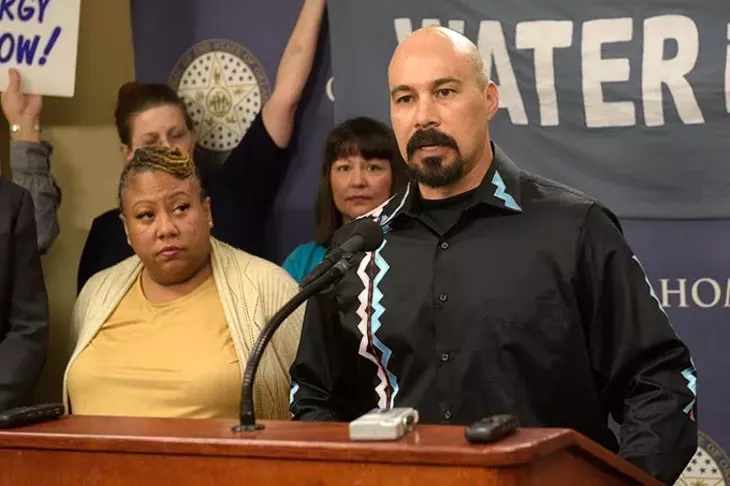 Garett Fisbeck
Mekasi Horinek, a member of the Ponca Nation and director of Bold Oklahoma, speaks during a press conference announcing the campaign to stop Plains All American's Diamond Pipeline, at the Oklahoma State Capitol, Monday, Jan. 30, 2017.
Concerns
Horinek said the permit process leaves too many questions unanswered, especially in Oklahoma, because it limits a complete analysis of how a pipeline could impact water, air quality, land, animals, people and even the recent surge in earthquakes in the state.
"We think it should be law that environmental impact statements are required with each pipeline request," he said.
With permit approval, those opposed to Diamond Pipeline said they plan to intensify efforts ranging from public education, protests and pushing legislation against developing and existing projects.
"Environmentally, we know 100 percent of all pipelines eventually fail," said McCray, an Absentee Shawnee Tribe of Oklahoma member.
Horinek believes the pipeline poses a danger to residents in Creek, Haskell, Le Flore, Lincoln, Okmulgee, McIntosh and Muskogee counties. He cited Plains All American Pipeline's regulatory violations, including a massive oil spill near Santa Barbara, California, in 2015.
Plains North American Pipeline addressed the concerns of the groups in a statement sent to the Gazette.
"Diamond Pipeline LLC is committed to designing, constructing, operating and maintaining the pipeline in a safe and reliable manner and to meeting or exceeding regulatory standards," the March 3 statement reads. "Diamond Pipeline includes important safety elements that will meet or exceed federal, state and municipal safety, design, construction and operating standards, such as using thicker-wall pipe than required by regulations, increased depth of cover to reduce susceptibility to third-party damage and around-the-clock remote monitoring and use of real-time leak detection technologies once in operation. We completed numerous environmental and cultural studies required by federal and state regulatory agencies involved in the permitting process and obtained the appropriate permits to construct the pipeline."
Taking a stand
Oklahoma City Pow Wow Club is steering natives and non-natives to Saturday's #NODAPL March event 10 a.m.-2 p.m. in downtown Oklahoma City. The peaceful march and speeches coincide with other marches across the country calling for the nation to stand with Standing Rock Sioux Tribe and for Native American rights.
Since the struggles from North Dakota strike a chord with Oklahoma tribes and communities potentially impacted by hundreds of miles of pipelines, the Oklahoma City march will raise awareness of developments in the Sooner State, said Joe Poe, Pow Wow club board member and Kiowa Tribe of Oklahoma member.
The march begins at the intersection of W. Sheridan and N. Robinson avenues. Marchers travel to Bicentennial Park, where a number of native speakers, including Standing Rock Sioux Tribe water resources administrator Errol D. Crow Ghost Jr., will address issues surrounding tribal sovereignty, the environment, the protests in North Dakota and more.
McCray, who also will speak, said the ramifications of pipelines "go beyond the indigenous community; everyone in Oklahoma is affected. … People are beginning to see this fight is important. They see the implications of their voices and actions."
Print headline: Action call, Galvanized by Dakota Access Pipeline protests, local natives and environmentalists focus on Oklahoma's Diamond Pipeline project.