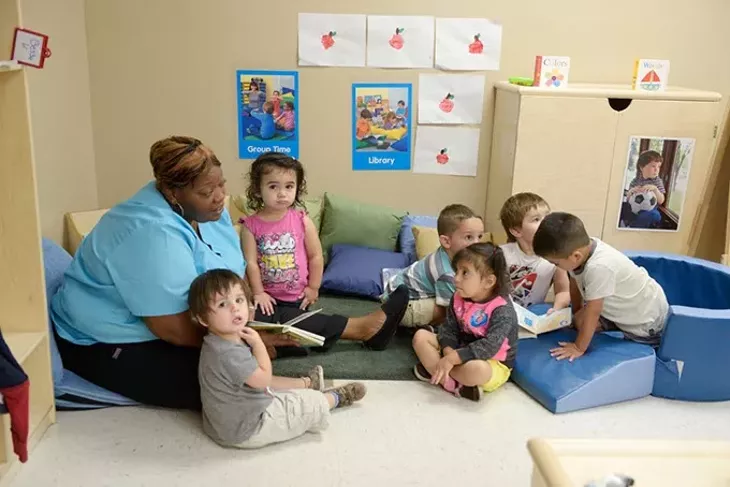 Danyale Murray reads to children at Kidzone Learning Center, an OKC childcare facility benefiting from a partnership with Sunbeam Family Services. | Photo Garrett Fisbeck
As Oklahoma City mother Marisol Vazquez shares her family's experience with Oklahoma City Educare, she begins her story with a visit to the pediatrician's office more than four years ago.
"When the doctor said my son was on the spectrum, it was, 'Here you go,'" Vazquez said, as she gestured to show how she was handed a piece of paper. "They give you a brochure for what you could do. That's it."
Vazquez, a native Spanish speaker, reviewed the brochure, which was printed in English. Many questions remained about autism spectrum disorder, which the brochure described as a range of complex disorders of the brain. Among the uncertainty was where to send her 18-month-old son, Marcus, to receive early childhood education that is appropriate for autistic children.
Vazquez took the question to her family advocate at Oklahoma City Educare, a premiere early childhood development program operated by nonprofit Sunbeam Family Services, which serves low-income families in south Oklahoma City. Vazquez' eldest son, Eduerdo, was already enrolled, and a family advocate worked closely with Vazquez on her family's needs. Additionally, Educare students receive medical, dental and mental health services at no cost.
When a spot opened, Marcus enrolled at Educare, which is committed to accepting at least 10 percent of its student population with disabilities and special needs, including autism.
"It was hard for Marcus," Vazquez said when recalling her middle son's first Educare week more than four years ago. "Little by little, he started to interact more with the other children. First, he would join in on circle time for only a few minutes. To me, it was a huge step."
Marcus had behavior problems as a toddler, which is not uncommon for children with autism spectrum disorder. When in public, strangers often gave Vazquez dirty looks and hinted for her to better discipline Marcus. Over time, the behavior disturbances subsided, which Vazquez largely attributes to the intervention her son received from Educare staff.
"Now people say, 'I didn't know he had autism,'" Vazquez said as she smiled at her 6-year-old son, who is now enrolled in a public school.
"I always tell everyone about Educare," she said. "To me, it's a little college for kids. It's like the concrete of a big building. You need to have a very good foundation so that when you grow, there wouldn't be any breaks."
Beyond early childhood
Opened in 2009, Oklahoma City Educare, which is part of a national network, offers full-day developmental childcare and education to 212 low-income children, from infancy to age 5, throughout the year. It's the mission of OKC staff to prepare at-risk children for future academic achievement.
Beyond storytime, counting exercises, family-style meals and outdoor play is a unique support service for parents. Educare leadership believes meeting the needs of low-income parents translates into those parents better meeting the needs of their children. It's common for a family advocate to connect a family to necessary resources in the community, such as clothing, shelter, food or adult education classes.
Combined public and private funds — including federal dollars from Early Head Start and Head Start programs — make Educare a reality in Oklahoma City.
Economy education
In recent years, the value of early childhood education has become a national conversation. That's due in part to numerous studies correlating early learning with later academic success.
Greater Oklahoma City Chamber of Commerce spotlighted the need for high-quality childhood education during its annual State of the Schools luncheon last month. Ohio businessman James K. Spurlino discussed ReadyNation, an organization that invests in children and parents during the children's first three years. Spurlino said the toddlers of today will become the workforce of tomorrow. The business community can play a critical role in advancing early childhood within their communities.
It's a message Sunbeam CEO Jim Priest often speaks about. The nonprofit operates two early childhood programs.
More recently, he became active in Oklahoma Champions for Early Opportunities, a Potts Family Foundation initiative that highlights the link between early childhood development and Oklahoma's economic growth.
"We are trying to get business people to see this isn't just babysitting," Priest said.
He said students that arrive ready for kindergarten are more likely to stay on track through their elementary, middle and high school careers. After high school graduation, those students also are college- or career-ready.
"It's a long process, and it can be hard to look at these little kids and think they are going to be working for our businesses in the future," Priest said.
At Sunbeam, leaders recognize that children succeed when families succeed. It's a belief that shaped Sunbeam's two early childhood programs. Each features a family-centered approach. Sunbeam lays the groundwork for a child to start kindergarten; additionally, staff also work with parents to help identify activities — such as reading to their child — that support the child's path to the future.
Priest said the programs are designed to help break the cycle of intergenerational poverty. The approach falls in line with policy recommendations by the National Human Services Assembly and research by Harvard University. A 2007 study found significant success when organizations confront the needs of families living in poverty through two-generational strategies.
Federal grant
Patricia Means' spirit and passion drove her to work for young children. Sixteen years ago, the Brooklyn, New York, native opened the doors of Kidzone Learning Center on NW 10th Street. The center is a for-profit business that serves low-income working families.
Each weekday morning, Means unlocks the center's doors at 6:30 a.m. as parents begin to drop off their young children. A majority of the families walk or travel by city bus to the location before heading off to their jobs.
Means often imagined building renovations to her center, which serves 100 youths. The facility was clamorous as sound traveled over the half walls that separate classrooms. The walls were painted dark, and each room's lighting was linked to a single light switch. Means' only option was a bright, fully lit child center or complete darkness.
Thanks to a partnership grant through Sunbeam and the federal government, the lighting and noise issues are things of the past. Kidzone is a bright, welcoming childcare center.
The beige walls are decorated with children's artwork and vibrant learning posters. Students move through classroom learning stations as they create artwork around the letter "A," listen to a poem read out loud and play with toys most likely from a teacher supply store than from the aisles of a toy store.
Each classroom has its own light switch. Staff can dim the lights following lunch for naptime.
"It was a dream come true," Means said. "It was the dream any director would love to have. We had a complete renovation from the ceiling tiles to the floor. I would never have been able to do this."
Kidzone is one of 13 childcare centers working with Sunbeam through the Early Head Start Child Care Partnership Grant, which was awarded by the U.S. Department of Health & Human Services in the spring of 2015. The grant pumps a total of $3.7 million into selected centers over a five-year period.
The funding finances building renovations, new learning materials and books, construction of new playgrounds and brings trained early learning experts into the centers.
Sunbeam instructional coaches visit Kidzone four times a week to provide critical training to staff, whose focus is preparing children for school. Childcare workers follow a guided curriculum and track student progress. The grant funding allowed for new hires, and increased the number of childcare workers in the classrooms to two.
"The teachers are more engaged with the children because of the lower numbers in the classroom," said Means, who said her classrooms were once home to one childcare staff member who took care of 16 children.
While it's easy to see the physical transformation of the childcare center, it's too soon to determine the overall impact of the partnership grant.
However, 18 months into the program, Means describes happier children and feels confident she is meeting the needs of children and families like never before.
Print Headline: Needed approach, Investing in children's future begins with early learning. A local nonprofit leads the way in providing early childhood education to at-risk communities.