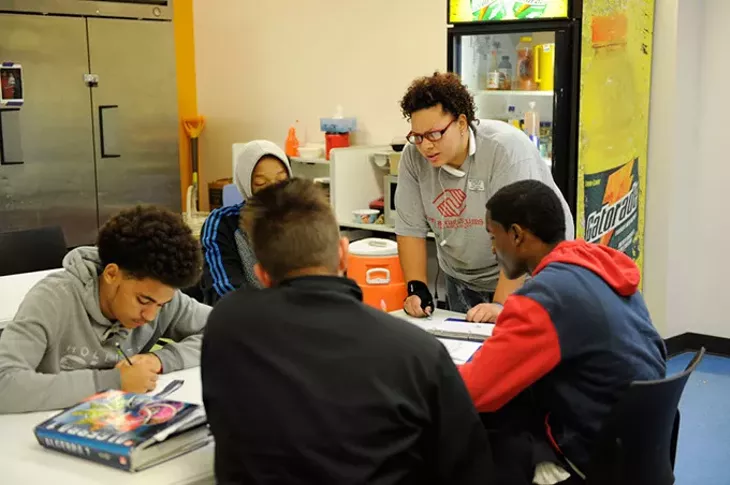 Garett Fisbeck
Kristin Minnis talks with a group of students at Boys & Girls Clubs of Oklahoma City, Tuesday, Dec. 8, 2015.
Editor's note: As discussions continue about discipline and whether there are enough alternative schools and programs to meet unique needs of some students in Oklahoma City public schools, Oklahoma Gazette explores alternative paths available that help students graduate high school with the skills needed to enter adulthood. This story is part of an ongoing series.
"When I came here, I was pretty much your average hothead," said seventh-grader Anre Edwards as he explained what led him to Oklahoma City Public Schools' Alternative to Suspension Programs, where he's attending a 10-day out-of-school suspension at Boys & Girls Clubs of Oklahoma County.
He said he created problems for his teachers because he was "a showoff." Impatient with his studies, he found attention by negatively disrupting class.
A breaking point came when Edwards got into a fight with another student over a perceived slight against his sister.
"Before I came here, everything got under my skin," he added.
Not any longer.
Edwards said he is committed to using the leadership and conflict management skills he learned in the 10-day program to deal with others, including his teachers, in more positive ways.
Edwards and a growing list of Oklahoma City Public Schools (OKCPS) students facing disciplinary measures are benefiting from the Alternative to Suspension Programs, in its first year of existence.
Two groups — Boys and Girls Clubs at 3535 N. Western Ave. and Latino Community Development Agency (LCDA) at 420 SW 10th St. — work with the OKCPS initiative to help reduce the number of long-term suspensions and keep youth in school while helping them modify disruptive behaviors and become more successful.
Both organizations have well-established track records of addressing issues that impact youth.
Community response
OKCPS Superintendent Rob Neu has endorsed the programs as an intervention method to keep disruptive students from being suspended for periods that could reach up to 45 days.
The programs are coordinated by Teri Bell, executive director of OKCPS student support services.
"We're hoping that if we can do some days — some interventions from some teachers that we have at those locations — something happens there where that's one student who won't be referred to Emerson [Metro/Outreach] or somewhere else, or even county detention," Bell told Oklahoma Gazette.
The initiative is part of the district's response to an internal audit, requested by Neu after he took over the superintendent role last year and released in April.
The 19-page report showed inconsistencies and inaccuracies in disciplinary record-keeping across the district, with data error rates higher than 50 percent in some schools. It also found that suspensions were more commonly and more severely applied to minority populations.
Last year, Neu announced the U.S. Department of Education's Office for Civil Rights had launched an investigation of the district regarding complaints of bias and discipline-related retaliation against black and Hispanic students.
After findings were released, Jane Sutter, Boys & Girls Clubs of Oklahoma County president and CEO, and her board of directors discussed the issue and approached the district to help since the organization has experience working with at-risk children and youth.
About that time, Raul Font, LCDA's CEO/executive director, said his organization also approached the district to offer wrap-around social, medical and mental health care to families.
Garett Fisbeck
Dr. Raul Font at the Latino Community Development Agency in Oklahoma City, Monday, Dec. 7, 2015.
Focused efforts
Each organization brings its own expertise to the OKCPS program.
Boys & Girls Clubs staff has experience and national organizational support in direct leadership of youth via before- and after-school programs.
Sutter estimates the Oklahoma County club serves more than 800 active participants each day across four sites from a pool of over 3,000 members.
Kristin Minnis, co-director of the club's Alternative to Suspension Programs, said that once students complete their 10-day suspension program, they automatically become Boys & Girls Clubs members.
This allows the same staff members to follow up with support, Minnis said.
LCDA brings a different kind of depth to the Alternative to Suspension Programs.
It has over 60 trained and experienced staff members who offer family, youth and drug and alcohol counseling to the 10-day program students assigned to it.
Font is the bridge from that social service agency to OKCPS. In earlier years, he served as principal at several district high schools and worked as OKCPS central office staff.
Since the Alternative to Suspension launch, each group estimated that more than 50 students have cycled through their programs.
Print Headline: Community outreach, Alternative paths: New, short-term, community-based programs give students and schools more options and opportunities.