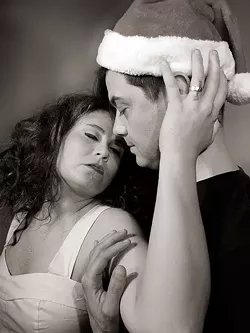 Beginning in January, Leslie Hensley will be temporarily grounded.
Under her stage moniker Balthazar, Hensley spent 2016 propelling herself from one high-concept production to the next. She helped develop an emotional and LGBT-positive stage show based on the music of Queen. She also stepped into the role of Glen Campbell for a birthday tribute to the country music legend while organizing themed bouts for her recently renamed professional wrestling outfit Balthazar's Legends of War (BLOW).
The productions require serious dedications in time, energy and money, which is why Hensley said her boyfriend convinced her to observe a mandatory rest period beginning in 2017.
"My brain goes 24/7," Hensley said. "If I had the money, I would continue to do as many projects and write and create as much as I wanted."
The local performer closes out the year with her final production, a large-scale tribute to the romantic '80s musical film Dirty Dancing.
Dirty Christmas begins 8 p.m. Dec. 15 at OKC Farmers Public Market, 311 S. Klein Ave. For one night, the local venue transforms into luxurious Kellerman resort.
When the doors open, guests can enjoy a number of resort activities like croquet, badminton, caricature drawing, ballroom dancing and more.
At around 9:30 p.m., Hensley begins her performance, a dialogue-free reenactment of the 1987 film.
She becomes young Frances "Baby" Housemann, portrayed in the movie by Jennifer Grey, as her boyfriend Zeke Varnell becomes Patrick Swayze's steamy dancer Johnny Castle. A large cast of dancers and Hensley's backing event band, appropriately renamed The Kellermans, join the couple onstage.
In lieu of dialogue, the film's diverse and widely popular soundtrack narrates the action.
The performance is interactive, and cast members are embedded in the crowd.
Varnell often wrestles alongside Hensley in BLOW, but his turn as seductive Johnny is the first time any of his roles with her have required dancing with such technique.
Hensley found it challenging to adapt to the natural sway of coupled dance, though she did say it is at least partially comparable to grappling with an opponent in the pro-wrestling ring.
"There's a rhythm in wrestling and there's a rhythm in the moves and in everything we do, but it's different because it's timed different," she said. "I'm not a ballroom dancer."
The Dirty Christmas concept was born just one week after Hensley wrapped up her Oct. 7 Glen Campbell show. She texted band member Bear Rodriguez about her idea, and within 24 hours, the rest of her team had agreed to the first rehearsal.
Though Hensley is often praised for her creativity, she credits the strength and willingness of her band and surrounding team as the real motor behind her consistent output.
"It's a strong family," she said.
Visit ticketstorm.com.
Print headline: Christmas Baby, Have the time of your life at local performer Balthazar's Dirty Dancing-themed 2016 sendoff.