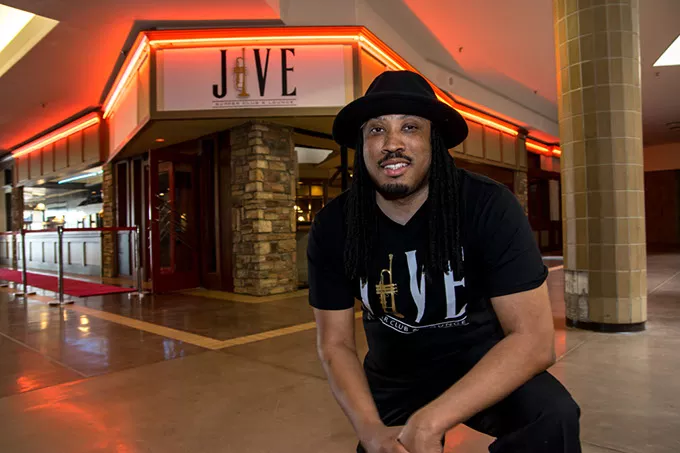 Mark Hancock
Owner David Threatt outside Jive Supper Club & Lounge, inside Plaza Mayor at the Crossroads mall, in OKC, 04-04-17.
As a promoter, Jive Supper Club & Lounge owner David Threatt spent years making money for venues by putting together events that draw a crowd. At each event, people asked him, Why don't you open up a place of your own?
In the course of organizing events for Plaza Mayor at the Crossroads, he found his place at 7000 Crossroads Blvd.
"I was doing work for SRM Global Partners when I came across something on the property," he said. "It's an old Garfield's [Restaurant & Pub] that had been sitting empty since it closed. I looked at the space and I thought, 'This could be a great location to open Jive.'"
One of Threatt's signature events for the past few years is Christmas in Harlem, which harkens back to the music and style of 1920s Harlem.
"Everyone dresses up in 1920s clothing. It's been very successful," he said. "And people at Christmas in Harlem kept asking when I'd start my own event space, so I started thinking what I'd call it."
That's when Threatt remembered that singer Cab Calloway, who was a driving force in the Harlem Renaissance, published a book detailing the lingo of the period.
Cab Calloway's Hepster's Dictionary: Language of Jive was the first urban dictionary, Threatt said. The word "jive" stuck with him. So when he walked into that old Garfield's, he said, "This is Jive."
Coming down from the Christmas in Harlem party was always difficult, he said. But what if it didn't have to end?
"I wanted to know, 'How do I capture that same feeling all year round?'" he said. "That's part of the experience at Jive. We've got live music and that supper club-type feel."
Making an annual event into a nightly party isn't easy, so Threatt said his plan is to take things slow to start. After acquiring control of the space in August, he set about renovating Jive to be as glamorous and inviting as his parties.
"Starting off, we're only going to open on Fridays and Saturdays from happy hour to about 2 a.m.," he said. "We want to make sure people who come for the experience enjoy themselves."
Part of that is making the food as exciting as possible.
"I've been talking to a couple of chefs, including chef [Kendall] Curry from Chef Curry To Go. We've been dialoguing on what direction I want the food to go," Threatt said. "I've also been talking with chef Chaya [Fletcher] from Urban Roots about bringing over a lot of her favorites."
Jive will feature a rotating roster of guest chefs to keep the experience fresh.
"That way, we'll always have a different type of menu," he said. "We'll have a couple of signature dishes, but we also want to feature different chefs from around the city."
Threatt's also considering culinary residencies, bringing chefs in for a few weeks to show off their cuisine.
But he won't be hurt if people keep coming back for the restaurant's Jive Turkey, either. The dish is comprised of a jalapeño cornbread waffle base topped with fried turkey, which sounds like a winner in Oklahoma City.
While Jive is only open two nights a week now, Threatt said the space can be rented for events and private parties.
So far, he said, response has been positive.
"Just from events we've had so far, it's gotten a great reception. There are a lot of people excited about the potential of the space," he said. "It's a nice, cozy, intimate setting where everyone can get up close and personal with the artists and the band."
Visit facebook.com/jiveloungeokc.
Print headline: Jive talkin', Plaza Mayor's newest event space is inspired by the Harlem Renaissance.