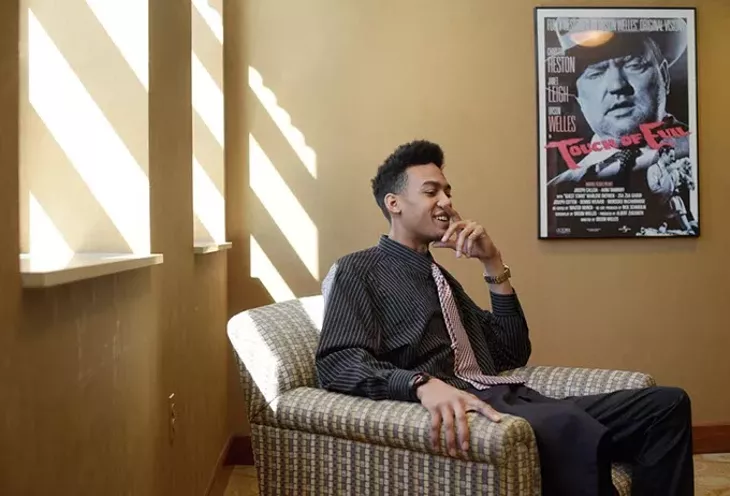 Garett Fisbeck
Rapper Mike Turner during an interview at the Oklahoma City Museum of Art, Monday, March 20, 2017.
Guests at some of the city's biggest hip-hop shows in recent months have more than likely seen and heard Mike Turner.
The Oklahoma City rapper has spent this year opening for name-brand artists like Migos, 21 Savage, Lil Debbie and Ugly God. In February, he co-headlined the Loverboys show at 51st Street Speakeasy with Josh Sallee.
A wave of momentum carries Turner and his MØTM (middle of the map) movement/budding record label despite not having released an album in more than two years. It has been hard to record and release new music while balancing his day job, working as many shifts as he can waiting tables and slinging drinks at Oklahoma City Museum of Art's Museum Cafe. The rapper took a break from a recent day shift at the cafe to speak with Oklahoma Gazette.
Turner is making up for lost time by scheduling two new projects in close succession. He's targeting a May release for his new Line It Up album with a release show planned at a to-be-determined time that month at the fashion boutique Tymless 1824, 6900 N. Western Ave. Soon after that album drops, Turner hopes to release follow-up project Trap Dreams.
"There's a lot of new fans coming in," Turner said. "I'm starting to get a lot of new exposure, which is perfect for releasing these projects. It's not going to fall on deaf ears."
Turner is grateful for the opportunities he has had in music, especially after a car wreck last winter made him re-evaluate everything he thought he knew about himself.
The crash
Turner and some associates were scheduled to record with Florida rapper Robb Banks after his Feb. 12 show at ACM@UCO Performance Lab. Around 2 a.m., they headed over to Studio XII in the Classen Ten Penn neighborhood to work.
However, after they opened up the studio, a crowd of friends, friends of friends and drunk afterpartyers began to fill their workspace with distractions. Turner and his friends decided to leave.
He loaded into a car with DJ Hollywood, producer Barshawn Cooper and friend Rachel Harris. They hadn't gone far when another car blew past a stop sign and collided with the side of their vehicle.
"It was one of those really scary car wrecks where everyone gets knocked out [of the car]," Turner said. "It was pretty bad; there was blood everywhere."
Luckily, the occupants didn't sustain life-threatening injuries. Hollywood broke his hand — a tragic setback for any DJ. Harris had some serious bone bruises on her leg, and Turner's hand was cut wide open.
"I didn't know the blood was coming from my hand," he said. "I was trying to use the light from my phone to look at her injuries. I was afraid I was going to look at her legs and it was going to be like SpaghettiOs or something. But then I look at my phone and I'm shooting blood all over it."
Turner and his friends soon recovered. He said the driver of the other vehicle accepted responsibility for the collision. For the first time, he became fully aware of how precariously balanced a music career, and life in general, really is. Turner recommitted himself to music and living a complete life.
"Anything could happen, and I could be taken away from this situation at any point in time," he said. "I need to take full advantage of this situation while I have it, because a lot of people don't have this opportunity."
Finding a groove
Line It Up
does not follow a central theme or concept. Instead, Turner wanted each song to capture a different vibe.
The single "Bodega," featuring rapper Zie, is high-energy. Other songs feel more dreary and ominous.
"It's meant to capture a bunch of different moods for a bunch of different situations," Turner said. "I feel like you could listen to Line It Up before you go to work out or before you go to bed."
Part of the reason Turner took months to release a new album is because he struggled with writer's block caused by insecurities about himself as an artist. The near-death experience, coupled with recent success and exposure, reaffirmed his passion and sorted his priorities.
"It's the plight of the artist, being self-conscious about your work and being afraid to put it out there," he said. "That wreck threw all of that away. What's you being self-conscious compared to you not being here?"
Visit thatsmike.com and facebook.com/miketurnerokc.
Print headline: Rap dish, Local rapper Mike Turner rides a wave of musical momentum while balancing a day job.