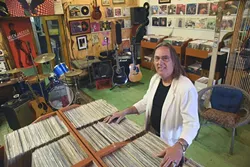 Alley Records owner Ronnie Wheeler has proven to be the most indie-minded local record store owner around.
This year (and every year), he holds his own Record Store Day (RSD) celebration, unfettered by specific rules and industry-exclusive releases. You won't find him listed on the official RSD site because he won't register for it.
"I think what they're doing is great," he said of the annual event, launched in 2007 as a way for fans, musicians and store owners to celebrate local, independent brick-and-mortar stores and their value in communities across the globe.
Wheeler embodies that ethos. He handpicks his new vinyl selections from indie retailers; they're not ordered from distributors. His used selection is curated from locals and in places he visits, from Austin to Minneapolis.
"I don't get anything online," he said.
Saturday, he's also celebrating Alley Records' fourth anniversary.
Hard-core collectors, curious newbies, gear heads, musicians and music fans are all welcome at Alley Records.
From the sidewalk out front, through the store and into the alley, Wheeler's shop offers blues, jazz, comedy, rock, soul and country — everything from Kurt Cobain 45s to The Who's Tommy.
"And everything that goes along with those," Wheeler said, including posters, band memorabilia, signed albums, videos and lots of other things, including a feeling of community.
Alley Records, 918 1/2 W. Britton Road, is also where local musicians like singer-songwriter Aaron Pierce (who also plays Norman Music Festival April 24) worked and rehearsed while starting their music careers. Oklahoma Blues Hall of Famer Watermelon Slim rehearsed there for three days — including an exclusive, intimate public show — before launching his national tour several years ago.
"Record Store Day is about celebrating independents," Wheeler said, meaning locally owned, brick-and-mortar shops. "I'm all for that. It's an incredible thing."
Vinyl culture
Guestroom Records, however, will offer exclusive RSD releases, rereleases and early releases at both its metro locations: 3701 N. Western Ave. in OKC and 125 E. Main St. in Norman. Both also will host live music on Saturday and share free beer from COOP Ale Works, said shop owner Justin Sowers.
As RSD has grown in popularity, Sowers' stores have made adjustments to how they operate. Shoppers arrive earlier and earlier and lines grow longer and longer in the hours before many stores open their doors.
"We now let five people in at a time, then wait 10 minutes, then let in five more people," Sowers said. "Before we started doing that, the crush of people rushing in all at once was just too overwhelming. This new plan's worked out really well."
Due to the guidelines established by RSD founders, stores don't always know what RSD releases they're getting or how many copies, if any.
Sowers said he requested dozens of titles this year.
"Some of these Record Store Day exclusives are made in very limited numbers," he said. "So, even if we get the record we requested, we may not get as many as we wanted."
He also said that indie stores aren't allowed to hold the merchandise for people who call the store on Saturday. Nor can they pre-sell the items.
"The spirit of this day is to bring together music fans and musicians. It was created to bring people together … so come in and check everything out," Sowers said.
A perk of adhering to these guidelines and building trust with both distributors and the community, he said, is that his shops also get exclusive early releases.
This Saturday, Oklahoma singer-songwriter John Moreland's upcoming album, High on Tulsa Heat, will be available to Guestroom shoppers a full four days before its official release date. Moreland also will perform an in-shop album release show in Oklahoma City that day.
Other acts, like Norman power pop-punk outfit The Easy Lovers also decided RSD was the perfect time to independently release its latest album, Get a Job. It also will perform a release show at the shop's Norman location.
"The day was invented to celebrate vinyl culture," Sowers said. "This year alone, there are 450 releases planned on Record Store Day … It's just grown into this incredible event. It's amazing."
Print headline: Record spirit, Part of what makes local record shops so great is their ability to bring people together while flouting traditional music industry rules.