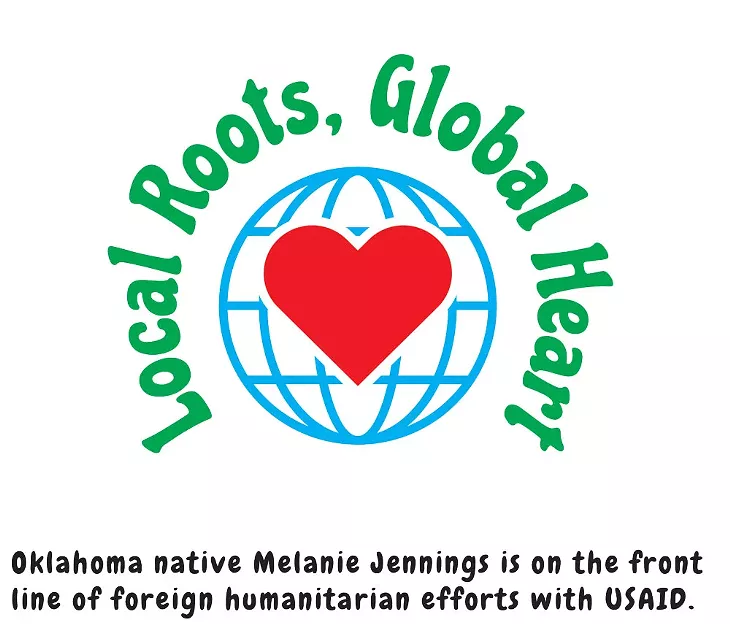 Vice President Kamala Harris's words to the staggering numbers fleeing Guatemala, El Salvador, and Honduras have rung a dissonant chord in the ears of the people charged with coordinating aid to the crisis. Organizations like USAID are designed for "international development," a difficult-to-define objective that amounts primarily to addressing the root causes of the same issues fueling the masses fleeing natural disasters, rampant crime, and economic collapse in the region, but a big part of that objective undoubtedly relies on a level of understanding and compassion that the relief workers bring to the job from their own pasts and experiences.
Photo Provided
Melanie Jennings
For one woman, herself the child of an immigrant, that experience began right here in Oklahoma.
Del City native Melanie Jennings has been with USAID since 2019, but honed her skills for foreign aid and relief work through tenures with AmeriCorps, the Red Cross, FEMA, and even a time in Switzerland with the UN. Her resume speaks for itself, but her exposure to disaster, and to the efforts of the people working to provide help, extends much further back to a historically dark day in OK.
"The definitive moment was the tornado outbreak of May 3rd, 1999," Jennings says. "I distinctly remember the sound the tornado made as it lifted and went over my house not realizing just how lucky we were. Seeing all of this at 12 years old was intense and something I'd never forget for the rest of my life. I don't think I necessarily knew I wanted to pursue aid work then but I knew I wanted to pursue a career that helped people recover from disasters like this, especially my community."
Growing up first in Del City and then Moore during her teenage years, the community of which she speaks could often feel like two separate worlds in conflict. Jennings' mother emigrated from the Philippines and has worked throughout her life to instill in Melanie a deep reverence and love for that part of her heritage, something that can still be very tricky in suburban Oklahoma.
"It made me hyper aware at an early age that I was different," Jennings explains. "However, I think that made me a more resilient and understanding person. It's connected me to folks with similar lived experiences. It's taught me to be more compassionate overall with a deep respect for other cultures and diversity."
Humanitarian work and foreign aid, then, seemed like the perfect outlet both for Jennings' desire to assist with disaster relief and for her urge to explore and support diversity among cultures. Returning home from an extended period of what she calls "intense culture shock" working for the UN in Geneva, Switzerland, Jennings found herself among FEMA's ranks, battling the dual hardships of a rampant and relentless hurricane season (including Maria's devastation across Puerto Rico) and a woefully underprepared presidential administration seemingly more concerned with its own image than with actual relief efforts.
Photo Provided
Melanie Jennings with colleagues
When a spot with USAID opened up, she jumped at the chance to return to aiding development among the struggling nations and cultures of the world, and to get away from the growing politicization and scapegoating surrounding FEMA at the time. With USAID, Jennings has been able to focus more on coordinating funds and supplies to many of the world's most fragile nations, but also to learn about and better understand the cultural specificities in those areas, including a serendipitous assignment overseeing the greater Pacific region that includes her mother's home nation.
Now that the reigning politics have changed, and the pendulum has swung back to a less isolationist foreign policy, Jennings feels that the importance of America's relief work is being more appreciated.
"This administration has been very supportive of our humanitarian efforts and has been involved in raising awareness on some key displacement and migration issues in certain parts of the world," she says. "It honestly has made it easier to provide assistance globally with a supportive administration."
So if the new administration's attitudes regarding humanitarian work are so much warmer, what are we to make of the VP's seemingly blunt and callous statements in Guatemala?
Photo Provided
Melanie Jennings
In Jennings' opinion, there is a wide gulf between supporting foreign aid and relief and fully understanding the emotional complexities at the heart of humanitarian work and mass migration issues.
"I believe it could be handled with much more compassion and understanding," she says. "I think that's what is particularly missing from the current state of immigration in the US. We have to understand why it is happening and what is causing people to leave their homes."
Photo Provided
Melanie Jennings with colleagues
That commitment to the humanity behind disaster can be overwhelming, but Jennings is adamant that it remains at the heart of her work. Once again, she says this comes back to her home state and its own difficult and destructive history.
"I was working for the Red Cross after the 2013 Moore tornado. I found myself in a similar position as the 1999 event, standing on a street with houses either gone or completely destroyed, but this time in a position to provide support and assistance to my community. That's when I knew I wanted to do this for the rest of my life."
*Jennings would like to make it clear that her opinions do not necessarily reflect the opinions of USAID or any other organization with which she has worked*