Mark Hancock
Oklahoma House Minority Leader Scott Inman, left, and House Speaker Jeff Hickman take part in a Oklahoma Watch forum at Kamps 1910 Cafe, 10-20-15.
It is no secret that Oklahoma lawmakers face a bleak budget situation for the next fiscal year, which begins July 1, 2016.
Dropping oil prices, shrinking monthly tax collections and a looming tax cut has state leaders wondering and worried about piecing together a state budget for the next funding cycle. While lawmakers can only speculate on the deficit amount, they can say with certainty there will be cuts.
There are no easy answers when reports suggest the deficit could approach $1 billion by the time lawmakers return to session in less than three months. When lawmakers were last at the Capitol, they faced a $611 million hole. A year earlier, the gap was $188 million.
"We are going to have to cut spending because there is no way that we can see coming up with the money to balance (the budget) with tricks, gimmicks and one-time finds," said Sen. Clark Jolley, R-Edmond.
The chairman of the Senate Appropriations Committee talked about the budget realities when addressing The Oklahoma Academy, a nonpartisan leadership group that brings attention to state issues. The news of the governor's executive order to cut nonessential expenses by 10 percent dropped the same day as the academy's Oct. 26 event focused on the state budget and featured speakers Jolley, Rep. Earl Sears, Gov. Mary Fallin and Treasurer Ken Miller.
Jolley's House counterpart Sears referred to the last sessions as the most difficult year for producing a balanced budget. When it comes to cuts, the former educator highlighted the gravity of reductions, naming common education as an example. If common education were to lose funding by 1 percent, he said, that's $24 million the state agency would operate without.
"We must and we have to do a better job," said the Republican from Bartlesville, who chairs the House Appropriations and Budget Committee. "I think we are. It is not that easy in regards to balancing these budgets and keeping some of them flat. We still get beat up in regards to public education. … [Last session] we kept public education funding flat; I am very proud of that. I can't promise we will do it this year."
No promises
Funding cuts, which often translate to service cuts, are the only promise. Fallin highlighted the severity of the budget situation when she signed a string of executive orders tied to sluggish state revenue. The first order called for all agencies, boards and commissions to cut nonessential services by 10 percent through the rest of this fiscal year and for the year after.
In attempts to cushion revenue, the governor squashed out-of-state travel plans and called for selling state-owned "underutilized" land and buildings.
Calling it a "critical time in our state," Fallin continues to advocate for modifying the budget process by examining "off-the-top" spending. She said she believes that such a move would reroute funding to the general revenue fund and give lawmakers more funds to allocate to core government services and provide equal scrutiny to state programs.
"Everybody knows it is going to be another tough budget year and we are going to experience some budget shortfalls," Fallin said as she addressed The Oklahoma Academy. "It is going to require some very creative and innovative solutions, but there is an old saying: 'Never let a [serious] crisis go to waste.'"
"Off-the-top" spending diverts money away from the general revenue fund, either to support specific government programs or economic incentives. Typically, the state hands out $1.7 billion in tax credits, incentives and exemptions each year. Another $3 billion is set aside for specific programs like the teachers' retirement fund, the state's college scholarship program and a major state transportation fund.
The two-term Republican governor made the call before, namely during her State of the State address in February.
"My challenge to all of us is to reverse that trend and use this session to really unpack the way the state is spending its money," Fallin said during the state address.
Taking a microscope to "off-the-top" spending is one way to approach the budget challenge, and it has been met with support.
Both Jolley and Sears pledged to curtail tax credits and incentives. Last year, Sears authored a bill (that became law) to reform incentives and credits available to the wind energy industry.
House Minority Leader Scott Inman, D-Del City, argues if millions are offering in tax credits during a period when core services are cut, dollars are not spent in the best interests of taxpayers.
"We need to make the pain felt across the board," said Inman during an Oct. 19 budget discussion featuring Inman and House Speaker Jeff Hickman and hosted by Oklahoma Watch.
Hickman, R-Fairfield, argues better oversight is needed when it comes to tax credits. However, the 10-year lawmaker pointed out that reform will not be easy, as lawmakers can expect to hear opposition from constituents and lobbyists.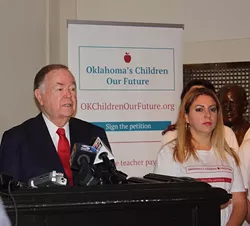 Laura Eastes
David Boren recently proposed a sales tax increase to fund education.
Budget hole
Getting a handle on tax incentives has mixed results when reviewing past sessions.
During the spring 2014 session, the Legislature reviewed an expiring tax program benefiting the state's oil and natural gas industry. Ultimately, lawmakers gave approval for the incentive program to continue, with a slight change.
Historically, Oklahoma placed a 7-percent tax on horizontal drilling; however, in 1994, lawmakers created an incentive to lower the tax rate to 1 percent for the first 36 months. Horizontal drilling was new, and the tax incentive spurred growth in the developing technology. In 2002, the incentive was extended with expiration set for 2015, which would return the rate to 7 percent. After much debate, lawmakers passed legislation setting the tax rate at 2 percent for the first 36 months.
Proponents believed the tax break would keep drilling dollars in the state and allow the energy industry to continue on its path as a leading driver of economic growth.
Those who opposed the tax break said Oklahoma's horizontal drilling tax was already among the nation's lowest and remained low, even after eliminating the tax incentive. Horizontal drilling is now a popular trend in Oklahoma. About 2,600 oil and natural gas wells were completed by horizontal drilling in 2013, according to data from the Oklahoma Tax Commission.
Outside the Sooner state, nonprofit organization Tax Analysts compared various states' gross production taxes, including Oklahoma's taxes, for the publication State Tax Notes.
"Oklahoma's policy of exempting production from horizontal wells for up to four years goes way beyond encouraging innovation and reducing investment costs and exempt wells that oil and gas producers would drill and develop even without exemption," wrote Jennifer Carr in the 2014 report. "Although horizontal wells cost far more to drill, even in states such as North Dakota, where tax rates are fairly high, the severance tax doesn't seem to hamper growth. The length of Oklahoma's exemption is unjustified."
Revenue stream
In another move, introduced for the business community, the governor and lawmakers supported legislation to drop the personal income tax rate from 5.25 percent to 5 percent. The change goes into effect Jan. 1.
In a 2013 media release, Fallin called the cut an "important tool for job creation and economic development."
"One of the first questions I get when I am talking to business owners throughout the country is, 'If I come to Oklahoma, are you going to raise my taxes?'" Fallin said in the media statement. "Passing a significant and responsible tax cut will help us to recruit these businesses and retain the ones we already have. Our tax cut will ultimately lead to more job opportunities for all Oklahomans."
According to the release, the tax drop would "pump $237 million into the private sector."
In other words, that money will no longer be in the hands of lawmakers to help them fund state agencies.
According to the bill's summary, the cut leads to an estimated $57 million loss in revenue for the current year and a $147 million depletion for the next budget cycle. By fiscal year 2018, the state is expected to be out near $200 million. The tax rate, which was 6.65 percent in 2005, will fall to 4.85 percent in 2018 if triggered by certain revenue growth.
During that legislative session in which lawmakers extended the drilling tax break and cut the personal income tax, lawmakers approved a $120 million bond issue to repair the Capitol. A year later, lawmakers agreed to another two bond projects, each calling for $25 million in bond revenue to fund the OKPOP Museum in Tulsa and The American Indian Culture Center and Museum in Oklahoma City.
From the treasurer's point of view, the moves to pass a tax cut and take out bonds made little sense.
"I think the fact that we are reducing our recurring revenue stream, i.e. the income tax, at the same time we are increasing our recurring expenditures is de facto crazy," Miller said.
Low-tax state
The Center on Budget and Policy Priorities considers Oklahoma a low-tax state. The organization reports Oklahomans pay 27 percent – or $943 – per person less in state and local taxes than the national average. With no state property tax or local income tax, Oklahoma's revenue comes from taxing personal income, sales, corporate income, motor vehicles, motor fuels and gross production (severance).
Oil and gas tax collections play a key role in budget stabilization, as severance is typically the third largest state tax. When oil prices are falling, like now, lawmakers can expect sluggish tax revenues.
The treasurer's office reported gross production collection at $36.69 million in September. That amount is a decrease of $41.23 million from a year ago. September collections reflect oil field activity in July, when the average price of crude oil was $50.90 per barrel for West Texas Intermediate. There is no sign of upswing anytime soon. On Oct. 26, the average price was $43.19 per barrel.
Sensible reform
As a low-tax state, many, including Miller, argue a fairer and broader tax system needs to be implemented.
"Oklahoma would certainly benefit from comprehensive tax reform that lowers rates by broadening the base and better prioritizing spending," Miller told Oklahoma Gazette. "If we were to design an equitable tax code to encourage entrepreneurial activity, productivity and growth, we would not end up with the tax structure we have today."
Currently, Oklahoma relies heavily on revenue from personal income and general sales taxes. On average, Oklahomans face an 8.77 percent sales tax rate, which is relatively high when compared to other states. The state's sales tax rate is 4.5 percent, but local municipalities impose a percent too, pushing it as high as 10.5 percent in Clinton, Fort Gibson, Kiowa, Red Rock and Savanna. Oklahoma doesn't impose a service-based tax on transactions such as oil changes, haircuts, dog grooming, dry cleaning and lawnmower repair. Also, lawyers and health care services are not taxed.
"It doesn't make much sense to go to a Starbucks in a strip mall and pay tax on your coffee and then go next door for a haircut and not pay sales tax when both businesses are paying the same costs in rent and labor," Miller explained.
In recent years, some states have adapted an "Amazon" tax, adding sales tax on purchases made when residents shop online.
In October, an interim study exploring a tax on service transactions was conducted with Rep. Mark McCullough, R-Sapulpa, leading the charge to bring a service tax and eliminate the corporate income tax.
McCullough serves on the House Tax Policy Working Group, which was established a year ago to brainstorm ideas for tax reforms. Sears, who is also a member, said tax reform is a huge discussion for the coming legislative session.
"We must continue to go down the path of talking about tax reform in Oklahoma," said Sears.
Budget process
The process of putting together the budget has been far from ideal and has to change, Jolley said.
The problem starts with December's State Board of Equalization meeting, where preliminary budgeting numbers are released for the first time. In February, at the beginning of session, the governor proposes a budget based upon those December numbers. In late February, the Board of Equalization meets to re-release revenue numbers, which are different from the previous meeting.
That's what happened earlier this year. In early February, Fallin released her budget with cuts reflecting a $300 million deficit. By the end of February, lawmakers were told the budget hole had more than doubled when the Board of Equalization released the final estimate.
"The governor's numbers are fictional, and it is a waste of time," Jolley said.
Tasked with developing the budget, the Legislature constructs a plan with the governor's proposal in mind, along with input from the state agencies and the public. Once complete, an appropriations bill begins the law process. Once the Legislature approves the final bill, which often takes place at the end of the session, in May, the bill moves to the governor's desk for a signature. The new fiscal year begins on July 1.
During the last two legislative sessions, Rep. Randy Grau, a Republican who represents Northwest Oklahoma City, has introduced legislation to alter the budget process and give lawmakers more time to spend examining the budget. Grau called for lawmakers to craft the budget every legislative session but push policy issues to every other year. Increasing time spent on the budget would allow meaningful review and discussion on funding priorities. Grau's proposal is similar to other states' budget practices.
Education tax
Oklahoma's Children, Our Future is a grassroots group dedicated to strengthening funding in common education, CareerTech and Higher Education. Led by University of Oklahoma President David Boren, a former governor and U.S. senator, the group filed a petition to bring a 1-cent sales tax proposal to voters on the November 2016 ballot. The petition was submitted to the Secretary of State's office on Oct. 21.
Moments before submitting it, Boren described an ongoing education crisis occurring in Oklahoma.
Teacher shortages, low pay, fewer dollars funding instruction and raised college tuition trouble the former Democratic politician. Boren reviewed alternative funding, but "came to the sales tax as the last resort."
"The situation is likely to get worse," Boren said. "We face a $1 billion shortage in revenue in our state budget. … How in the world do you close that deficit without even more cuts to education?"
For the proposal to move forward as a state ballot question, it requires approval by the Oklahoma Supreme Court. With the court's consent, about 123,000 signatures will be sought during a 90-day circulation period.
If voters approve the proposal, an estimated $615 million would be deposited annually in the new Education and Reform Fund, another "off-the-top" fund, which lawmakers couldn't touch.
Common Education would receive $424 million to increase teacher salaries by $5,000 and give additional funding to schools struggling with low test scores and high dropout rates.
The Oklahoma State Regents for Higher Education would see $120 million dedicated to student tuition. School districts could apply for grants to enhance learning opportunities from a $50 million fund overseen by the State Department of Education. CareerTech would garner $20 million to increase workforce readiness and industry certification.
Opponents to the education sales tax worry it will have a damaging impact on the poor. Boren admits the tax proposal "isn't perfect," but Oklahoma has "one of the lowest tax burdens in the country."
The proposal garnered the support of members of the business community as well as state leaders, including two former Fallin cabinet members: David Lopez, former commerce secretary, and Phyllis Hudecki, former education secretary.
"Budget negotiators and legislative leaders have been very candid that there simply wouldn't be funds to address the needs of the state, particularly in education," Hudecki said when she launched her support for the proposal at the Capitol on Oct. 21. "In other words, we have shaken all the trees, searched the closets and looked under the beds. We simply cannot find funding. We have no other option."
Not many lawmakers have publicly pledged their support of the Oklahoma's Children, Our Future petition; however, few were surprised by such a proposal to fund education.
Inman, an eight-year lawmaker, believes the sales tax proposal is another example of the state "passing the buck." When core services are cut, municipalities, schools and social services are forced to step in to fill the void.
"If the folks in charge wouldn't step up to do what they are supposed to and fund education appropriately, then, by golly, let the people of Oklahoma do it," Inman said.
Tough road
In the next session, Republicans and Democrats will have to work together to create a budget deal during a session that could see a fiscal crisis of historic proportions. It will be tough to produce a budget and call for reform during a session already deemed challenged months out.
"We are going to have to work together to sort all of this out," Hickman said. "At the end of the day, we are all Oklahomans and we are going to have a solution. … It is going to take a civil conversation. We will have to agree where we are first, agree on what the numbers are and agree where we want to be. Currently, we are not where we want to be."
For change to come, lawmakers might need a push. That push will need to come from constituents.
"We have to fix structure problems with our budget, and that will take fiscal discipline," Miller said. "For fiscal discipline on people like us [elected officials], it is going to take more people from the populous and more citizens to hold us accountable."
Print Headline: Looming shortfall, What action can be taken to close the budget gap?