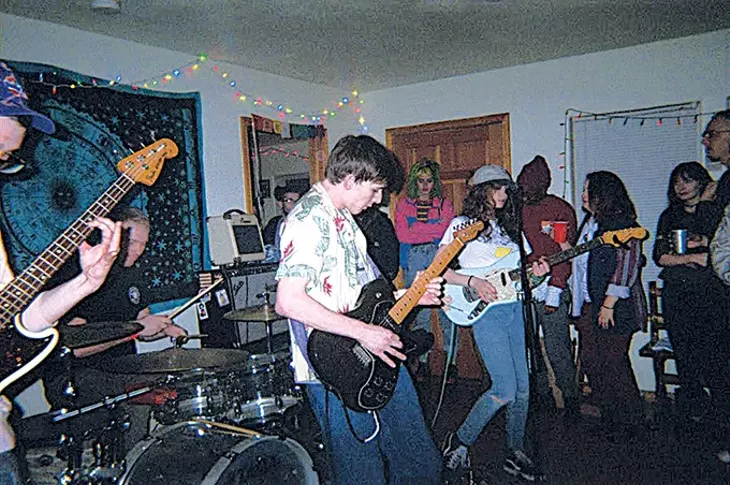 provided
Mom & Dad's DIY house venue closed in June.
When Trinity Slough and Nicolaus Vannostran, aka Mom and Dad, had friends over to their Norman house to watch Limp Wizurdz play last summer, they didn't know what it would lead to.
"It went pretty good," Vannostran said. "I mean, the turnout wasn't fantastic, but it was fun. … We didn't realize it was going to be anything. We just thought maybe occasionally we'd have our friends over to play, one band at a time."
But word of their laid-back, all-ages house shows soon spread through the music community, and after they made a venue page for Mom & Dad's on Facebook, their home/DIY venue gained even more notoriety.
"It was just the easiest way to organize the information," Vannostran said. "I guess that was ultimately our downfall."
The venue's popularity, which would eventually create problems for its proprietors, continued to grow. In November 2017, Megan Wiggins of Me Oh My organized Chill Fest, a daylong local music event with the largest turnout the venue had seen, and Vannostran was pleasantly surprised by the results.
"There was a ton of bands on the bill, and hundreds of people showed up, Vannostran said. "It was way bigger than we expected, but it was so calm. … It was just very peaceful, and it was just everything we could've hoped for. From that point forward, my inbox was blowing up."
The venue began to receive booking requests from out-of-state bands. Vannostran, who also plays in lo-fi psychedelic duo Skeleton Museum, originally just wanted to use his house to host shows to fill a gap he saw in the local music scene.
"I never expected that I would do anything like this," Vannostran said. "I grew up just outside of Denton, Texas, and the culture there, there's just house venues all over the place. So when I moved here to Norman, it seemed hip on the surface, and I was like, 'Oh, I can expect similar things from Norman.' But once I started feeling around for where the cool shows were, there weren't any."
Elecktra Stanislava, who grew up attending house shows in the OKC metro area and hosted house shows with Kelsey Birnbaum under the name The Unkempt Beaver, said seeing a band play in a private residence can be much more enjoyable than seeing them in a bar, and the audience is often more considerate and supportive.
"It's just more relaxed," Stanislava said. "People are more interested in listening, I think, at house shows, and the ones that aren't interested in actually paying attention to music are more likely to be respectful and walk away to have a conversation, as opposed to a bar where people are there to drink and music and performances are more or less background noise."
Norman's Dope Chapel, later taken over by the First Pastafarian Church, hosted some all-ages concerts, but when the church closed its doors, Vannostran began to worry about the future of a local music scene that barred minors from participating.
"Allowing people that aren't of legal drinking age to come in, permitting that you put X's on their hands or what have you, really changes the game because that's the heart of where the scene is born," Vannostran said. "It's a necessary component of the scene. Otherwise, you starve it."
Gray Hendrix, who currently books all-ages hardcore shows at a karate school in Oklahoma City known as The Dojo, agrees.
"We have a smaller music scene than most places," Hendrix said. "We have, I'd say, at most 75 kids on and off that come to shows, so it's definitely a challenge that we're lacking in DIY venues. … It's more inclusive if you do it in places where everyone can come. There's more exposure for bands, and it gets kids involved as well."
Leaving home
When Vannostran and fiancée Slough married in April of 2017, they hosted an after-party at their home. Then, realizing they couldn't afford to keep running a venue and take a vacation, the couple decided to celebrate their honeymoon by hosting shows during Norman Music Festival. The three-night event culminated in the largest, loudest, longest event Mom & Dad's would host.
"We were at capacity," Vannostran said. "We were featured on Spotify. It was amazing. I've never seen anything like that before."
The show also attracted unwanted attention.
"Saturday night of Norman Music Fest was, I think, the first time that we had the cops called on us by our neighbors," Vannostran said. "We regularly communicated with our neighbors and let them know. We left letters on their door. Anytime things would change or we planned on going a little later, we'd let them know, give them our phone numbers and give them a way to contact us, and so we never heard anything from them, but then Saturday night, the music went on until 3:30 in the morning."
Even after the police arrived, Vannostran wasn't really worried. He said he often saw them driving by after shows, but this was the first time they'd arrived while a band was still onstage.
"The cops were really nice," Vannostran said. "We just walked up. I shook the cop's hand, and I was like, 'I guess it's that time, huh?' And the cop was like, 'Yep.' So we just pulled the plug and that was it."
However, that wasn't the first time Vannostran said he had talked to the police about the venue.
"I've called the police several times to communicate what we're doing there, and I've asked them for advice on exactly how to properly do this so that we're not stepping on any toes," Vannostran said. "We've been IDing at the door, wristbands for 21 and up, and we just walk around the place and make sure nobody who shouldn't have a drink in their hands has one."
Vannostran and Slough's efforts to ensure that legal drinking didn't get out of hand originally inspired the nickname Mom & Dad.
"There were a couple of times that someone would get sick, and they'd be on the floor in our bathroom or something and we would just help them up, get them water and then figure out whether a friend could take them home or if we needed to call them an Uber," Vannostran said.
While proactively preventing underage drinking and public intoxication helped the house venue stay legal, City of Norman's municipal code states that a social gathering can be deemed a public nuisance if it violates ordinances against noise, disturbing the peace, parking or the fire code. If three public nuisance citations are issued at the same property within a single year, the City may elect to shut off the building's water, making it legally uninhabitable.
After discussing the issue with the property manager, Vannostran said he and Slough "reached a compromise that put [them] in the position of ceasing operations" but will prevent them from being evicted from their home.
They are currently raising money to open new venue, with a GoFundMe page and two benefit shows hosted by The Unkempt Beaver at Sauced on Paseo. They are currently working with the owners of Red Brick Bar to ensure that their next venue is properly licensed, but Vannostran said they are going to "do [their] darndest" to keep it all-ages, even if that means not serving alcohol to anyone because they view the venue as more of a "safe space" than a bar.
"We are a community center, essentially," Vannostran said. "I think that's definitely the direction we're headed when we move into a commercial space. We're going to have all sorts of optional volunteer work that can be done, and we're really going to make people shake hands and look each other in the eye."
Stanislava said she and Birnbaum wanted to host benefit concerts for Mom & Dad's return because the house shows they were putting on were better and more responsibly run than the ones she remembers going to as a teenager. She's confident that the couple will continue to be a force in the local music scene once they have a new place to call their own.
"When you have great people like Nicolaus and Trinity who are doing it 'cause they love it," Stanislava said, "they're going to get another go-round."
Mom & Dad's Fundraiser Concert Series is Sunday and July 22 at Sauced on Paseo. Visit gofundme.com and search "Mom & Dad's Club."