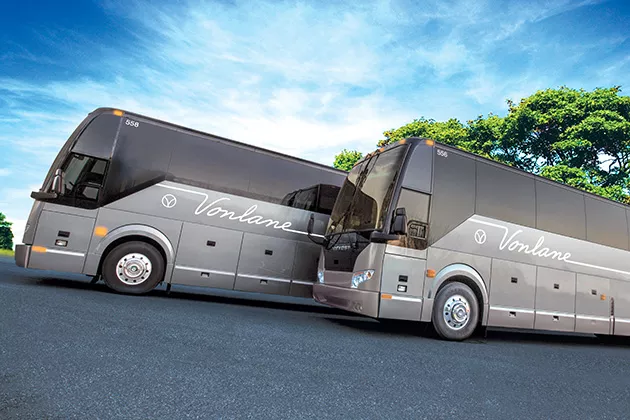 Provided
Vonlane motor coaches only seat 22 people maximum, making for a spacious experience.
Vonlane, a Dallas-based luxury motor coach company, is expanding outside its home state and launching a bus route between Oklahoma City and Dallas. Service begins Jan. 6, the same date Southwest Airlines will stop nonstop flights between the two cities.
Vonlane is known for its complimentary Wi-Fi, leather seats and spacious interior, as each motor coach only seats 22 people.
Alex Danza, founder and CEO, said they already planned to launch the route between OKC and Dallas, but Southwest's move accelerated things.
"We had always had our eye on the route," he said. "Frankly, there were other routes that were ahead of it in our progression in our plan, but when Southwest decided to pull out that route, we saw that there were about 200,000 people a year that fly between [Dallas Love Field Airport] and Oklahoma City. And we felt that we could be a solution for that now that Southwest isn't going to be doing that flight directly anymore, so we moved Oklahoma City up in our progression."
OKC-Dallas fares per passenger are $99 one way or $198 round trip with no baggage fee or price fluctuations. The route will operate between Sheraton Oklahoma City Downtown Hotel and DoubleTree Love Field Hotel in Dallas. Its buses will depart four times daily on weekdays every four hours from 6:15 a.m. to 6:15 p.m.
Passengers can enjoy several complimentary items and services like video-on-demand, a neck pillow, a sleeping mask, toothbrush kits and ear plugs. Additionally, passengers can borrow items including select device chargers, noise-cancelling headphones, a standard pillow and a blanket. There are also complimentary snacks, meals and beverages all free of charge except for alcoholic drinks, which range from $4 to $6.
"Our service is VIP, luxury service. You're with 21 other people maximum, not 200 other people. It's nonstop. It's direct. There's an attendant onboard every trip that is catering to your every whim," he said. "We have an exhaustive list of amenities, food items like smoothies and meals and tons of different types of snacks. It's very much a first-class experience. The feedback that we get from people is, 'It's better than a first-class trip I've taken on American Airlines.'"
Vonlane had its first trips in April 2014 between Dallas and Austin. Danza said Texas was a great market to get started because five of its major cities are all at least 200 miles apart.
Provided
Vonlane boasts first-class service with a slew of complimentary amenities.
"We started very humbly with two motor coaches going back and forth between Dallas and Austin," he said. "We had four departures from each city to the other a day, and now we're running over 70 departures around the state of Texas on a typical weekday. So it's really taken off in the past five and a half years."
Danza said Vonlane is a great option for business people who bill their time since they can ride and work the whole way. Because of that, the company initially marketed solely to business travelers but over time began to notice its service also attracted retirees and college students.
"That's what got us started, the business traveler, but we have transitioned really into an airline on the ground that attracts all types of travelers. We have a heavy leisure segment as well as a heavy business segment; it's probably 50-50 depending on the day of the week," Danza said. "We have some really great demographics of people that travel with us. We were really surprised to find the elderly are big fans Vonlane because it's just too much of a hassle for them to go through the airport and go through security to get through the gate, and their loved ones don't want them driving anymore to come visit. We have people in their late 90s who are traveling with us and telling us, 'You have given me my freedom back to go see my family.'"
Danza said the annual Red River Showdown football game makes for a major weekend.
Provided
Vonlane CEO Alex Danza founded the company in 2014 with two motor coaches going between Austin and Dallas. Today, Vonlane services five major cities and adds Oklahoma City Jan. 6.
"That's a huge weekend for us every year between Houston and Austin and Dallas-Austin. It's amazing what happens that week," he said. "We do a lot of work with the Texas Exes organization, so they charter a couple of vehicles for their VIPs. We bring them from Austin up to the game. … We're hoping things like that will start to generate and develop with [University of Oklahoma] as well, where we can work with their alumni association and things like that."
Vonlane's routes currently serve Austin, Dallas, Fort Worth, Houston and San Antonio.
Though it doesn't seem likely in the immediate future, Danza said service between Tulsa and Oklahoma City is on its list of potential routes.
"Everything is prioritized, and it's not something I can say right now is going to be the next route we do," he said. "A lot of it will obviously depend on how Dallas-Oklahoma City does. We would want to see that Oklahoma City embraces service and that there's a ridership from Oklahoma City to Dallas. That will bear heavily on a decision to do other routes out of Oklahoma City."
Danza believes the OKC-Dallas route will be a success once people try it out and tell others about their experience.
"The service speaks for itself. Our customer satisfaction levels are through the roof. People really, really enjoy the service once they give it a try," he said. "The fact that we're not competing with an airline, I think, really positions the route for success. … We were able to be wildly successful on routes like Dallas-Austin, Dallas-Houston, Austin-Houston, and we were competing with Southwest Airlines, which is a great company. … This is the first route we're doing that we're not competing with Southwest."
Visit vonlane.com.