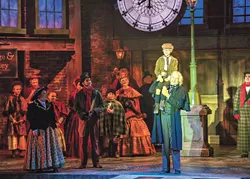 ©2016 KO Rinearson
center Anthony Newmann plays Tiny Tim and Dirk Lumbard plays Ebenezer Scrooge in Lyric Theatre's A Christmas Carol. | Photo KO Rinearson / Lyric Theatre of Oklahoma / provided
Despite common usage of his name, Ebenezer Scrooge isn't simply a curmudgeon — he's more complex, more nuanced than people give him credit for.
Scrooge's intricacy is one of many reasons Lyric Theatre's producing artistic director Michael Baron never grows weary of putting on A Christmas Carol each holiday season in Oklahoma City.
"No, Scrooge is not initially a nice man — but that doesn't define his entire character," Baron told Oklahoma Gazette. "If Scrooge only comes off as a mean old guy, then we haven't done our job."
Charles Dickens' Christmas staple enters its seventh year at Lyric Nov. 29-Dec. 24, continuing to inspire audiences with its message of hope and joy this holiday season.
"Most of Scrooge's arguments for not celebrating Christmas are legitimate," said Baron. "Making money, building your wealth and spending time working are all values in this economic system. However, the people around him help him realize that there's so much more to life than money."
Stage aesthetics
The timeless story of one man's change of heart is complemented with Lyric's festive, detailed set design celebrating a joyful holiday aesthetic.
"When audiences walk into the theater, they enter into a Victorian street scene straight out of Dickens," he said. "The stage is full of buildings with beautiful brickwork, snow, carolers, holiday decorations and a large clock tower."
Baron changes Carol's stage value every five years, with 2016 marking a completely new set. This year's stage design incorporates much of last year's décor, but with notable additions.
"We've added a new Ghost of Christmas [Yet to Come] puppet made by artist Penny Benson from New Hampshire," said Baron. "She's a nationally renowned puppeteer, and we're very excited to see the finished product."
Those with an eye for costume design should prepare for intricate Victorian gowns and suits with enough tulle, petticoats and hoop skirts to make you forget what century you inhabit. Other stage design elements include a revolving stage piece that takes Scrooge seamlessly through the different eras in his life.
According to Baron, the wide range of actors make Lyric's production truly shine. This year's group of child actors presents stellar talent in small packages.
"Each child is typically new to the production each year, but you would think they've been acting for decades with their performances," said Baron. "They make an integral part of the play because we often see life through the eyes of children in the narrative."
Among this year's 14-character child cast, Myles Currin-Moore and Anthony Newmann play Tiny Tim and Brayden Tran and Ethan Wells play Boy Scrooge.
Baron said the adult actors have created close bonds throughout the play's seven-year stint at Lyric.
"Our adult actors typically return every year," he said. "The cast is like family, and everyone makes it a point to reunite each season."
Jennifer Teel, a returning Carol actor, shares Baron's enthusiasm for reuniting with her castmates each year.
"I basically have the play's dialogue memorized at this point," she said. "But the reason I return each year and the reason the story stays fresh is due to the wonderful people who have created and been involved in this show."
Some of this year's returning cast includes Dirk Lumbard as Scrooge, Charlie Monnot as Bob Cratchit, Thomas E. Cunningham as Jacob Marley and Teel as Mrs. Fred/Charwoman. New additions to the cast include Oklahoma City University student Natalya Ferch as Ghost of Christmas Past.
"This year, both of my roles serve to contrast Scrooge," Teel said. "Mrs. Fred thinks Scrooge is beyond help and learns about herself along the way as well. There's a very vulnerable element to each character in the show. No one is completely perfect, which makes it incredibly relatable."
©2016 KO Rinearson
center Anthony Newmann plays Tiny Tim in Lyric Theatre's A Christmas Carol. | Photo KO Rinearson / Lyric Theatre of Oklahoma / provided
Inspiring humanity
Dickens' work has gained its pervasive status for its ability to remind people of their humanness. People don't return to the same Lyric show each holiday season for the narrative. In short, they return for how it makes them feel.
"The production stays very true to Dickens' original story," said Baron. "I have a decades-long history with this show, but it seems like every year, society needs a reminder of the morals it teaches, like being kind to your fellow man or giving to those in need. Its themes are always relevant, and they give us hope."
For those in the audience feeling inspired to act on the narrative's charitable themes after the show ends, Lyric gives viewers the opportunity to donate to a real cause in our state.
"After each show ends, we give audiences the opportunity to donate to Regional Food Bank [of Oklahoma]," said Baron. "Every year, we've received thousands of dollars from each audience. It's a perfect time after the show to give people the chance to improve their own community."
Even after the pomp and circumstance of Carol's stage design, music and costumes fade, but the show's theme of compassion toward others should always be extended into reality. Next time you find yourself using the name Scrooge as a derogatory descriptor, consider some introspection. After all, we're all human.
"Everything in the show still absolutely rings true today," said Baron. "We all know people like Scrooge, and sometimes we are like Scrooge before his enlightenment. Sometimes we need a little compassion from others too."
©2016 KO Rinearson
left Dirk Lumbard plays Ebenezer Scrooge in Lyric Theatre's A Christmas Carol. | Photo KO Rinearson / Lyric Theatre of Oklahoma / provided
Print headline: Intricate inspiration; Lyric Theatre of Oklahoma performs a classic that revives the Christmas spirit.
Editor's note: This story was updated Nov. 29, 2017.