Charles Quinn Photography
Great art, coincidence and collaboration are at the heart of Lyric Theatre of Oklahoma's production of Million Dollar Quartet.
Lyric producing artistic director Michael Baron and Austin, Texas-based ZACH Theatre producing artistic director Dave Steakley are longtime friends and colleagues. As they looked at this summer's shows, they noticed similarities.
"It just so happened this season, we're both doing Million Dollar Quartet and In the Heights," Steakley said.
Finding the right talent for a production can be challenging, as can be creating a set that draws audiences into the story. So to help present productions of the highest caliber, the directors decided to share costs.
While Million Dollar Quartet is the first collaboration between Lyric and ZACH, it's not uncommon for the companies to share creatively with each other.
In the fall, Baron directed Spring Awakening and Peter and the Starcatcher for ZACH and Steakley directed Fully Committed for Lyric.
Charles Quinn Photography
Big money
Million Dollar Quartet, running Tuesday-July 1 at Civic Center Music Hall, 201 N. Walker Ave., is the first show of Lyric's summer season.
Quartet centers on the improbable real-life meeting of four rock 'n' roll pioneers in December 1956 at Sun Record Studios in Memphis, Tennessee.
"It really happened," Baron said. "It's a really cool, really fun show. People get to learn some rock history and hear the great songs you love."
It's named after a Memphis Press-Scimitar story published the day after Elvis Presley, Jerry Lee Lewis, Carl Perkins and Johnny Cash ran into each other at the studio and ended up performing an epic jam session.
While the impromptu jam mostly focused on gospel songs they remembered from their youth, Million Dollar Quartet features some of the artists' greatest hits, including Perkins' and Presley's "Blue Suede Shoes," Perkins' "Matchbox," Cash's "Folsom Prison Blues" and Lewis' "Great Balls of Fire" and "Whole Lotta Shakin' Goin' On."
Steakley directs the show, which heads to Austin July 26-Sept. 3 for a run at ZACH.
Main ensemble players are from New York, Baron said.
Authentic production
"Right now, this show is going all over the country," he said. "This cast has all performed it, but I don't think they've performed together."
That dynamic should translate well onstage as the actors portray young musicians working together for the first time, Steakley said.
"We're not doing the theme-park version of this show," he said. "We want to catch the same fire that existed when the music was new."
ZACH puts on many productions with a concert context.
"The live music scene is so important in Austin," Steakley said. "So there's a natural synergy for us with these types of shows."
It's crucial to get Johnny Cash details right because of his influence on singer-songwriters, he said.
"We seek out those projects that we can do with authenticity," he said. "In my experience, audiences have an extraordinary time. It's nostalgia for some, and it's a discovery for others."
Baron said musicals also are big for Lyric. Past shows include Buddy — The Buddy Holly Story and Always...Patsy Cline. Both were well received.
"Later this year, we're doing West Side Story with an 18-piece orchestra," Baron said. "Disney's When You Wish will have a cast of 26 and a 15-piece orchestra."
Lyric often incorporates an orchestra larger than ones that performed in the original Broadway shows. And because each production runs one week, they draw talent that can more easily fit travel to Oklahoma into their schedules and give intense performances.
"Many of our ensemble are top talent, on the same stage with Broadway performers," Baron said. "With our training program, a lot of our backstage help are college students from across the country who will be heading to Broadway within the year."
Bringing together so many talented people creates an exciting atmosphere that carries to the stage, he said. That energy is one reason the shows often grow in size from performance to performance as audiences tell their friends.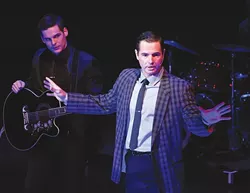 Charles Quinn Photography
Summer season
Lyric has three more summer shows scheduled through early August.
Disney's When You Wish, running July 11-15, explores the songs of classic Disney musicals — including Snow White, Pocahontas, The Little Mermaid, Hercules, Mulan and The Jungle Book — through the eyes of a young girl.
"Most of our summer shows are family-friendly," Baron said.
West Side Story, scheduled July 25-29, is the well-loved interpretation of William Shakespeare's Romeo and Juliet. Guest-directed by Matthew Gardiner of Washington, D.C.'s Signature Theatre, it's a dramatic tale of love in the midst of a gang war between the Sharks and the Jets in 1950s New York.
Lyric's season ends with another ZACH collaboration, In the Heights, which runs Aug. 8-12, by acclaimed theater star Lin-Manuel Miranda, creator of Hamilton.
"The national tour of In the Heights never came to Oklahoma City, so this will be the first production on this scale downtown," Baron said. "There's a lot of heart to it. It won the Tony for best musical; it mixes spoken word and rap within great songs."
Visit lyrictheatreokc.com.
Print headline: Interstate collaborate, Lyric Theatre of Oklahoma and Austin, Texas-based ZACH Theatre combine forces for Million Dollar Quartet.