Garett Fisbeck
Chris Heck and his wife, Franny, donate to the Food For All truck as Adrian Young runs a fundraiser during COOP Ale Works Tap Room Halloween Party, Saturday, Oct. 24, 2015.
Made Possible By Us is hungry for a win. The deadline for donations to get the Food For All food truck off the ground is Friday, and as of press time Monday, there's less than $20,000 left to go of the $53,000 needed.
"We don't have a contingency plan," said Made Possible co-founder Adrian Young. "We have no consideration for Oklahoma not stepping up."
That's because the project was picked by residents. When the group started the "What if OKC" hashtag on Twitter, its goal was to get input on what Oklahoma City needed most from the people who want to help. One theme kept appearing: feeding the hungry.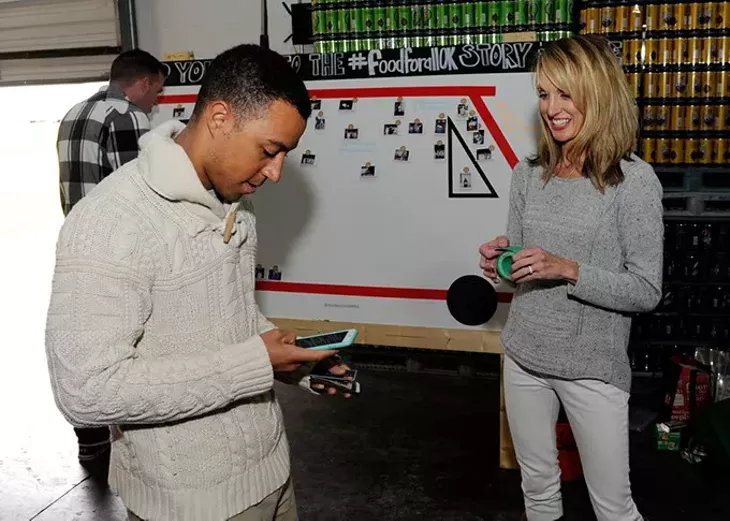 Garett Fisbeck
Sean Johnson donates to the Food For All truck as Adrian Young looks on during COOP Ale Works Tap Room Halloween Party, Saturday, Oct. 24, 2015.
So the group gathered a coalition of people who know food and money — Whole Foods Market, First National Bank of Oklahoma — and they found a project: a self-sustaining food truck that will send 100 percent of net proceeds to Regional Food Bank of Oklahoma.
"Every street fair, every public event, which is about a million, it'll be there," Young said. "And the menu will always be changing. They'll serve whatever the volunteer chef is inspired to create."
Young said creating a self-sustaining model is key to Made Possible's mission. Unlike Kickstarter or Indiegogo, where a donation goes toward a single project or product, the goal is to make something that reinvests in the community in perpetuity.
The Food For All truck is designed to take a one-time gift and turn it into a steady stream of meals for Oklahoma City's food-insecure population, many of which are children.
The need for food in Oklahoma City has grown exponentially since Regional Food Bank of Oklahoma was started in 1980 by Executive Director Rodney Bivens. The first year, he gave away 280,000 pounds of food. Now, the food bank gives away that much every 1.4 days.
People who give won't receive T-shirts or downloads or tech gadgets, Young said, but they'll be putting Oklahoma City on a better path.
The truck will go once a month to a Kids Cafe — a food bank-run after-school program providing food, mentoring, tutoring and other activities to more than 6,300 children in central and western Oklahoma — where chefs will teach children about nutrition while serving food.
"For some, Kids Cafe is their only meal for the day," Young said. "Without it, on weekends, during summers, they don't get fed. The truck will help feed them, but it will also engage them. The truck opens up and they get to see how the food is made."
With profits going to the food bank's unrestricted fund, it gives administration the tools to put resources where they're most needed, marketing director Angie Doss said.
And if the funding doesn't come through? Young refuses to think about that.
"This has to happen," Young said. "We just need the community to step up and help."
More information about the truck and links to give are online at madepossibleby.us.
Print headline: Hungry truck, A local collective raises funds for a food truck that would help feed Oklahoma's hungry.