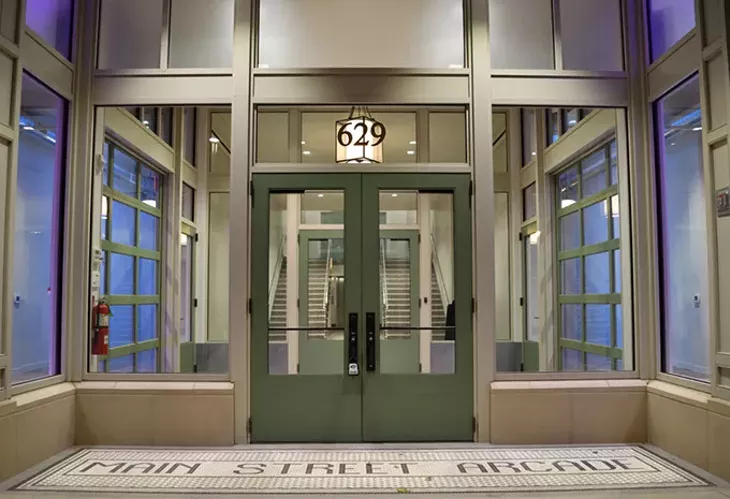 A party and open house celebrating the opening of Main Street Arcade at 629 W. Main St. in early August marked an important new point on the nearly 100-year-old building's long history, which reaches back to its opening in 1922. Local developer David Wanzer, the City of Oklahoma City and the National Register of Historic Places each contributed to its revitalization.
"The building is absolutely fantastic," event guest and Oklahoma City Ward 6 Councilor Meg Salyer said of the conversion of the historic structure into office and retail space. "The restoration of it is spectacular."
She said Main Street Arcade has been transformed from an "albatross" to "an incredibly beautiful asset" for the downtown area.
New life
The nearly 30,000-square-foot, two-story building sat vacant for several years after the previous long-term owner, Downtown Baptist Church, sold it to a real estate investment firm.
Local developer David Wanzer bought it late in 2014 after it was added to the National Register of Historic Places. Then the City of Oklahoma City granted the project tax increment financing (TIF) that diverts the building's property taxes for a limited time to help fund its revitalization.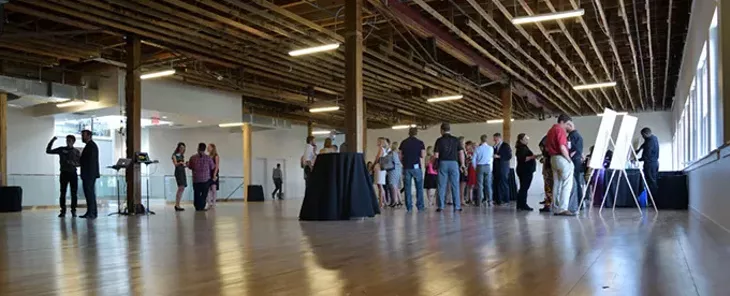 "It's a huge responsibility," Wanzer said. "These buildings are priceless and a part of our heritage, so it's a real honor to bring them back to life."
Wanzer said his project budget is $7.2 million, which includes his $1.2 million purchase in 2014 and allowances for tenant build-outs once leases are signed. Because of the historic building's age, structural modifications were $500,000.
The money it takes to rebuild and modernize such an old structure that has been superficially improved over its history is significant. The project is not just a series of financial transactions for him, though.
"We utilized historic tax credits and TIF funds to help bridge our gap in being able to renovate the building," Wanzer told Oklahoma Gazette. "When you buy a building like this, the money that it costs to put it back into service properly is more than the building appraises for."
Jonathan Dodson and Ben Sellers are partners with Wanzer in their development firm, Pivot Project. Dodson said Wanzer brought the proposal to him at the bank where Dodson worked at the time. Dodson said the building's transformation is "pretty incredible."
First impressions
It is understandable why Wanzer smiled as he mingled with smiling guests during the Aug. 3 opening event. Wine, hors d'oeuvres and contemporary open spaces filled with natural light contributed to a constantly moving and active crowd. Cheeriness and DJ-spun music contrasted photographs of stiff-backed typing students sitting in arrow-straight seat rows at Hill's Business College, which filled the second floor from 1923 to 1985.
Salyer made a strong case for the project's TIF designation and said the building is a connecting link for the Arts District, which includes Civic Center Music Hall and City Hall one block to the north and recently revitalized Film Row to the south.
"The concept of infill growth is really beginning to have an effect," Salyer said. "This building is probably the signature piece in that."
Indeed, Main Street Arcade's front door is about 500 feet from the front steps of Civic Center Music Hall, about 1,000 feet from the front steps of City Hall and only 200 feet from the side door of The Paramount OKC building on Film Row.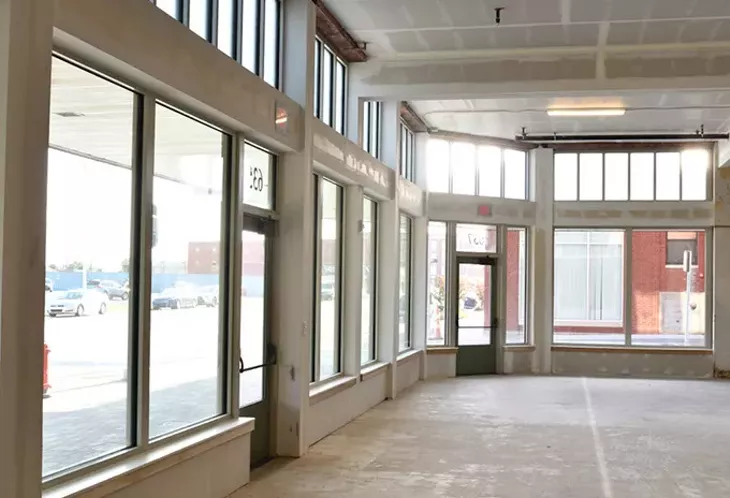 Under the direction of Gardner Architects, Lingo Construction continues to finish first-floor spaces ideal for restaurants and retailers to suit tenants as they sign leases.
Party guest and Oklahoma City hip-hop musician Jabee said he and his family have driven by the building for years but never thought much of it.
"It doesn't look old at all," he said as he glanced around the remodeled second floor. "It looks brand-new."
Clint and Crystal Spencer, young married Oklahoma City professionals, also said they were impressed.
"It's extraordinary. It's very well-thought-out," Clint Spencer said.
Print headline: Smart money, Oklahoma City's historic Main Street Arcade building roars back to life.