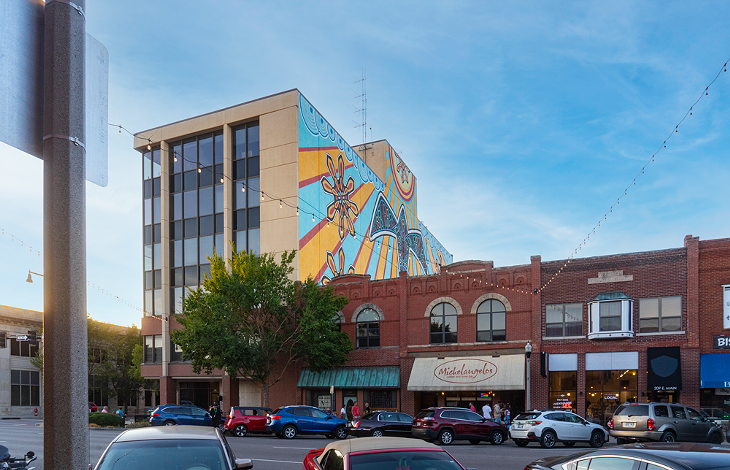 If you're tired of staying indoors (and who isn't), heads up, because one of the most fun events in the area is back. Norman's 2nd Friday Art Walk provides a fantastic opportunity to share some in-person camaraderie with others and experience the best of the metro area's artists.
As its name indicates, the 2nd Friday Art Walk is held in the Walker Arts District, along historic downtown Main Street in Norman, on the second Friday of each month, from 6 p.m. to 9 p.m. On Nov. 12, visitors can view, experience and purchase artwork of every genre, style and size, from both new and established artists.
After being forced to host the event virtually for a year due to COVID-19, the organizers opted to re-open in September, and the crowds immediately returned, said Erinn Gavaghan, executive director of the Norman Arts Council, which coordinates the Art Walk.
Dozens of businesses along Main Street participate in the event, including several art galleries such as the Norman Arts Council's MAINSITE and The Depot. Depending upon the type of business, artists may be located inside, outside or both. It's held year-round, in all but the worst weather. In addition, it provides an opportunity for visitors to see the unique businesses, bars and restaurants that make up Norman's historic district, and to hear music from area bands and musicians, Gavaghan said.
At the western end of the historic district is The Depot, Norman's original train station, which was repurposed as an art museum and music/event center many years ago. Its staff have successfully meshed Norman's art walk with their own program, by scheduling their guest artists' farewell receptions to coincide with the event. That change has been a win-win for everyone, said The Depot's executive director, Shari Jackson.
"We focus on visual artists and feature guests with strong Oklahoma ties," Jackson said. This month, The Depot will be hosting a "Small Works" show featuring a dozen local artists, with many items suitable for holiday gifts.
"What I love most about Art Walk is that we are always trying to build community, and it's great to be a part of it," Jackson said. "We think art has a huge part to play in helping us recover psychologically from the past couple of years. We need to see each other smile without it being contentious. Just to be together and enjoy the art is so healing."
Travis Humphrey, who does both pointillism butterfly paintings and on-the-spot poetry outside the Visit Norman offices, agrees with Jackson wholeheartedly. Humphrey is in his third month as an exhibitor and said the experience is "fantastic" for both artists and participants. In his case, he gets to know his clients better than most, since he learns some information about them before creating a personalized poem within 10 minutes.
"I think the sharing of feelings and information is often a tender and spontaneous thing between the people who are asking me for a poem, and that makes it more special for (Art Walk) participants," he said. "There is a sweet magic in that moment that I try to capture in a poem. If I'm successful or not, that magic moment happened for them, and that's what makes the experience worthwhile."
One of the strong business supporters of the event is J-Byrd Home Boutique, where sculptor Link Cowen's work has been showcased throughout October, including the October Art Walk. (You can see his work on Facebook and Instagram at Link Owen Art, or LinkCowenArt.com.)
"I have not shown in Norman before, and I very much enjoyed my time there," Cowen said. "I'm a firm believer it's time to get back out in the public with events like the Friday night Art Walks across the country. It's a reason to go do something, plus it helps small businesses and the general public, as well as the artist."
Emily Hensley, (FB @cosmicbrushstroke and Instagram cosmicbrushstroke), another artist who participated in the Art Walk for the first time in September, also said it was an inspiring experience.
"I had been to Art Walk casually in the past, but after seeing an ad for the reopening I knew it was time," Hensley said. "It went from nerve-wracking to everything I wanted. So many people stopped by to give compliments, and even more stopped to grab something. It was incredibly reaffirming." She will be at the November event, exhibiting in front of Green Buffalo Dispensary.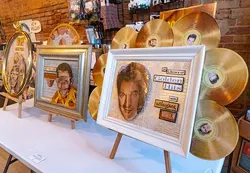 Leon Richmond
The Library of Golden Hits with Liberace Manilow
Dollmaker Kati Kain, who also took part in the Art Walk for the first time in October through J-Byrd, agrees with Hensley.
"The Art Walk provided the opportunity to connect and reconnect with people; I ran into some old friends I had not seen since the pandemic started," Kain said. "It was a great experience!." (Kain's unique dolls are available at Norman's Firehouse Art Center, or you can get information by emailing her at Cutie.Pies.Dolls@gmail.com.)
Anyone who's interested in becoming involved with the Art Walk as an exhibitor, host, financial sponsor or volunteer, is encouraged to reach out to Cher Duncan, Norman Arts Council events coordinator, at 405-360-1162 or use the contact form on the website, https://www.2ndfridaynorman.com/.
Although complete Art Walk attendance figures aren't available, "We average between 800 to 1,200 visitors to our MAINSITE gallery alone, and we know there's a lot more out there," Gavaghan said.
The 2nd Friday Art Walk program is funded through grants and donations from the Oklahoma Arts Council, National Endowment for the Arts, the Kirkpatrick Foundation, the City of Norman and private businesses.
"Do yourself a favor and come," Jackson said. "You never know what kind of treasure you might find, what might inspire you or who you're going to run into that you haven't seen in forever."
A complete list of this month's participating artists can be found at https://www.2ndfridaynorman.com/. You can also get information from its Facebook page, 2nd Friday Art Walk Main St. Norman.