Since opening March 30, Main Street YMCA has garnered 601 new members.
"We are exactly where we expected to be at this point," said Brenda Bennett, vice president of communications at YMCA of Greater Oklahoma City. "We're real busy at lunchtime; all of the classes are full at lunchtime, and all things are going as planned."
Main Street Y offers new, state-of-the-art workout equipment, locker rooms, showers and two group exercise rooms, which accommodate classes in yoga, Pilates and cycling. Tailored to the commuting business community, this branch is open 5 a.m. to 8 p.m. Monday through Friday.
"With the influx of people moving to the downtown area, we decided that we needed to be able to better serve the community in the downtown area. Our main location, our downtown YMCA, and our midtown YMCA were reaching capacity. So the opportunity came up, and we decided it was a perfect time to expand our footprint," Bennett said.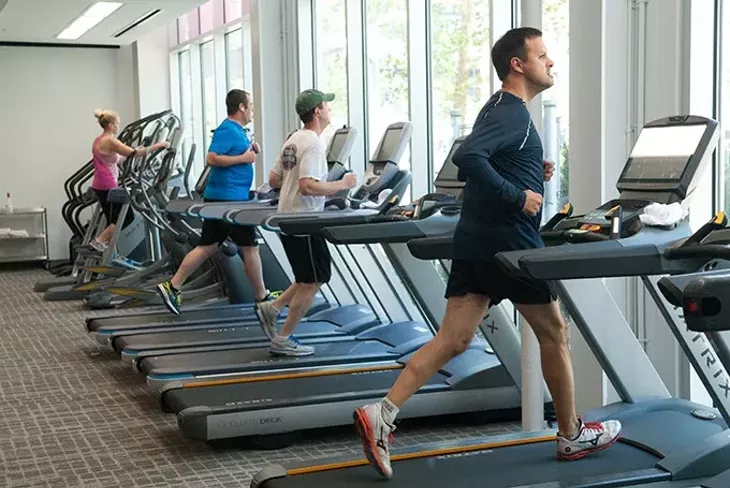 Patrons working out during the lunch hour recently at the Main Street YMCA. mh
The Y ran membership promotions for several months leading up to the opening, and many of the almost 500 people who toured the facility after its ribbon-cutting celebration March 30 signed up. Several dozen community leaders, along with YMCA board members and staff, attended the ceremony.
During its Annual Campaign, YMCA of Greater Oklahoma City raised $1.3 million through contributions from 3,586 local residents and businesses. These gifts remain in the metro area and benefit 58,000 youth and teens by providing them with sports activities, family nights and community service projects as well as giving hundreds of students the opportunity to attend one of the Y's summer camps.
"The Y is a cause-driven organization for all. Our financial assistance program ensures that anyone can participate in Y programs, despite the inability to pay the full program fee," Bennett said. "At the Y, no child, family or adult is turned away. We recognize that for communities to succeed, everyone must be given the opportunity to be healthy, confident, connected and secure."
An individual adult membership costs $38.75 per month with a one-time $70 joining fee. A household membership allows entry for two adults and all children living in the home up to age 23. Household memberships are $58.25 per month with a one-time $105 joining fee. The Y also offers youth and teen memberships.
As a part of YMCA of Greater Oklahoma City's commitment to youth development, healthy living and social responsibility, it provided $3 million in financial assistance to individuals and families to help bring them into the YMCA facilities last year.
"We're more than a gym, and when people come in to the facility to use our gym, they find out that the Y serves the community in so many ways," Bennett said.
The 14,000-square-foot building took approximately five months to build and cost $1.1 million in construction and $400,000 in equipment and furnishings.
Main Street Y is located at 100 W. Main St., Suite 125.
Visit ymcaokc.org to learn more or to apply for financial assistance.
---
Print headline: Why Y?, The newest location of the YMCA of Greater Oklahoma City has a strong membership and community outreach.