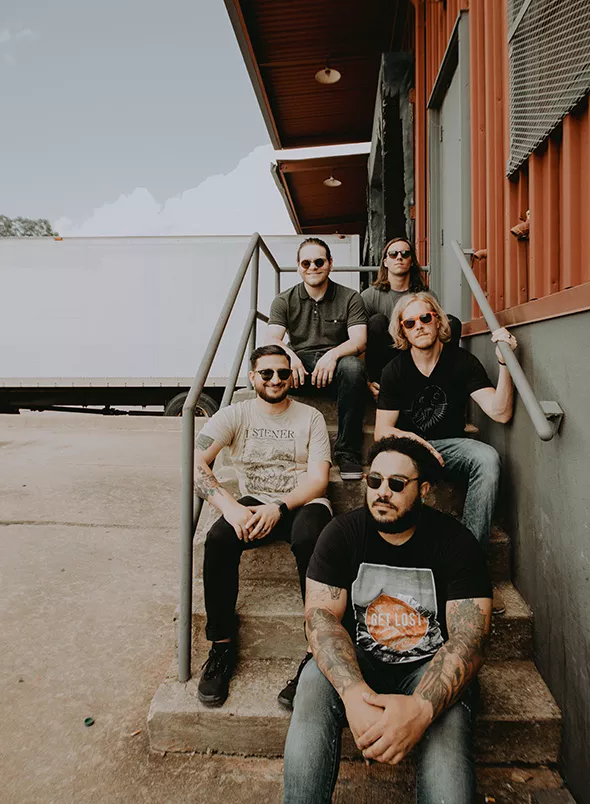 provided
Westering celebrates the release of its self-titled debut EP 8 p.m. July 27 at The Paramount Room.
Westering started out as an instrumental math-rock band, but adding vocals balanced the equation.
The Oklahoma City five-piece featuring vocalist Jamie Bramble, drummer Andrew Dolman, bassist Dalton Farr and guitarists Bryan English and Stephen Brand celebrates the release of its self-titled debut EP 8 p.m. July 27 at The Paramount Room, 701 W. Sheridan Ave.
Members of Westering — minus Bramble, who has previously performed solo as a singer-songwriter — have been playing together for about three years. After hearing some demos, Bramble, who plays with most of the band as a worship leader at Simplicity Church, asked to join.
"They were letting me listen to some of the instrumental cuts that they had been working on, and I thought that it was really pretty exceptional stuff," Bramble said. "It's kind of math rock; it's pretty intricate and complicated, and I was like, 'Man, it's too good to not have vocals or melody,' just because there's just not as big of a market for that. So I was like, 'Let me take a pass at writing some lyrics and melody for it, and if you guys like it, great. If you don't like it, then that's cool; you can keep going in this instrumental direction."
English said Bramble's addition took some work to figure out.
"We actually hated it at first," English said, laughing. "Not really. I mean, I think it took us a while to kind of gel at first with adding vocals because we were having to write songs in multiple parts to keep it interesting for instrumental music. We definitely had to change in order to have it be palatable for lyrics."
Westering's pre-Bramble history made the band cautious about changing the dynamic to suit a new frontman, Brand said.
"We were a little hesitant about even doing vocals to begin with because all of us have known each other from playing in other bands, which all had vocalists, and I think there was just something refreshing in the moment of not having to worry about that," Brand said. "At least in my experience, a lot of the vocalists have been just kind of like an add-on. … Every other band that I've been in has been punk or hardcore and the vocals are more about the lyrics than really anything else."
Discovering that Bramble used his voice as an instrument made incorporating his vocals into the music more intuitive than it might have been and even helped Westering develop a more focused style, English said.
"If you listen to early demos we recorded, I mean, we're all over the place," he said. "There's math rock; there's post-rock; there's some more pop-punk kind of sounding stuff. I think it was really that each of us had different backgrounds in music, and it was just different influences popping up. But I think once Jamie came in, we really kind of found our sound."
Brand said Westering began developing in a different direction once the band realized Bramble was a permanent addition.
"I started writing around, 'OK, vocals are going to go here,' instead of, 'What else can we drop in here?'" Brand said. "Leaving that space … leads to song structures with this idea of not being so overpowering with leads and different guitars and blaring things, stepping back and letting the vocals fill in some of the void instead of just layering guitars and different weird things that I can come up with."
One thing Bramble decided not to change were the band's song titles, taken from T-shirts Dolman wore to practice. Titles such as "Seven-Eight," "1976," "Dark Seas," "The Sound of Your Name in the Rain" and "Spiraling" suggested themes worth exploring lyrically.
"As a singer-songwriter, lyrics have always been really important for me," Bramble said. "On a personal level, it was really nice for me to have sort of an inside joke and kind of a lighthearted genesis to the actual words. … I just used the titles as the platform from which to build the concept or the actual content. I tend to write a lot about personal experiences, relationships, things like that. They're very much personal for me, and hopefully people as they listen to them will find their own meanings in them."
Brand and English said they were both impressed by Bramble's ability to create inspired lyrics from placeholder titles.
"'Dark Seas,' I think it was a fishing bait T-shirt," Brand said. "It had no substance to it, but somehow Jamie took that and actually made something out of it."
Bramble, meanwhile, is happy to write lyrics for a full band to play after years of playing as a solo acoustic act.
"The other band members, they're all far better musicians than I am," Bramble said. "They're all pretty incredible at what they do because they have been playing together for so long. They read each other really well, so that's really been great. They are able to really follow what I'm doing musically, and I'm starting to be able to follow them better."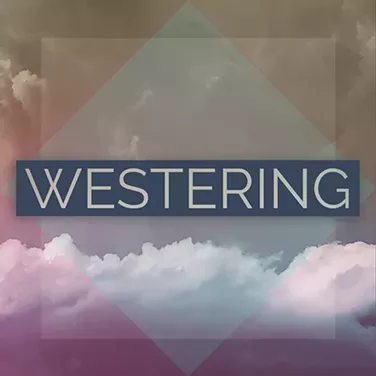 provided
Song titles from Westering's EP are taken from phrases on drummer Andrew Dolman's T-shirts.
English said having everyone but Brand playing together as the worship band at Simplicity Church has also made Westering a more cohesive unit.
"Even outside of band practice and things like that, four of us have been able to really jam together a lot, even on Sundays at church," English said. "Having to learn new songs all the time, it really kind of opens you up to different styles of playing. You could be playing gospel one day; you could be going from more country-sounding songs to rock to acoustic."
Though four-fifths of Westering play together at Simplicity, English and Bramble said they do not consider it a Christian band. Lyrically, Bramble said, the band does not explore religious themes, and English added he is not sure everyone in the band would say they are Christians. For Brand, the main purpose of Westering is self-expression.
"I'm a mental health therapist and I work with a lot of trauma, so it's my way of really taking care of myself," Brand said. "It's my outlet. That's really the only goal that I have is for it to be something that's an expression of my frustrations and just the way that I feel and at the same time also the good things about what is currently happening in the moment. Usually, when I bring a riff to the band, it's directly related to how I'm feeling that certain day, so that's really all it is for me is a way to kind of process my own secondary trauma from listening to all my clients."
English said he is just happy to be playing the kind of music he wants to after spending years playing music he felt like he "kind of got roped into."
"It's not really that I didn't enjoy it at the time, but I kind of felt like there was some music I ended up playing that probably really wasn't my style," English said. "It was like, 'I'm in a band, so whatever. I'm playing music; it's cool.' This is probably one of the first bands where, like Stephen said, you just get to really express yourself freely, and we all just kind of clicked."
And in the Darkness I Was Free and Make Out Spot share the bill. Admission is $5. Visit facebook.com/theparamountroom.