Angel Cebalios / provided
from left Kurtis Mayo, Kelli Mayo and Peyton Bighorse of Skating Polly return to Oklahoma Friday for a show at Opolis in Norman.
Getting out of Oklahoma gave Skating Polly's Kelli Mayo a chance to appreciate it more.
"When I was in elementary school, I always thought it was like the lamest place," Mayo said. "I just hated how conservative it was. I just thought that every city was so small and backwards and white and Republican. I don't know. I just wasn't that interested by it, and I just kind of felt like, 'I wish I lived in New York or Seattle or, fuck, anywhere up there. Whatever.' Honestly, though … when we'd be on tour, that made me realize that there are places better than Oklahoma and there are places worse than Oklahoma. Moving away from Oklahoma, I do miss certain things about it a lot, like we were just talking about this in Kansas City, I believe. I miss the sky in Oklahoma; that's something I always took for granted. We have some of the most beautiful sunsets. I miss just fucking acres and acres of flat land. It's actually just really kind of beautiful, and I miss the red dirt. I miss things like that, but mostly I miss the people. There's like a warmth and friendliness that's genuine that lives in Oklahoma, and I miss that a lot."
Skating Polly, now based in Tacoma, Washington, will return to Oklahoma to play Opolis in Norman on Friday. Much like Mayo's perception of her native state, the band's view of their debut, Taking Over the World, released in 2011 when Mayo was 11 and stepsister and bandmate Peyton Bighorse was 15, has improved with distance.
"I've gone through lots of different emotions for that first album," said Bighorse, "but for the past few years now, I've just really been proud of it still. There have been times when I'm so embarrassed by it, but looking back, it's just like, 'We were really young.' And I think it's pretty cool that we were able to do that. I'm really happy with it."
Mayo agrees.
"I would have been a lot more embarrassed if it had been, like, a thing we had with, like, our parents playing on it or something like that," Mayo said. "It was a thing that we built from the ground up. And, yes, I am pretty proud of it. Even though my voice cracked and I don't technically know how to sing, but some musical parts of it, like the piano parts and the drums and whatever are, like, pretty dank. It's, like, cool. It's pretty badass. At the time, I was listening to Beat Happening and, like, Bikini Kill and stuff and was like, 'Well, they wrote songs sounding like this, so why can't I? And that is pretty punk rock, and I do have to give myself a pat on the back for that, but I do, at the same time, get embarrassed sometimes. It's easy to swing back and be, like, 'Whoa, my voice! Whoa!'"
While K Records and riot grrrl bands might not make many 11-year-old's playlists in the 2010s, Mayo said that's just how she was raised.
"My family is so fricking into music, and that was just the biggest part of our life," she said. "Like every road trip would be time to whip out a mix CD or when we were home, it would be like watching music videos. Even before we were in a band. Even if I would have never been in a band, it was just kind of, like, knowing about music and enjoying music was such a big part of our family."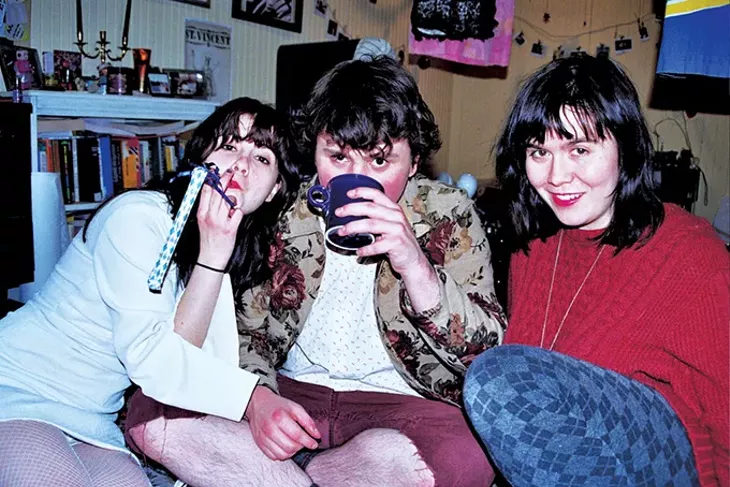 Angel Cebalios / provided
Skating Polly
Complex queens
Skating Polly's latest album, The Make It All Show, dropped earlier this month. Featuring more complex arrangements, a fuller sound and an appearance by X's Exene Cervenka, an early champion of the band, on single "Queen for a Day," the band's newest release marks a new approach to songwriting.
"On this album specifically, I was just trying to write openly but poetically, like say things in a more interesting way," Mayo said. "I didn't want it to be as plain as a diary entry, but I did want it to be understandable and have a narrative people could follow along with. When we went into this, we wanted it to be our, I don't know, like most emotionally raw album yet. I was referring to Joni Mitchell's Blue in that sense. She had a really cool quote about how every vocal take she was so picky about because she wanted it to sound, like, perfect, you know, like the right note and stuff but also just completely honest and completely the right feeling and just raw and true."
Mayo and Bighorse drew inspiration for their latest evolution from collaborating with the likes of Cervenka, who wrote the lyrics for "Queen for a Day," and Veruca Salt's Louise Post and Nina Gordon, who joined Skating Polly for the three-song EP New Trick, released last year.
"Working with some people has made me just write more openly and less cryptic, and even talking about my lyrics, I can do that more openly," Mayo said. "When we were working with Veruca, I would have to just tell them what the song was about, and I didn't want to just be like, 'Oh, I don't know.' Because in the past, me and Peyton have definitely both written songs together where we said that, 'Oh yeah. Whatever. That's just dumb, but I'm gonna change this word just because I don't know,' and, like, we both really kind of would know and we wouldn't want to talk about what the songs meant."
Bighorse added that their new approach to lyric writing has also given them more perspective on their personal lives.
"I think being able to write more openly and honestly has helped us be able to cope with a lot of things and how we sort things out and how we feel about them and just get through them," Bighorse said. "Especially with this last album because so many of them were about things that happened that, I mean, weren't totally pleasant. And writing the songs on this album, I'm sure they helped Kelli too, for me, but they really helped me get through last year. Just being able to write how I was feeling and just have that there."
The album's more complex sound and mature lyrics reflect Bighorse and Mayo's ever-developing worldview and the internal conflicts of young adulthood.
"I feel like a lot of the songs are about growing up, too," Mayo said. "There's lines about it. I mean, Peyton was like 21 when we were writing it so, yeah, she was like technically grownup, but you know, like 'Free Will at Ease,' we all three wrote the lyrics for that one. To me, the message of the song apart from it being about a person who's pretty toxic, the other message to me is, like, having all this newfound responsibility and not really being comfortable with it and not really knowing what to do with it and what kind of person you want to be and what kind of choices you want to make now that you have it."
A lyric from "This Vacation" describes Mayo's struggle to maintain a sense of self as she matures: "I'm taking a time-out so I can pretend to still feel young."
"I've felt like that a lot of times," Mayo said. "I've felt like that so many times. Whether it's a relationship or just dodgy fucking situations or whatever, like a lot of times the way people treat me, I'm just like Jesus fucking Christ, I'm still a kid. Even if I am 18, I'm still a kid; I've got to take a step back from things. Or just the way I let my own fucking anxiety affect me, you know. And like Peyton said, there's just a lot of things last year that hit us that kind of forced us to grow up a little bit, I suppose, but also at the same time, there's this really cool quote from Gina Birch from The Raincoats where she's like, 'I feel every age I've ever been. I feel like there's a little bit of me from every age I've ever been,' and that's kind of like, 'Yeah.' That is pretty true, I feel like."
Angel Cebalios / provided
Skating Polly released its newest album, The Make It All Show, on May 4.
Family resemblance
Along with a more open and honest approach to lyric writing, Skating Polly's collaboration with Veruca Salt inspired Bighorse and Mayo to develop a fuller sound by adding Kurtis Mayo, Kelli's brother, as the drummer. His appearance in the video for "Louder in Outer Space" from New Trick was an immediate hit with fans, but Kelli said her brother's easygoing demeanor in the video reflects only part of his personality.
"Kurtis is able to crack a joke and crack everyone up and lighten the mood," she said. "Live Kurtis is, like, really fucking intense. People would always tell me when I used to drum — I don't really drum anymore in the live show — but when I used to drum, people would be like, 'You have the craziest drumming faces.' Well, we're related, so Kurtis' drumming faces are actually a lot crazier. At the end of the show, he comes up on guitar while I'm on bass and Peyton hops back to drums, and we just, like, fucking go crazy for the last two songs, and he's very intense for that."
He's also a welcome addition on the road.
"If there's a lot of creepy men or sketchy people, not on tour with us but at a motel or at a venue, it feels good to have not only just another male presence but a male presence who's related to you. It's like, 'That's my sister,'" she said, laughing.
Best of all, he gives the group a classic power-trio dynamic that's pure rock 'n' roll.
"Playing with a three-piece is better than playing as a duo because there's just more to work off of," Kelli said. "Everything sounds bigger, and the shows are just louder. I really like that."
Skating Polly plays Opolis, 113 N. Crawford Ave., in Norman Friday with Potty Mouth and Poolboy. Tickets are $8-$12. Visit opolis.org.