provided
A rendering of Oklahoma Contemporary Art Center's new Automobile Alley facility. Construction officially began in March and is expected to conclude in fall 2019.
Oklahoma Contemporary Arts Center got a lot out of its State Fair Park headquarters since it moved in nearly 30 years ago as the first-year organization City Arts Center. But wear and tear — along with growing community usage — necessitated a move.
"We've loved this place into disrepair," said artistic director Jeremiah Matthew Davis. "We need a new roof; we need a new HVAC (heating, ventilation and air-conditioning system). With the way we've been able to program, we're unable to do anything more with our building. We're really bursting at the seams."Oklahoma Contemporary's highly anticipated new Automobile Alley headquarters was originally scheduled to begin construction in January but was delayed as the organization secured a federal new markets tax credit as funding.
The new art center at NW 11th Street and N. Broadway Avenue was designed by architect Rand Elliott and will be built by Smith & Pickel Construction. The new location expands Oklahoma Contemporary's current exhibition space by more than 20,000 square feet, along with across-the-board structural and technological improvements.
When complete, the facility will positively impact Oklahoma Contemporary's ability to fulfill its art and community mission, which is to "encourage artistic expression in all of its forms through exhibitions, education and performance."
Davis said the new building does not fully alter its established mission, but it will grow it.
"I think our mission is evolving or expanding," he said. "It's not necessarily changing or moving in a different direction."

Good timing
Oklahoma Contemporary's new art center will be the end result of a long process dating back to 2013. The organization then known as City Arts Center invited a consultant group to conduct a due-diligence study and give organizers a better idea of its future direction.
Donna Rinehart-Keever, Oklahoma Contemporary's executive director, said the consultant group concluded that a new home base was needed.
"That's when they figured out that we had outgrown our building," she said. "It's a building that's old and not wired for new technology."
The organization announced its planned move to Automobile Alley in 2015 and officially broke ground on its proposed new site in 2016. But when Oklahoma Contemporary went to get its construction loan in January 2017, the bank told organizers it was in a census track that would qualify for a new markets tax credit.
The federal tax credit essentially allows a percentage of a loan to be forgiven within seven years. Rinehart-Keever explained the credit by saying if a hypothetical $26 million had been requested, then $7.5 million might be forgiven after seven years. Oklahoma Contemporary could then pump that money into other programs.
Rinehart-Keever said the bank made it clear that they believed Oklahoma Contemporary would be eligible for such a credit.
"They said, 'The fact that you're free to the public and you offer programming for some underprivileged populations, you could qualify for that,'" she said.
Many organizations across the country apply for the new markets tax credit, and recipients are notified only once each year. Last year, Oklahoma Contemporary was waiting to see if one of the organizations might drop out of the program so it could move onto the list.
Eventually, Oklahoma Contemporary was notified that someone was going to drop out and they would be able to secure a new markets tax credit. But it was advised to delay construction until it could absolutely confirm the funding.
Rinehart-Keever and the rest of the organization patiently waited.
"We were constantly in contact with them about whether something turned up," she said.
This January, Oklahoma Contemporary was finally cleared to start construction, which officially began in mid-March. The organization had the foresight to order the building's new steel in advance, so construction work was able to begin quickly.
Rinehart-Keever said Oklahoma Contemporary's census track was recently removed from those eligible for the new markets tax credit. It got in at precisely the last moment.
"If we didn't get any this year," she said, "there would never be another possibility again."
Oklahoma Contemporary has an ongoing capital campaign that is currently funded at 70 percent of its $26 million goal. The campaign would ideally be complete by the time the organization moves.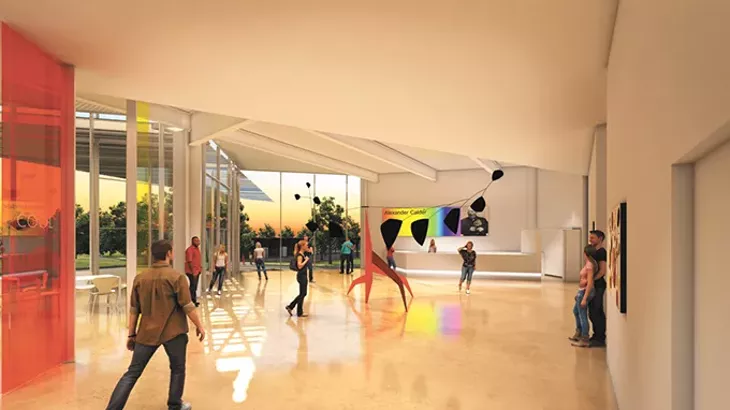 provided
Oklahoma Contemporary Art Center's new facility will include vast space, lighting and other gallery improvements over its current headquarters at State Fair Park.
Mission enhancement
The new art facility is scheduled for completion in fall 2019. Employees are expected to begin working in the new headquarters by August or September of that year with a public opening planned for around November.
While the fairgrounds art center featured, at most, 30,000 square feet of usable exhibition space, the Automobile Alley facility includes 55,000 square feet of programming space. The ceiling will also be over 18 feet high, which Davis said will have a big impact on the types of installations and sculptures Oklahoma Contemporary is able to display in the showspace.
"Currently, there are certain works that we wouldn't be able to exhibit at the fairgrounds because we don't have the space for them," he said.
The new building will include a loading dock to better facilitate the load-in and load-out of large installations. The lighting system inside the building will be state-of-the-art and a significant improvement on what it can do at its current home.
"That's just the half of it," Davis said. "Everything that we're doing really is going to help support furthering our mission."
With years of experience displaying large touring exhibitions and installations, Oklahoma Contemporary has proved itself more than capable of stewarding artists' work. But its current facility just isn't up to the standard that most institutions look for when loaning out their pieces. The new building's exhibit space will better fit that exacting standard, with state-of-the art gallery lighting and climate-control technology.
"When you're talking about getting a loan from a place like the Metropolitan Museum of Art [in New York] or even the Philbrook [Museum of Art in Tulsa], you need to be able to demonstrate condition reports for your building," Davis said. "In the new space, we'll be able to do that."
From 2015 to 2017, Oklahoma Contemporary's attendance increased by nearly 700 percent. In the past few years, the organization has focused on programming that draws in audiences outside the typical art gallery crowd. Its Not for Sale graffiti art installation paid tribute to hip-hop culture. Its Comix OK exhibition concluded with ContempCon, a free comic and pop culture convention.
All of this programming success has occurred at its State Fair Park location. Davis said one can only imagine the effect increased visibility at the Automobile Alley facility would have on attendance.
The organization has a conservative goal of 100,000 visitors in its first full year in the new location. It might potentially draw many more than that.
"We hope we're able to engage many more people," Davis said, "and as word spreads about the building and all the new programs we'll have there, we know more and more Oklahomans will be excited to come to Oklahoma Contemporary and see what all the fuss is about."