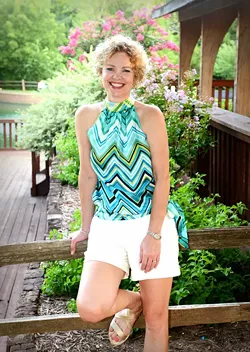 Picasa
????????????????????????????????????
Tammy Padgett didn't ask for much. She only wanted to live to see her two sons graduate from high school, attend college and maybe get married someday.
"I prayed for all those milestones that we take for granted and don't really think about unless you're faced with something like this," said Padgett, 53, an Edmond resident who, at age 39, was diagnosed with stage II breast cancer after finding a lump during a self-exam in 2001.
Her two sons, Zack and Clay, were ages 5 and 3 at the time.
"My big fear was, what's going to happen to them in all this? If I died, they're too young to remember me. Who's going to mother them?" she said.
Now a 14-year breast cancer survivor, Padgett and others touched by the disease will join Oklahoma City's first American Cancer Society (ACS) Making Strides Against Breast Cancer walk Saturday at the ASA Hall of Fame Stadium parking lot, 2801 NE 50th St.
Registration for the noncompetitive event begins at 7:30 a.m., and the family-friendly 5K walk through the Adventure District starts at 8:30 a.m. It also features music, dancing, Zumba, educational and advocacy activities, a survivors' tent, refreshments and more. There is no registration fee, but donations are encouraged.
Making Strides is one of the largest networks of breast cancer awareness events in the nation, uniting nearly 300 communities against the disease, organizers said. Over 11 million supporters raised more than $685 million since its inception in 1993.
Local participants hope to reach a fundraising goal of $100,000, and the event offers support, strength and the opportunity to honor lost loved ones, said Ashley Bowlin, ACS community manager and event coordinator for Making Strides walks in Oklahoma City and Tulsa.
"It's a powerful event that helps celebrate survivorship," Bowlin said. "It's the right time to bring it to Oklahoma City."
An estimated 2,770 Oklahoma women will be diagnosed with breast cancer this year, and 520 will die from the disease, according to ACS. About 1 in 8 women in the United States will be diagnosed with breast cancer, Bowlin said. She started working for the organization as a volunteer after a good friend died from the disease.
Padgett underwent a double mastectomy and participated in a clinical trial in which she received Herceptin, a drug developed with the help of research funded by the ACS, which also has invested $86 million in breast cancer grants, supporting education and prevention.
"I just feel like I have a debt to pay forward," said Padgett, who volunteers with many ACS programs and has advocated for the cause at the state capitol and in Washington, D.C. "I know the funds I'm raising today may be a breakthrough 10 years from now."
Zack, 19, is now a University of Oklahoma sophomore, and Clay, 17, is a junior at Edmond North High School. Zack excelled in orchestra in school, and Clay aspires to play college football.
"I'm so grateful that I have lived to see those milestones that I prayed for," Padgett said.
Print headline: Run on, New to Oklahoma City this year, American Cancer Society's Making Strides Against Breast Cancer event aims to raise funds to finish the fight.