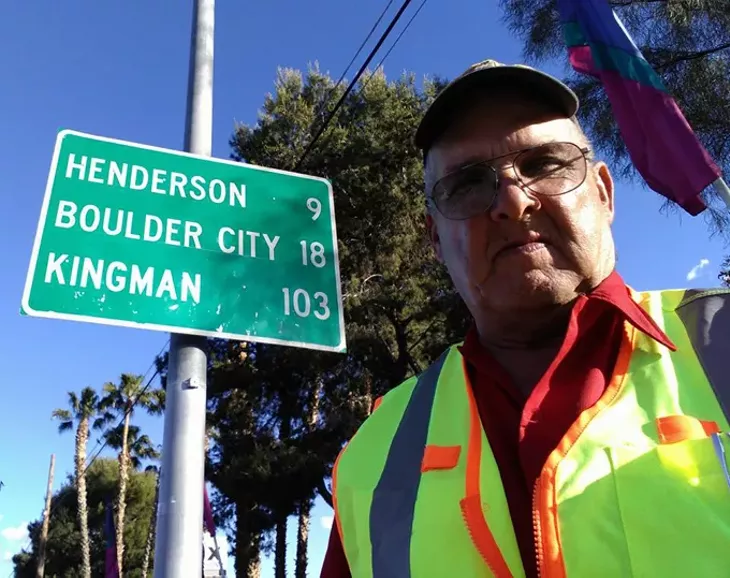 An American veteran is taking a trip across the country in hopes of lending a hand to his brothers in arms.
Thomas Hudson, an Air Force and Army National Guard veteran, otherwise known as The Walking Veteran, is making his way from Las Vegas to Washington one step at a time May 2-Nov. 11.
Walking from city to city, state to state, Hudson stops and meets with local officials to discuss the treatment of veterans in their communities. He also shares his testimony with veterans and civilians that he meets along the way.
Upon reaching Washington on Veteran's Day, Hudson will meet with congressmen to discuss issues affecting veterans the most, such as alleged mistreatment by the U.S. Department of Veterans Affairs.
Hudson believes the on-foot journey provides a greater experience for himself and others than it would if he traveled another way like driving. Hudson's goal is to spread awareness of his personal experiences and mistreatments while learning from others and serving as a tool in sharing their stories.
"Some may wonder why not just ride all the way to Washington," Hudson posted to Facebook. "That option would defeat the vision of why The Walk Across America is necessary. The answer is simple. … Attention."
System corruption
Hudson said a lot of mistreatment comes directly from a corrupted U.S. Department of Veterans Affairs. The way the system is set up, veterans do not receive health care that they need and deserve. He proposed transitioning the U.S. Department of Veterans Affairs into a federal corporation.
A federal corporation is defined as an agency established by Congress to perform a public service and is intended to produce revenue that meets or approximates its expenditures.
In other words, Hudson wants the government to outsource hiring executives and work as a separate entity. He said many of the current issues derive from top executives manipulating the system for personal gain rather than helping veterans in need.
Hudson said if it became a federal corporation, large bonuses and incentives would be diluted and it could acquire top professionals who focus on the well-being of our nation's veterans.
Hudson said some of his most memorable experiences so far happened in Arizona. Several veterans shared their stories with him, and many shared similar complaints.
"When veterans come up to me with curiosity about the walk, they are so eager to share those stories. They are hoping that once again, someone can make a difference," Hudson posted to Facebook. "Veterans from the desert and from the mountains in Arizona have a common message, and sadly, [it] is that they don't have much trust in the [U.S. Department of Veterans Affairs]. When they see that the director that presided over the Phoenix [Veterans Health Administration] fraudulent appointment scandal received probation, while dozens of veterans had died waiting for care. They have lost hope."
Hudson said that he has met with several mayors, police chiefs and others to localize the discussion of these issues. He also has met with state officials, including Gov. Mary Fallin, with whom he discussed issues and complimented the hospitality he received from state capitol staff.
Visit walkingveteran.com or email The Walking Veteran support group at volunteer@walkingveteran.com.
Print headline: Steady steps, Thomas Hudson walks from Las Vegas to Washington to raise awareness about the mistreatment of U.S. veterans.