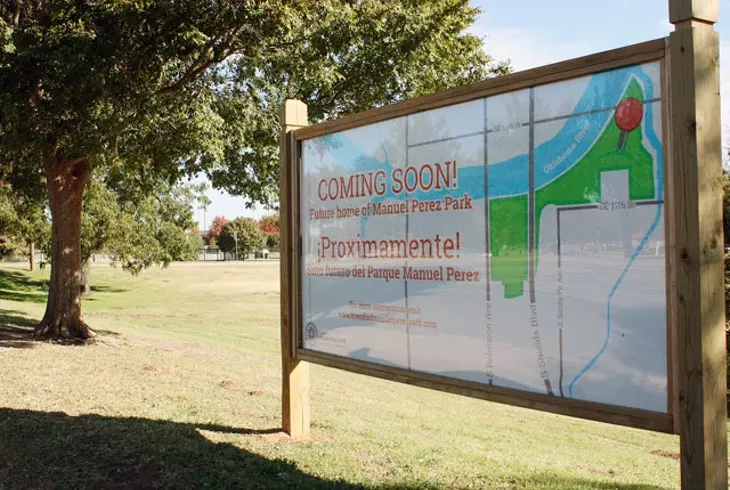 Photo Laura Eastes
The future home of the Manuel Perez Park sign in front of the parkland near S. Robinson Avenue and SE 17th Street.
More than 800 miles away from Oklahoma City in Chicago, an elementary school, an urban park and an American Legion post bear the name of Manuel Perez Jr., a World War II Medal of Honor recipient.
Perez, a private first class in the U.S. Army, earned the Medal of Honor for his actions in the Philippines when engaging with Japanese troops on Feb. 13, 1945. According to military records, Perez "singlehandedly" killed 18 enemy soldiers, which enabled his unit to advance: "Through his courageous determination and heroic disregard of grave danger, Pfc. Perez made possible the successful advance of his unit towards a valuable objective and provided a lasting inspiration for his comrades."
In Oklahoma City, where Perez was born in 1923 and spent his early years in the Riverside neighborhood, community members are once again on a mission to memorialize the local hero and other Oklahomans awarded the nation's highest military honor.
"He was born in Riverside. His family moved to Chicago and he grew up in Chicago," said Mary Sosa, a southside community advocate. "Chicago claims him. He is really ours."
Honoring Perez
In the late 1970s, the Oklahoma City Mexican-American chapter of the GI Forum, along with other community groups and Little Flower Catholic Church, pushed for the establishment of a park to honor the native son, who is buried alongside his parents in Fairlawn Cemetery.
In 1979, the community first paid tribute to Perez in the one-city block park located at SW 14th Street and Harvey Avenue and named after him. For more than three decades, large trees shaded the brick plaza bearing a plaque for the World War II serviceman killed in the line of duty.
"Our goal was to make sure the community knew about Manuel Perez Jr. and his contributions as an American soldier," said Rey Madrid, a longtime Oklahoma City resident, Vietnam War veteran and member of the GI Forum. "We were proud that he was Hispanic. We wanted to keep the tradition going. In the GI Forum, not only were we honoring Manuel Perez, but trying to create a community of Hispanic veterans and their families."
For many years, the park remained an important symbol for the Hispanic community, but also for all veterans and local residents. On Veterans Day, members of the GI Forum often conducted ceremonies to pay tribute to those who served in the armed forces, followed by trips to Perez' grave.
In 2012, after Perez' memorial was stolen, the community came together to raise funds to erect a new monument, which was rededicated in the park.
With the park's location at the south end of the planned Scissortail Park, its future was uncertain. After months of discussion among city leaders, the parks department and Capitol Hill community members, Oklahoma City Council passed a resolution to reauthorize 27 acres of riverfront parkland, then part of Wiley Post Park, as Manuel Perez Park in October 2016. The new park is located east of Robinson Avenue along the Oklahoma River.
"It was a hard decision to think about moving it because it had been there for so long," said Donna Cervantes, executive director of Calle Dos Cinco in Hispanic Capitol Hill. "This part of the park had never been improved or really claimed. By moving the monument, it still incorporates with the southside community but it also, by being placed in a larger park, would incorporate a whole veterans memorial."
Over the past year, Friends of the Manuel Perez Park Committee and local veterans, including Madrid, Mike Eaton, Armando Rubio, Jorge Robledo and Benny Salazar, worked closely with the city to design the new park with amenities and a veteran's memorial, which will be funded by the 2007 General Obligation Bond and private donations. While the park is entering the design phase, committee members say the community should expect to see a veterans' memorial with the Perez plaque and another listing all Oklahomans who were awarded the Medal of Honor. The memorial will be built inside the park's small cul-de-sac. Redbud trees will shade a black granitelike wall with the inscribed message, "We remember." An American flag, an Oklahoma flag and the POW-MIA flag will rise from the memorial. Nearby, a community pavilion will be built.
"My goal is, I want to see veterans using the park for celebrations and ceremonies," Madrid said. "A lot of Latino veterans don't feel like they have a place to go."
Southside trend
Along S. Robinson Avenue near the intersection of SE 17th Street, a sign shares news of the new park, and construction crews are expected to begin work in early spring. During the last weekend of October, thousands of people passed by during the health and wellness event Open Streets OKC.
Manuel Perez Park joins a growing list of southside redevelopment efforts, which includes the Wheeler District, improvements along SW 25th Street and SW 29th Street, a new Capitol Hill Library, Oklahoma City Community College's Capitol Hill campus, the Yale Theater and more, explained David Puente, a lifelong south Oklahoma City resident and committee member.
"Now, with Manuel Perez Park, this part of town will have enough activity for all of the city, not just Capitol Hill, to come down and enjoy," said Puente, who grew up on SW Seventh Street and walked to the commercial district of Capitol Hill for entertainment and shopping. "There were all kinds of things to do as a child. I think that's what we are saying. We want that activity and excitement back."
Print headline: Manuel Perez Park gets a second life along the Oklahoma River as locals design a veteran's memorial and park for the community.