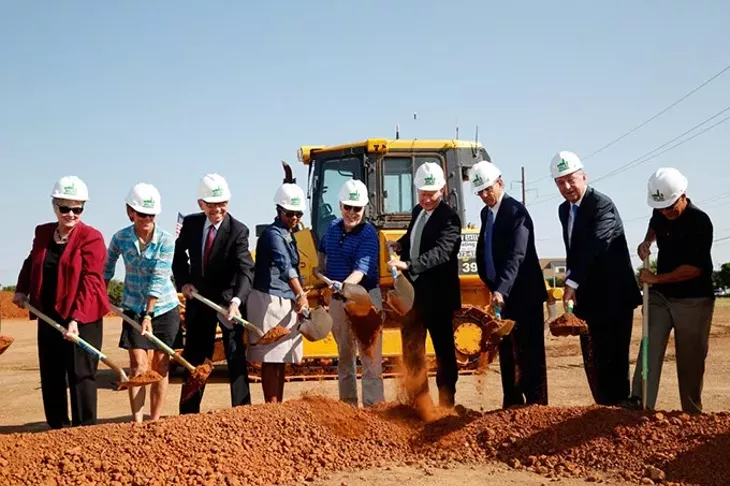 Garett Fisbeck
The groundbreaking of the MAPS 3 Senior Health and Wellness Center in Oklahoma City, Wednesday, Sept. 2, 2015.
Progress continues on two MAPS 3 projects, positioning city leaders to achieve the program's goal of improving the quality of life for residents and creating a healthy city.
On Sept. 2, leaders involved in the MAPS 3 projects broke ground on the first of four planned senior health and wellness centers.
The achievement was six years in the making following Oklahoma City voters approving a 2009 sales tax initiative planned to improve residents' quality of life though eight distinct programs.
The senior health and wellness centers project is one that impacts residents ages 50 and older. It earned about $50 million of $777 million gathered to fund all eight projects.
"Today is a giant step forward," said Tom McDaniel, MAPS 3 Citizens Advisory Board chairman, as he stood on the future home of the first center at NW 112th Street and Rockwell Avenue.
Garett Fisbeck
Tom McDaniel speaks during a MAPS 3 Senior Health and Wellness Center Groundbreaking in Oklahoma City, Wednesday, Sept. 2, 2015.
Plans call for constructing a 40,272-square-foot facility to house an indoor swimming pool, gym, cafe, arts and crafts room and meeting rooms. Additionally, the center will feature rooms for exercise, aerobics and health screenings, as well as outdoor space for events.
It was designed specifically to meet the physical, mental, emotional and social health needs of older residents. Amenities include an entrance into the heated swimming pool, a cushioned floor in the aerobics studio, a walking track around the gym and easeful lounge furniture in areas for social interaction.
The state-of-the-art venue will cost an estimated $9.2 million and is expected to open to the public in late 2016. It will be operated by Healthy Living & Fitness Inc., a nonprofit formed to manage the center and tied to Putnam City Baptist Church.
Bill Fleming, Healthy Living & Fitness board member, said the organization will strive to improve the health of each senior, to be accomplished through the many programs and activities the locale offers.
"Our goal has not just been to build a building," said Fleming. "We want to create a space where we can nurture relationships and help build a community."
The second site will be located at SW Walker Avenue and Grand Boulevard, between Capitol Hill High School and Hosea Vineyard Park. Operated by NorthCare, the proposed 36,298-square-foot building's amenities will mirror the offerings of the first.
No locations or plans have been released for remaining centers.
Parks pace
On Sept. 1, the Oklahoma City Council nudged another MAPS 3 project forward. In a 5-to-2 vote, the council granted approval for Hargreaves Associates landscape and architecture planning firm to develop final plans and specs for the upper park portion of the Downtown Public Park project.
At the meeting, landscape architect Mary Margaret Jones presented a preliminary report of the 37-acre urban park. Jones said its amenities sprung from public feedback as well as consulting with Myriad Botanical Gardens, its potential operator.
It will feature a "great lawn," a lake, woodland gardens, fountain gardens, a children's play area, a cafe, restrooms, picnic areas and benches. A 6,000-square-foot canopy will provide shade for visitors.
An organization hosting a multi-day event at the venue could accommodate up to 250,000 guests.
The park will link to the lower park, as visitors cross SkyDance Bridge, a 380-foot-long walkway that extends across Interstate 40 near Robinson Avenue.
Construction on the upper park is estimated to begin in late 2015 and be completed in 2018. The $59.6 million project calls for renovating the Union Station railroad depot and demolishing the vacant film exchange building. The former station will be home to park offices and provided event space.
Garett Fisbeck
Mayor Mick Cornett speaks during a MAPS 3 Senior Health and Wellness Center Groundbreaking in Oklahoma City, Wednesday, Sept. 2, 2015.
Preliminary plans continue on the lower park, which will be nestled between Harvey and Robinson avenues and will guide visitors to the Oklahoma River. Jones stated the council will review those plans this fall.
Print headline: Healthy developments, Two MAPS 3 projects take off as ground breaks for a healthy living center and efforts continue on a downtown park.