Mark Hancock
Camal Pennington, a member of the MAPS 4 Neighborhoods group, at N.E. 50th Street and Everest Avenue in the Wildwood Neighborhood.
One group of young civic activists want half of the money spent on a possible Oklahoma City Metropolitan Area Projects (MAPS) 4 plan to focus on strengthening neighborhoods through "connectivity, health and culture."
The group calls itself MAPS 4 Neighborhoods and is active on the Twitter account @MAPS4Neighbors and a community page, facebook.com/maps4neighborhoods.
The group of civic activists is not against a new MAPS 4, but there needs to be a different approach from the ones used before, according to Jonathan Dodson and Camal Pennington, who discussed the informal group's desires for OKC's future.
The result of their MAPS idea would be that "our neighborhoods would be as great as our downtown," Pennington said.
MAPS success
The first MAPS started in 1993 and has gone through three iterations.
Large civic improvement projects over the years have been paid for by a 1-cent sales tax that OKC voters supported in successive votes as each plan reached its time limit.
"If you look at the success of MAPS when you talk to anyone across the country, they know about Oklahoma," said Dodson, a developer in OKC. "It's this crazy place that somehow figured out how to tax themselves and pay up front with cash for all of these projects that make our city better."
The MAPS extra sales tax is considered novel because it has allowed the projects to be paid for with cash from tax collections rather than the usual bond issue route, which is how cities borrow money from investors to pay it back over time with interest.
The MAPS 4 idea is being considered as a follow-up to the MAPS 3 tax, which reaches its sunset in 2017. Construction is projected to extend into 2021.
So far, the largest citizen input has been in voting for the additional sales tax as each successive MAPS program was put before the people. And citizens' councils have given input over the years. The second effort, MAPS for Kids, had the most feedback from school constituents for building additions.
As for the current program, the OKC government website, okc.gov, lists 10 citizens on the MAPS 3 Citizens Advisory Board plus one city council member. Each board member leads a subcommittee with approximately 60 other citizens.
By comparison, in July, OKC's population was just over 620,000.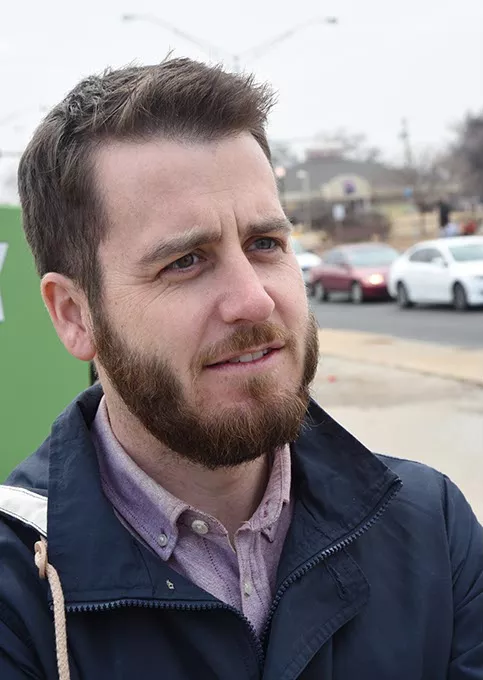 Mark Hancock / File
Jonathan Dodson is with the group MAPS 4 Neighborhoods.
Neighboring thoughts
Pennington and Dodson believe it is time to listen to neighborhood leaders first, then spend money how each area needs it.
"Particularly with the culture part of our goal with MAPS for Neighborhoods," Pennington said, "we want to try to show that each part of OKC is unique and celebrates that uniqueness in the way that it looks so people take pride in the communities that they live in."
Dodson said their plan was similar to MAPS for Kids in that it calls for engaging citizens throughout the city.
He said their plan is for MAPS 4 to go where people live.
"It will look differently for each neighborhood," Dodson said.
Their decentralized approach is mostly new to the MAPS process; in years past, projects were developed by a group of leaders and city staff, presented to the people before the tax vote and then executed.
If the group has its way, the vote for MAPS 4 will be to fund a process. Then projects will come out of the process.
Be heard
Both Pennington and Dodson said several areas were left out of prior MAPS developments.
They identified Capitol Hill and OKC's east side as neglected when past decisions were made.
"It's not like the northeast side has been silent for the last 60 years and the people in my neighborhood [Gatewood] have been more vocal," Dodson said. "They just haven't been heard. What we are trying to do is … give them a mechanism to be heard."
Pennington was hopeful about the impact of this plan on his home ward, Ward 7, which covers all of OKC roughly east of Santa Fe Avenue and north of SE 44th Street.
"With the resources that MAPS can provide, people have that opportunity to build the community in their own interests," Pennington said.
Print headline: New MAPS, An OKC group wants the next MAPS to start with neighborhoods.