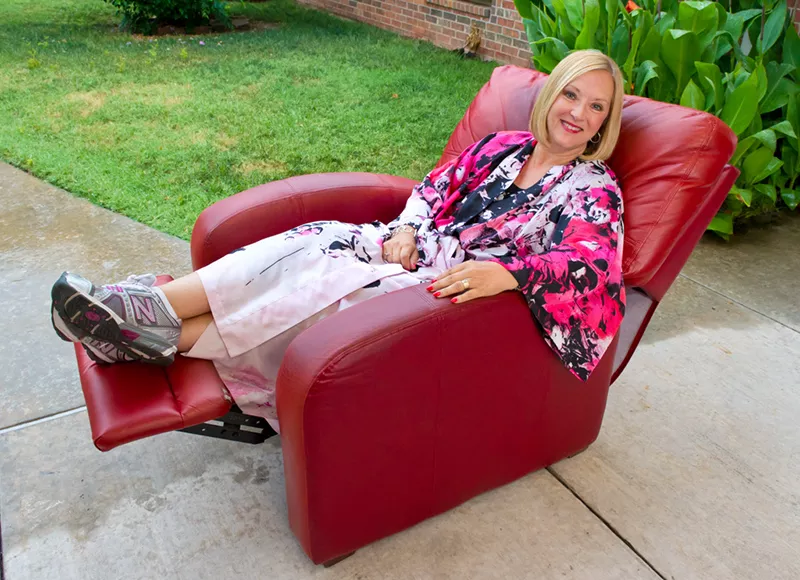 Shannon Cornman
Pattye Moore, vice chair on City Care's board and her team "The Robe Runners" are getting ready for a run and fun at Crystal Lake park for the first Zero K event.Photo/Shannon Cornman (This is why she is in a robe and tennis shoes) She is sitting in a recliner at City Care in their courtyard for the photo. If possible, I would suggest cutting her out and doing a text wrap. A new recliner from Mathis Bros and ppossibly Bob Mills will be given to the person or team that raises the most money.
They're out there. Right now. Runners, messianic and lean, whipping down the asphalt mile after mile, each breath controlled, calculated. These beautiful beings with badges of sweat and shin splits continue onward. Why? To give of their money, time and body in the name of the charitable 5K race of their choice.
But what about the Netflix binger? The craft beer aficionado? The folks who like their air conditioned?
"There's a lot of us that never get bibs, finisher t-shirts, medals," said Pattye Moore, a City Care board member and head of the nonprofit's fundraising committee. "I'm not saying lazy people — call us non-runners — and this event is specifically designed for us."
City Care will host its inaugural Zero K Run 4-8 p.m. on Sept. 27 at Oklahoma City's Crystal Lake.
The event, more festival than standard race, will feature food trucks, a beer garden, live musical acts, a kids' zone and an optional 5K trail run around the lake.
Proceeds from the event will fund general operations at City Care. The organization's goal is $50,000. City Care provides housing and a back-to-work program for the impoverished. The organization's day shelter serves breakfast and lunch. The shelter is a place where homeless people get their bearings, access basic necessities like showers and elemental health care. Approximately 300 impoverished people visit the center daily.
"We've had very little trouble getting people interested in this event," Moore said. "This is something fun, something unusual."
Participants may register as individuals or as a team.
Dena Drabek, a communications consultant for City Care, said the organization will give awards in the categories of Most Creative Team Name, Best Costume and Best Fundraiser.
The individual or team captain that raises the most money will take home the grand prize, a recliner donated by Mathis Brothers.
All participants, whether they tackle the 5K trail run or not, will receive a racing bib, a finisher t-shirt and a medal.
"Nothing else in OKC is like this. We want to own this," Drabek said.
Non-runners will have several food truck options and Belle Isle Brewery and Coop Ale Works will tend the beer garden.
The organization has booked three performers for the event: Emmy Award-winning hip-hop artist Jabee, The Wurly Birds and Feathered Rabbit.
On Aug. 29, City Care will promote the event at H&8th Night Market with a doughnut-eating contest at the top of every hour. People may register at the booth or online now at zerokokc.com.
Print: Zero sum