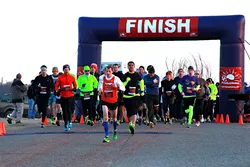 People run for many reasons, including improving their health, relieving stress or remembering a loved one.
Some people run to drugs and alcohol as a means of escape, but when addiction takes hold, the chase can lead to imprisonment, insanity or death.
"These people are your brother, your sister, your neighbor. They're just regular people, but their addictions have taken down their lives," said Ann Simank, executive director of OKC Metro Alliance, whose mission is to help Oklahomans recover from substance abuse.
One of the local nonprofit's major fundraisers, The Strides of March half marathon and Dogwood Dash 5K, takes place at 8 a.m. March 8 at Lake Stanley Draper, 8301 SE 104th St. Organizers hope to increase participation this year to 500 runners, raising about $25,000 for the men's and women's FIRSTEP recovery programs, which help people battling addiction by offering long-term residential work and recovery services.
Funds raised from the race will be used for capital improvements at the FIRSTEP facilities, located near the racecourse.
Half marathon runners will traverse a USA Track & Field (USATF)-certified, relatively flat, down-and-back course that circles the lake, offering beautiful views and the chance for quick finishing times, said Talaytha Guest, race chair.
All participants receive a T-shirt, and official half marathon finishers will receive a unique custom medal. Overall male and female winners will receive prizes, and top-three finishers in each age group will receive trophies, Guest said.
The Dogwood Dash 5K is a race/walk along a USATF-certified course. Overall male and female winners will receive a prize and medal. Guest said top-three finishers in each age group will receive medallions, and top finishers will also receive dogwood saplings.
The Strides of March has gained notoriety because FIRSTEP clients serve as volunteers during the race, handing out water, snacks and medals to participants.
"They really provide a great sense of encouragement for our runners," Guest said.
Sponsorships are up this year, organizers are reaching out to regional running clubs to increase participation and the race makes a perfect a tuneup for those training for the Oklahoma City Memorial Marathon in April.
The men's FIRSTEP program was founded in 1987. The women's program began in 1989. Simank said the programs are unique in that clients are not charged for services. Instead, they live at the facility and work at jobs with partnering companies. The income generated pays for their treatment, and they receive valuable life skills and work training.
Clients work six days a week and spend evenings attending 12 Step meetings, counseling sessions or GED classes. When clients graduate from the program — which lasts six to nine months — they can take advantage of housing programs and typically receive job offers from the companies they have worked for.
"We want our clients to get back on their feet, continue working on their recovery and be productive individuals," said OKC Metro Alliance Chief Compliance Officer Suzanne Graham.
Visit stridesofmarch.com for registration information.
Print headline: Quick March, The Strides of March half marathon and Dogwood Dash 5K benefits OKC Metro Alliance in its battle against substance abuse and addiction.