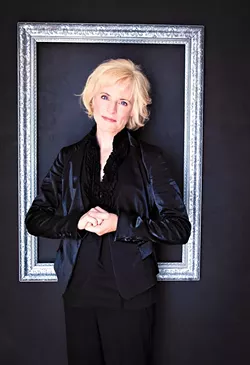 Maria Bamford | Photo Natalie Brasington / provided
Netflix is the perfect platform for a comic like Maria Bamford to host a show. But then again, it is there really anyone quite like the Lady Dynamite star?
In her stand-up act, Bamford is known for her uncanny use of impressions and voices often taken from family members or people in her past — or from her own vivid imagination; it is hard to tell sometimes. Her material is also candidly biographical, addressing her struggles with mental health and depression with disarming openness.
Lady Dynamite, the critically praised Netflix original comedy series, debuted its second season earlier this month. True to her stage comedy, the show (which stars Bamford as a fictionalized version of herself navigating show business and Fred Melamed as her always-say-yes agent) is somehow surreal, raw, dark, sweet and relatable while being gut-bustingly funny.
Oklahoma City fans can see Bamford for the first time since the new season premiered when the comic performs Dec. 3 at Tower Theatre, 425 NW 23rd St. Wisconsin-born stand-up Jackie Kashian, who is also Bamford's dear friend and frequent tour companion, opens the 8 p.m. show.
Bamford chatted by phone with Oklahoma Gazette after dropping Kashian off at a coffee shop in Bloomington, Indiana, where they were both scheduled to perform.
Oklahoma Gazette: When did you meet Jackie Kashian? How did that friendship start?
Bamford: Well, for a long time, I didn't really know anyone very well because I was very shy and frightened of people. Not in a totally bizarre way, but especially in comedy, I just kind of stayed away. I would perform and then leave to try to avoid anyone giving me notes. But I knew Jackie. We didn't really know each other very well until she moved to LA. She's kind of a hub of social activity in Los Angeles for comedians. Like, she's always available for lunch, always available to hang out. So we started hanging out that way, and she did me a favor. I had to headline for the first time — I want to say it was in Alaska. And I had never done 45 minutes of stand-up before, so she offered to come with me and to open for me, which was very generous and kind of her. She came with me and made it a lot less frightening. So I think that's where we began our closer friendship that stands, I believe, to this day. Now, of course, there's someone else in the relationship, so you might want to ask her, but I consider her a dear friend.
OKG: Was your first time headlining really in Alaska?
Bamford: Yes, I think it was. It was so long ago, but I think that's where it was. I just remember I was just extremely terrified. But there was pay involved, which seems to take the edge off any terrifying fear.
OKG: A lot of people can relate. Before some of these interviews, I feel a little bit of terror.
Bamford: Well, I'm so glad to hear you say that because I get scared of interviews, too. I get scared of them because I'm worried I'm going to say something dumb. I've had a few instances — there was this radio deejay-type sitch. Sometimes I think they say things to get you going, like, "You're single and you're crazy; what do you think are the odds of you getting—" and it's like, "Uh-huh." I mean, fair enough; they're trying to fill their hour with delightful interaction.
OKG: It's the holiday season now. Do you have any holiday plans for this year?
Bamford: Well, I've been working on a video series called The 12 Gifts of Desperation, some of which are addiction, an early death. It's going to be a video series on Topic.com. I hope it's going to be great; it hasn't been done yet. But for this Christmas, we're going to go to my family's [place], but after the holidays. Oh, and over the season, I will be selling merch [on mariabamford.com] which was showcased in my last Comedy Central special. All the money goes to the adult psychiatric wing of the hospital in my hometown.
OKG: For a lot of people, the holidays can be a stressful, even depressing time. Is that something you can relate to? Do you have any tips for people facing holiday stress?
Bamford: Yes. I assume if you have a shitty health care provider like 90 percent of us have, you've probably already used up all your mental health for the year. That or they can't see you until January. So I would say go to anything free that you can. There are so many free support groups, whether it is those anonymous ones or run by the National Association of Mental Illness — NAMI. Any kind of group can be very helpful. If you sit in a circle with a bunch of people and people are talking about their feelings in some way, it can be very helpful to mental health.
Also, try stand-up comedy! Try it! It gets your endorphins going, you get really scared and, also, it's a free group. Comedians, we don't necessarily sit in a circle, but there is definitely someone sharing on stage and — as we all have found out — whatever they're sharing is real. It's not far from the truth. And a lot of comedy is free, especially open mic nights. And they need you — you're needed! During the holidays, a lot of the volunteer opportunities dry up.
OKG: Lady Dynamite is an excellent show. Compared to a lot of shows on Netflix and just shows in general, it's pretty out there. When you all finish a season and turn these episodes into Netflix, at any point, do they say anything about it or give you any feedback? How does that work?
Bamford: Because I don't write on the show — I just go in and have a salad and say, "Oh, that's funny; I like that" or "Well, subjectively, I don't like that but I support you." That's all I do, but from what I've heard, they say it's dreamy. The only thing the network does — and the network is just six or seven people — but I've heard that their notes are helpful. And I've heard that about other streaming medias, that there's less creative input from the business people.
OKG: It is less formal. There aren't any commercials.
Bamford: Yeah. I guess not a lot of people know what their business model is. They're not as dependent on advertisers, I guess.
OKG: Yeah, it's subscribers.
Bamford: Yes. I pay for my Netflix. And the rate just went up. We changed debit cards and I forgot to pay. It's so funny because the day the show premiered, I couldn't watch it because I didn't have my new debit card.
OKG: It seems like Netflix should probably be giving free subscriptions to people who have their own show.
Bamford: Listen; come on. There's so many shows on Netflix, it'd be hard to keep track. Also, businesswise, I'm a blip in their history. They have bigger fish to fry, and I'm happy to pay the service.
OKG: You're actually paying yourself in a roundabout way.
Bamford: I am. Live better; work union.
OKG: A lot of people love Lady Dynamite. Because that show is so you, does it feel like people are loving you when they love the show?
Bamford: No. I mean, it's really nice, but you're a separate person. ... I think everything is taken with a grain of salt. I've said this before, but I like to think of show business as a terrible alcoholic. She is so much fun if you get her at the right time at the party, and then she may turn. Just wait for it.
OKG: She may, and she has.
Bamford: And it's OK. I think it's part of life that people's tastes change or somebody that has been lauded either does something that is disappointing or illegal or whatever. Nobody can maintain the love, even for our most loved ones.
Print headline: Big boom; Maria Bamford returns to Oklahoma City straight off the hilarious second season of Lady Dynamite.