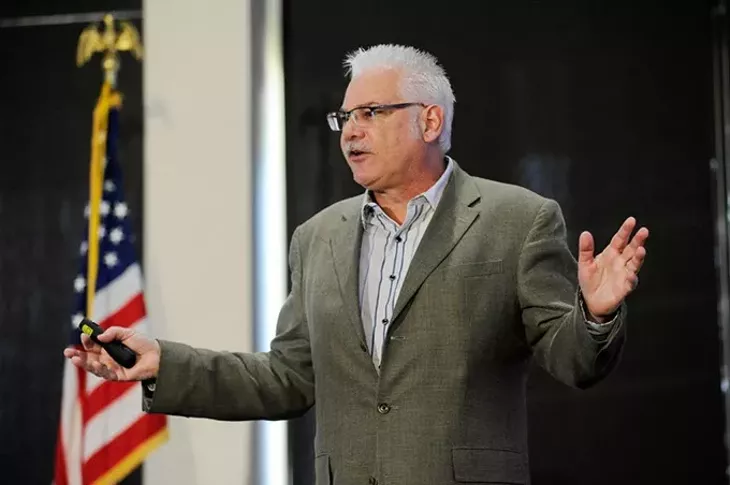 Garett Fisbeck
Mark Hatch speaks during a Makers Conference at Francis Tuttle, Thursday, Feb. 11, 2016.
"One, two, three — boom!"
Mark Hatch is a maker. And he wants Oklahomans to be makers, too.
Hatch authored The Maker Movement Manifesto: Rules for Innovation in the New World of Crafters, Hackers, and Tinkerers because every revolution needs a manifesto. And he said this is a revolution.
He described his experiences as co-founder and CEO of TechShop in San Francisco during a recent talk to an Oklahoma Business Roundtable audience laden with state legislators and education officials at Francis Tuttle Technology Center's Rockwell campus.
TechShop is an open-access workshop where, for a monthly or annual fee, anyone can receive training for and use a variety of high-tech tools.
"$150 a month gets you into hundreds of classes with access to every kind of tool," Hatch explained.
Makers go to TechShop to use classic woodworking tools to 3-D printers and everything in between.
That access gives people a low-cost entrance into the act of creation — often with big results.
The list of million-dollar businesses launched out of TechShop is staggering. Hatch punctuated each one with a "Boom!"
According to Hatch, in the San Francisco bay area, his company helped create $12 billion in shareholder value and $200 million in annual salaries for 2,000 jobs.
That's part of the reason Gov. Mary Fallin invited Hatch to Oklahoma. As the state works through budget shortfalls and the energy sector swings from boom to bust, she said that innovation is a key component of protecting and developing jobs.
"We are a state that believes in the entrepreneur spirit," she said.
Even better, being a maker has no age limit, which Fallin said means Oklahoma's next generation of innovators could be 9 or 90.
Hatch encouraged lawmakers to embrace TechShop's model as a way to jump-start Oklahoma's own maker movement beyond the career tech system.
"Let's open a dozen or more maker spaces in this state," he said.
That would please Norman's Alcott Middle School eighth-graders Canaan Carman, Davis Cochran and Henry Ingels, who came to the expo to show off their VEX robotics elevator.
The trio is part of a class in which, Cochran explained, rather than simply taking notes, students test hypotheses and "use [their] own thoughts."
Pre-engineering teacher Brian Twomey said their robotic elevator has been undefeated for the last year.
For students who learn by doing, the hands-on class is good way to get ideas out of their heads and into the real world, Ingels said.
Fallin wants to harness that independent thinking to fill the state's skills gap and create new industries away from the faltering oil and gas sector.
She stopped short of calling for state-led intervention, but expressed a desire for similar innovation centers in Oklahoma, noting that it will require an investment.
There are eight TechShops across the country with new ones coming to St. Louis and Los Angeles soon.
Print Headline: Tech boom, Maker guru Mark Hatch wants to see frequent, all-access workshops across Oklahoma.