Garett Fisbeck
Mark Williams poses for a photo at OK Visual Studios in Oklahoma City, Monday, Dec. 21, 2015.
Mark Williams is an independent Choctaw filmmaker who makes feature films that deal with the paranormal. The Oklahoma City resident also launched a documentary series about paranormal activities that occur on Native American-related sites. He's traveling the festival circuit with his second feature, Violet, and he recently premiered Our Church, the fifth documentary in his Native American Paranormal Project series.
Violet, starring Delno Ebie and Happy Frejo, is an excellent thriller, but what makes it unique is that it is an entirely Native American production in which the Native American cast never mentions being Native American. Even the set was designed as a neutral, middle-class backdrop to the story.
While Violet is void of such references, Williams' latest documentary, Our Church, examines a Seminole Baptist church for paranormal activity in a decidedly Native way. Williams shows respect to (possible) spirits on the grounds, edits footage in ways that tribal elders will find respectful and shows that, unlike many in the white Baptist culture, the members of this church are not so much frightened by spirits as comforted by them.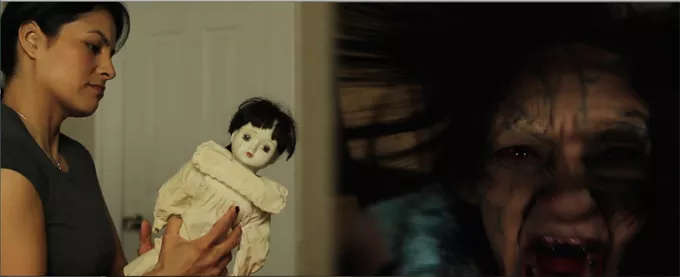 Points of view
His first feature, The Unrest, along with other documentaries in his paranormal series, also has a Native point of view, as it deals with Indian boarding schools and the emotional fallout families and communities had to deal with due to decades of abuse at those schools.
"The Unrest was my first feature, but all the short films I made before that were like Violet; they didn't have any Native American references in them," he said. "Back then, it was not a conscious effort like there was with Violet. I just wanted to make a cool, scary film that I would want to watch."
As Williams got into Japanese filmmaking in the early 2000s, he was inspired by classic horror films like Ringu and Ju-On: The Grudge, which were being remade by Americans.
He grew up in a religious home. His father is a minister who gave his children limited access to television shows and films in their house.
"Whenever we watched a film — like when we would go to a buddy's house to watch a movie, or when we would sneak into a movie — it was a huge deal to me," he said. "I remember early on just falling into that world. It always stuck with me. When I was older, I started taking the idea of being a screenwriter seriously, and I realized I could make these worlds myself."
He earned a finance degree in college and worked awhile in a bank, but he knew it was not his calling.
In 2005, Williams taught himself how to write a screenplay and submitted it to a competition in Hollywood.
Though he did not win, he was a finalist out of thousands of applicants, and that inspired him to make his first short, starring his family members.
He admitted that first film was horrible, but it ended up in the hands of the director of the Red Fork Native American Film Festival in Tulsa, who wanted to screen it.
"I just shot my film with a handheld DV camera. We had to have a garage sale in order to afford it," Williams said. "I was embarrassed; I thought everyone was going to laugh at it. But when it screened, it was a thriller, and everyone was jumping and screaming and looking away, doing all the reactions you are hoping for. I was hooked."
True stories
Williams spent the rest of the decade perfecting his craft with a series of horror shorts, and in 2012, he released his first feature, The Unrest.
It also marked the first time he used a Native American subtext in his work.
He wrote The Unrest during the time the Indian Residential Schools Settlement Agreement was in the news.
It was the largest class-action settlement in Canadian history.
A $2 billion compensation package was approved for 86,000 Native people forced to attend boarding schools. Officially, an estimated 6,000 Native youths died at these schools, but some believe the number is considerably higher and as many as 50,000 children died or went missing in the residential school system.
Regardless of the number, it was a clear abuse of power that impacted the entire Native community.
"I read an article about boarding schools in Canada — 'residential schools' as they call them — there was this huge cover-up, and no one talks about it. I was amazed that no one knew about this," Williams said. "I'm Native American and I had never heard about this, so I wanted to make people aware of this tragedy and injustice, and as a filmmaker, you do that though a camera."
The Unrest is a fictional story based on true events.
"I wanted to make a thriller, but at the same time, there is a message," he said. "During the Q&As at the festivals, I was able to tell people about what happened."
During that period, Williams got the idea for his documentary series on the paranormal.
Williams was at a home, showing the trailer of The Unrest, when a ghost hunting cable show came on television.
The future co-star of Violet, Happy Frejo, was there, and the two started talking about how they could create a project as Native Americans on Native American sites, but they could tell the story differently, without the fake setups and with respect to the spirits they investigate.
A year later, Williams became interested in trying his hand at a documentary, and with his interest in the paranormal and the research he had done for The Unrest, it was a natural mashup of ideas.
He called Frejo, and she was up for making a documentary.
"We put a post on Facebook to put a paranormal team together, then we went to Concho Indian Boarding School in El Reno. We really just snuck in," he said. "We showed the film in Oklahoma City, and it was standing-room only. During the Q&A, we got so many suggestions from people saying that we needed to go here and come to this place, and that's how the second documentary started."
The documentary, he said, turned into a series with a "pretty huge" following. More than 100,000 people follow developments via the Facebook page.
Williams said he is proud of his latest work in the series, Our Church, because it has a completely different feeling than the four previous films.
"The other locations we have been to have had a darker history — we talk about a lot of bad things that happened to certain Natives around that community and how it has affected them," he said. "With Our Church, the focus is on one church, and like a lot of these old Seminole and Creek churches, the way they hold services are totally different then non-Native churches. I wanted people to see how amazing it is how these churches do things.
"The presence at this church, they are not alarmed or scared by it. If anything, they are comforted by it because it's a loved one; it's grandma or grandpa. To them, it is former church members who want to sing and pray and take part in fellowship."
The film examines how the old Indian churches came from ceremonial grounds, or stomp grounds, and it includes a lot of paranormal footage from the church.
"Natives, I think, by nature, are spiritual people, and when we get together with family, at some point, someone starts telling ghost stories," he said. "I think there is a natural interest in it for Native people, but there seems to be even more interest outside of Native communities. It's … I don't know what I'm looking for … but non-Natives think we're all medicine men or something. I get invited to a lot of radio shows and podcasts, national shows, and I'll get questions from callers about past lives, or they had a dream."
Violet screened last week at the Albuquerque Film Festival.
It screens again Jan. 29-30 at Trail Dance Film Festival in Duncan.
Williams also will show Our Church 7 p.m. Jan. 23 at Eufaula Community Center and March 5 at Red Fork Native American Film Festival in Tulsa.
Learn more at facebook.com/nativeamericanparanormalproject and facebook.com/thevioletmovie.
For more
Organizations interested in screening Mark Williams' projects can contact him through his Native American Paranormal Project Facebook page.
He said his team is happy to meet and hang out with fans and supporters.
In early 2016, Williams plans to launch a Kickstarter crowdfunding campaign to help upgrade his equipment, travel more and take his films to more communities. Digital downloads and DVDs of his documentaries will be available as rewards.
Learn more at facebook.com/nativeamericanparanormalproject.
Print headline: Spectral inspiration, Local filmmaker Mark Williams transforms his fascination with the supernatural into award-winning film projects.