Berlin Green & Phillip Danner
Every Saturday morning from April through October, nestled at the edge of Oklahoma City's Scissortail Park, you'll find the sweetest of local markets. The OSU-OKC Farmers Market brings together over 50 vendors from all over the state to share their wares, ranging from freshly grown organic vegetables, free-range organic chicken, and beef to handmade soaps, spices, marinades, and more.
The Farmer's Market is open from 9 a.m. to 1 p.m. at the corner of Oklahoma City Boulevard and South Robinson Avenue.
A+H URBAN FARM
ahurbanfarm.com
Husband and wife team Amy and H.R. Reinke have a passion for growing food, and it shows. Located in the heart of Oklahoma City, they produce naturally grown seasonal produce and beautiful cut flowers. Among their offerings find delicious microgreens, sunripe tomatoes, cucumbers, squash, okra, fragrant floral bouquets, and so much more.
ACADIAN FAMILY FARM
acadianfamilyfarm.com
Acadian Family Farm is a Certified Organic farm that makes the trip to OKC each weekend from Caddo County. Though they specialize in growing different varieties of sweet potatoes, they bring a wide variety of beautiful gourmet style-seasonal vegetables to the market each week.
HANK'S SALSA CO.
hankssalsa.com
Hanks uses only the freshest ingredients to bring their customers great- tasting salsa. Using 29 ingredients, their salsas delight the taste buds and give your dishes new life. Perfect with chips or on your favorite tacos, Hank's Salsa is sure to become a favorite!
LEAVEN FOR COOKIES
@leavenforcookies (insta)
Homemade cookies - yes please! Leaven for Cookies is a home-based bakery that specializes in creating freshly baked vegan sweets for cookie lovers and connoisseurs. Find freshly baked flavors like Rosemary Lemon, Snickerdoodle and Chocolate Crinkle, there's something for everyone.
Berlin Green & Phillip Danner
WONDERVAN POPS
wondervanpops.com
After spending several years creating cocktails from behind the bar, Ben Pendleton decided to combine his desire for entrepreneurship with his love of popsicles to create Wondervan Pops. Brought to you out of a restored 1967 Ford Econoline Club Wagon come pop- sicles made with locally sourced all- natural ingredients in rotating flavors like Watermelon Hibiscus, Avocado Lime, and Strawberry Lavender Lemon to refresh your palate.
WH Yardbirds
whyardbirds.com
WH Yardbirds follows organic practices to specialize in raising high-quality, free-range, pastured chicken. Based in Washington, Oklahoma, they use a rotation system to give their chickens never use antibiotics, hunger stimulants, or growth hormones, choosing to raise their birds as natural as possible. The result is fresh-tasting, delicious chicken.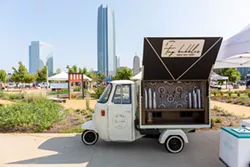 Berlin Green & Phillip Danner
TINY BUBBLES
tinybubblesokc.com
You've seen a few Piaggio Vespas around town, but if you see a Piaggio Ape, it's a decent bet that you've stumbled across Tiny Bubbles. Brandi and Jeremiah Esterline have adapted the postwar Italian vehicle to include taps. Want a chardonnay? A robust red? A round of beers? Tiny Bubbles is also for hire and they're willing to fill the taps with your heart's desires. Oh, and they also provide stellar charcuterie boards to round out the experience.
Berlin Green & Phillip Danner
SAGE & ELM APOTHECARY
sageandelmapothecary.com
"Apothecary" is an archaic word that essentially means "pharmacist" (thanks Romeo and Juliet) and Sage & Elm carries on that denotative legacy. Handcrafted soaps, natural toothpaste, deodorant, face masks, shampoos and conditioners are among just some of the wares offered. These apothecaries also pack gift baskets that start at $30 and go up from there if you'd prefer to test drive a curated combination of items to treat yourself.
PUBLIC COFFEE
public.coffee
A tiny coffee shop on wheels. Actually, a tiny house with a coffee shop inside on wheels serving up simple or complex brews, whichever you may prefer. While seating inside is (obviously) limited, a cup of coffee and one of the stellar baked goods offered up by Public Coffee provide a much-needed refuel while perusing the rest of the farmers market. Oh, and there's hot chocolate and tea for those who don't need their mornings turbocharged with caffeine.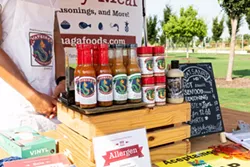 Berlin Green & Phillip Danner
VATSANA'S
vatsanas.com
You've had hot sauce, but you haven't really had hot sauce until you've tried Vatsana's Seafood Hot Sauce. The name- sake uses traditional Asian ingredients like fish sauce and roasted rice powder to bring out its powerful flavors. While the company considers the spice level a five out of ten, timid eaters might want to tone it down a little at first. Also available are Desvelados Hot Sauce (a salsa verde - more of your traditional Hispanic and American style of hot sauce) as well as dry seasoning for rubs and cooking.