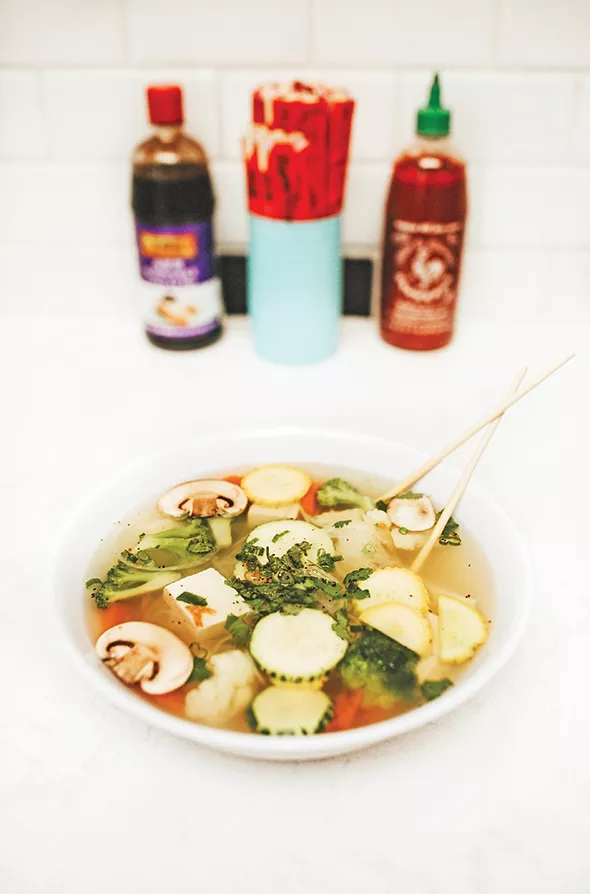 Alexa Ace
Tofu pho at Magasin Table at 8th Street Market
8th Street Market got its first full-time food vendor last month with the opening of Magasin Table, the sister restaurant to a successful New Orleans concept that aims to bring traditional Vietnamese food with a twist to downtown and Automobile Alley.
Oklahoma City native Leon Hoang met Kim Nguyen in Dallas, where he was working as a day trader, after she fled Hurricane Katrina in 2005. The two stayed in touch, and he visited her Magasin Café concept a few years ago.
"I wasn't even thinking of opening a concept until I went to her restaurant," Hoang said. "She gave Vietnamese food a modern twist."
Hoang moved back to Oklahoma to work in the oil industry, but he kept thinking about the freedom of being his own boss and opening a restaurant. He contacted Nguyen about expanding the Magasin brand to OKC. The original Magasin Café is located on Magazine Street in New Orleans, so the name is her way of paying homage to the street and is pronounced similarly, Hoang said.
"She loves Oklahoma City, and she and her husband might even consider moving here," Hoang said. "She sees great people that are friendly, and she loves that everything is so close. She saw so many developments here that she fell in love with."
One of the developments specifically is 8th Street Market, 3 NE Eighth Street, which is a renovated former storage facility bought by developers Patrick Murnan, Brandon Lodge and Cale Coulter in 2016. The space has been turned into a market hall retail center that is home to Prairie Artisan Ales taproom, Key Construction and Balance Yoga Barre. A coffee shop is in the planning stages, Hoang said, and there is still a portion of the market available for rent that Hoang hopes will bring more food concepts.
"I've been to food halls in other states and know about the ones coming here like The Collective," Hoang said. "When [my real estate broker] took me here, I knew I wanted to be here. … Most of the Vietnamese restaurants are around Classen [Boulevard], and here in the downtown area, there wasn't a concept. A lot of business people don't have time to go over to 23rd Street to order food, wait and eat. Why don't we bring that to them? Our food is comparable to authentic food in the Asian District, but with a little twist."
Hoang went to New Orleans to train for the Magasin menu, which is modeled after Magasin Kitchen in comparison to a high-end Magasin Café. They went to a counter-service model in an attempt to build off the relaxed atmosphere of 8th Street Market, allowing diners to eat in Magasin Table's hip décor complete with Sriracha bottle wallpaper or wander over to Prairie Artisan Ales or throughout Automobile Alley.
provided
Salmon bun bowl from Magasin Table
Magasin Table's menu is offering what Hoang referred to as its first phase of the menu. Customers can choose proteins to go with bun (vermicelli noodle bowls), com (rice bowls), pho (noodle soup) or banh mi (sandwiches made with La Baguette rolls baked at Super Cao Nguyen). Customers can choose from grilled pork, lemongrass chicken or beef, grilled eggplant, garlic fried tofu, pork roll, Chinese sausage or braised pork belly with quail eggs, grilled shrimp and salmon.
It also offers noodle stir-fry made with egg noodles similar to ramen, but thinner and flavored with sesame oil. Bao bao (steamed buns) will make their debut on the full-time menu soon, and they're trying to add spring rolls to the menu full-time, but Hoang said they need their own station in what is already a limited kitchen space. Magasin Table will add beer and wine to its offerings, which Hoang said is hopefully a precursor to other Magasin Table locations in the Oklahoma City metro area that will be full-service.
"This is the food I grew up on," Hoang said. "People have told me it's like mom's cooking. Some people have come in and been pleasantly surprised because the flavors are there; they were expecting it to be bland and catered to a different demographic."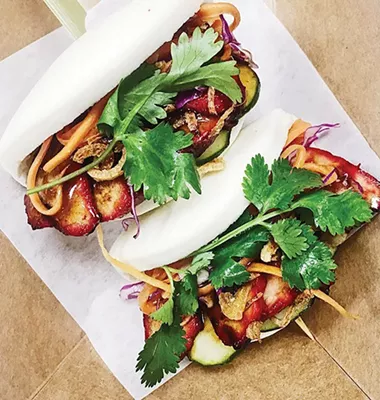 provided
Bao bao (steamed buns) will be on Magasin Table's full-time menu soon.
In the restaurant's first month of operation, Hoang said they will add menu options and services. He has spoken with his head chef, a Louisiana native, about potentially adding fusion items like a cross between a po-boy and a banh mi. He'd like to eventually have late night service on Friday and Saturdays to pair with the crowd at the taproom and will add Sunday service once they find the right personnel. They are currently open 11 a.m. -9 p.m. Monday-Friday and open at noon on Saturday.
Even as Hoang has traded an office cubicle for long hours in the kitchen, he feels rejuvenated.
"I've gone to the opposite end of the spectrum," he said. "I was more tired working in an office from 9 to 5 than I am after standing on my feet for 13 hours and moving around in the kitchen. At my old job, friends would ask me to come out after work, and I'd tell them I was in bed by 7 because I was so tired. Now, I close up shop around 9 and we'll go have a beer next door."