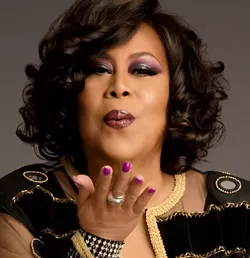 As one-half of pop duo The Weather Girls ("It's Raining Men"), a solo artist who scored multiple dance hits in the '80s and the voice behind some of the most recognizable hits of the '90s, Martha Wash has secured her legacy as one of disco's reigning divas.
But if you were to ask her which project she has cherished being a part of the most, she doesn't hesitate before mentioning First Ladies of Disco.
Inspired by James Arena's book of the same name about female vocalists who pioneered dance music in the '70s, First Ladies of Disco is comprised of Wash, Evelyn "Champagne" King and Linda Clifford.
As three of the biggest stars to come out of the disco era, the women form the ultimate brassy, big-voiced super group.
"My manager came up with the idea to put a group together using some of the ladies that were in the original book," Wash told Oklahoma Gazette.
Friday, the ladies headline OKC Pride's Equality Concert 7 p.m. on The Strip at 39th Street and Pennsylvania Avenue, although Anita Ward performs for Clifford this weekend due to a scheduling conflict.
Self-expression
With her dramatic soprano voice, Wash always knew her life would revolve around music.
She started singing gospel in church when she was about 3 years old and went on to take choir lessons. She performed any chance she got.
"I always knew I would sing; I just didn't know what genre it would be," Wash said. "People know me from singing dance and disco music, but to me, it's all the same. I think that I just wanted to express myself in whatever type of music I could try."
Her career reflects that attitude. Her songs dabble in everything from R&B and soul to pop and even a little rock, but disco is where she made her biggest mark.
From her early years singing background for dance music act Sylvester to providing vocals to dance hits like C+C Music Factory's "Gonna Make You Sweat (Everybody Dance Now)," her impact on the genre is undeniable.
But Wash's love spreads beyond music and even most passionately into the LGBT community.
She was introduced to gay culture as a background singer for Sylvester, a drag performer and preeminent gay icon of the time.
"We played in a lot of gay clubs, and that's where my fan base started. It's just progressed over the years," Wash said. "I've always been a supporter of the gay community and things that are going on with them."
With disco being the genre of choice for the burgeoning gay community in the '70s and '80s, Wash essentially provided the soundtrack for the movement. But ask her why she thinks her work had such an impact on a gay audience and she will say she thinks it goes beyond sexual orientation.
"There are a lot of female artists out there, but I just think that what they sing or how they sing to people, it catches their soul," Wash said. "I'm grateful that the music I've done has touched so many people. I'm grateful they still know who I am and can still recall a lot of the songs that I've sang over the years. The gay community has been my biggest fan base, and I definitely appreciate them sincerely."
Rights fight
When the nature of Wash's relationship with her gay audience is brought up, she can't help but get fired up about her political beliefs. If gay individuals are to be held to the same standard as every other United States citizen, such as paying taxes, then it's unfair to deny them basic human rights.
"They're being treated like second-class citizens, and all people are supposed to be equal under the law," Wash said. "If you want me to be equal under the law, I'll do it, but if you don't want me to be equal under the law, then don't take my money because I'm paying taxes for things happening that I can't be a part of."
Another element of Wash's resonance has been her outspoken support of LGBT causes, primarily in the fight against HIV and AIDS at a time when the stigma against gay people was at a high.
"Unfortunately, I was there when it first started, and there was no research going on at the time," Wash said. "People were just trying to help each other survive."
She described it as a terrifying period, particularly because the public was so poorly educated on the nature of the virus.
"People didn't know what was going on; only that it had to be a 'gay disease,' which it isn't. But at that time, everything was blamed on gay people, so it was scary," Wash said. "I'm hoping really soon that we can eradicate this thing, but thankfully, people are managing the virus and living longer, healthier lives. That's the good thing."
Keeping in tone with that more celebratory attitude, Wash's Equality Concert during OKC Pride Week is sure to be especially joyful.
While the First Ladies of Disco are no strangers to packed venues, Wash said there's something special about Pride appearances.
"I think by being outside, everyone feels a little bit more freer to dance around and have fun as opposed to being stuffed under a roof," Wash said. "You can get a little more wild this way, just having fun and being free."
The crowd is also a major plus, with the mutual love-fest between performers and fans a big reason for First Ladies of Disco's success.
"The crowds at these festivals are always very responsive and into the music, and when you put out the energy and the audience gives it back, everybody wins," she said.
If there's one piece of advice Wash offered festival guests, it was to have fun regardless of who you are or how old you are.
"Some of you may be too young to remember the songs, but that's okay!" Wash said. "Just come out, have fun and enjoy yourselves. We love our OKC fans for supporting our music over the decades, and we just wanna give them a really good show."
Print headline: Disco domination, Martha Wash brings First Ladies of Disco to OKC Pride Week's outdoor Equality Concert on Friday.